Photos of Wigan
Photos of Wigan
Album Contents
Album Contents
Wigan Album
Sydney Street Platt Bridge
16 Comments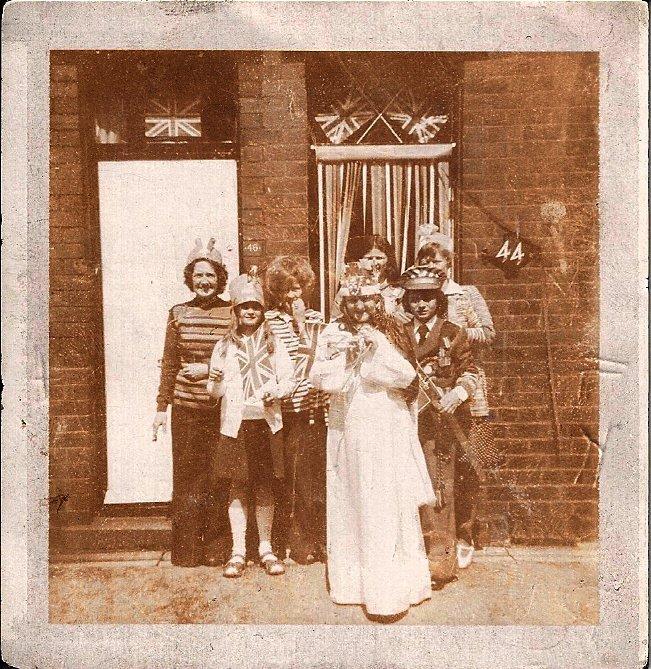 sidney street platt bridge
Photo: Carol Fairhurst
Views: 3,795
Item #: 16673
Think this is the Queens Silver Jubilee.
Outside 44 Sidney Street the home of Jean McQuillan nee Holland. Also in the picture her Daughter Nadine and her sister May Holcroft. Do you know the names of anyone else ?
Was Jean McQuillan related to the McQuillans on Walthew Lane, one of them taught shorthand.
Comment by: janet farrimond on 8th January 2011 at 20:26
it was jeans mam & dad who lived on walthew lane
Janet, Jeans mam and dad lived in Malvern Cresent Spring View,, but its possible her husbands parents lived in walthew lane ?
Comment by: Alan Darbyshire on 8th January 2011 at 23:15
I know them all, i took the photograph ;-) Left my mother Doreen Darbyshire, younger girl is Karen Williams, then it's Jean McQuillan, Nadine her daughter in the doorway, the Queen is one of the Knight girls(could be Wendy) i'm not sure of her first name and Prince is Peter Harrison. Then Jean's sister May Holcroft! It was 1977 for the Queen's Silver Jubilee and taken on my black & white polaroid camera!
Comment by: Alan Darbyshire on 8th January 2011 at 23:17
Jean's father-in-law Mr McQuillan lived on Walthew Lane next door to Liptrots which is more or less opposite Platt Bridge Dentists now!
Comment by: Julie Morris Nee Milner on 9th January 2011 at 12:35
It looks like Karen Williams at the front with the flag
Comment by: julie morris ne Milner on 9th January 2011 at 12:43
Sure thats Irene Williams stood infront of the white door
Comment by: Alan Darbyshire on 13th January 2011 at 11:06
Julie it is Karen Williams, but that's my mum Doreen in front of the white door!
Alan do you now me it is jimmy walker i was at the branch i was the shunter there.we lived in sidney street at number 40 my mam was vi and my dad was tommy and my brother was derek he died 2004.
Comment by: Alan D on 20th January 2011 at 22:56
Cant remember you at number 40 Jimmy, it was a woman called Mrs Wade when i was growing up! What year did you live at number 4O?
my gran and grandad lived at the top end of sidney st.i now yere dad he worket at springs bransh i was the shunter there.
Hi
My mum Patricia Taylor, daughter of Nora and Jack Taylor lived at 79 Sydney street.
Comment by: Chris on 15th March 2011 at 22:37
I lived at number 16 across from an old Lady called Mrs Lally. I remember the jubilee party in the street, I was only 4 at the time.
Comment by: Sharon on 16th April 2011 at 00:50
I lived at no 10 for eleven years from 1969. Very happy days. Yes Chris Mrs Lally lived across from us. I remember the day very well everyone pulled together to make the day special for the kids. I remember most people at the bottom but only a few from the top end.
44 was once the home of my grandparents, William and Elizabeth Foster.
anyone remember a friend of mine named Madeleine Newall, before she married?