Photos of Wigan
Photos of Wigan
Album Contents
Album Contents
Wigan Album
Windleshaw st lower ince
8 Comments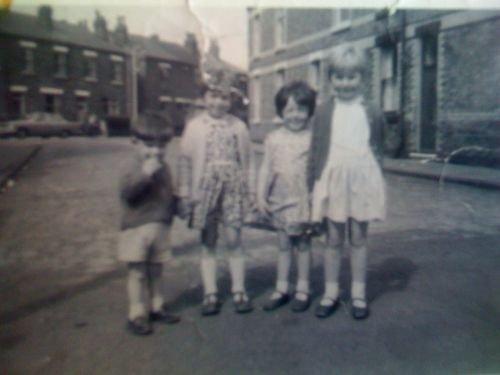 Windleshaw st Lower Ince
Photo: Carol Fairhurst
Views: 2,745
Item #: 16652
In Photo Paul Fairhurst, Carol Woods, Carol Fairhurst and June Walmesley.
Comment by: julie dermott on 6th January 2011 at 23:14
great picture carol the good old days
Comment by: irene roberts nee Griffiths on 7th January 2011 at 09:16
I was born in Higher Ince, but this photo reminds me so much of my own childhood. Thankyou.
Comment by: stephen allen on 24th January 2011 at 13:05
Comment by: jackie oakes on 11th April 2012 at 22:55
Are you sure the one on the end is June Wlmesley? it looks very much like me jacqueline fairhurst from 77 manley st i would be a few years older than you Carole, hence being taller, i could be wrong but with respect to June i thought she was chubbier at the time and more your age .'. shorter than shown in the photo
It was definetley June Jacqueline. It was my birthday and I remember the picture being taken. I do remember you and your brother Michael. I don't recall us ever playing together tho ? But it was a long time ago. :)
Comment by: june butterworth(walmsley) on 23rd January 2013 at 19:14
it is me jaqueline...june walmsley it was carol fairhurst birthday her mum took our photo..and i was alway big for my age
Comment by: josie on 29th May 2013 at 02:47
my brother jimmy beckett lives in the house or houses on the right of the pic x
I know Raymond and Alan used to play with them as kids, our back gate faced their front door, Your brother used to take all us kids for walks to the flash and slag heaps over westwood. I see Raymond often in town.