Photos of Wigan
Photos of Wigan
Album Contents
Album Contents
Wigan Album
Poolstock Lane, Worsley Mesnes
13 Comments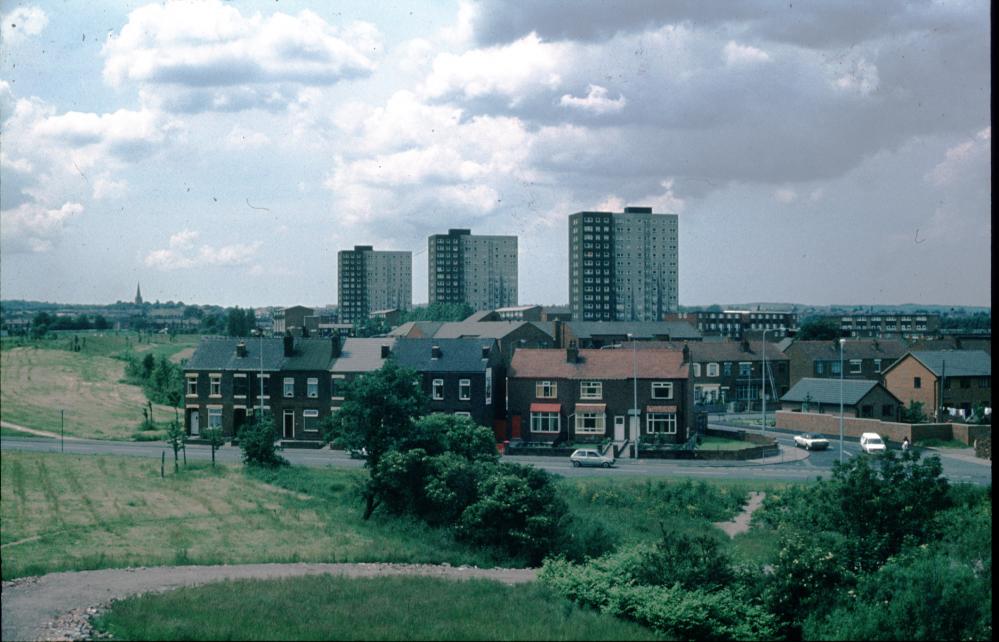 View across Worsley Mesnes North from Poolstock Lane
Photo: Cathy Bolton
Views: 5,625
Item #: 16247
Worsley Mesnes flats from the landscaped railway banking after the demolition of the Tippings bridge.
The houses to the left of the row with the red roof tiles were also demolished years ago.
Comment by: John on 31st October 2010 at 05:37
Cathy, have you taken the photo from the old pemberton loop line?....it's a good shot.
Comment by: Cathy B on 31st October 2010 at 09:54
John,this was a slide from the '70's that belongs to Marjorie Latham.
It was taken from the railway embankment that runs alongside Scotsman's Flash, just as it starts to flatten out towards Poolstock Lane. That area is now very overgrown with tall trees so you'd struggle to get a picture from the same spot now.
You're right, the line is shown as the 'Pemberton Loop' on an old map.
Comment by: Gem on 31st October 2010 at 11:19
This is 1983/4 as those houses on Richmond Street were built by Allen Homes.
Comment by: Cathy B on 31st October 2010 at 19:37
Thanks for giving us the correct date Gem.
I should have realised the new houses weren't built in the '70s!
Comment by: Cyril on 31st October 2010 at 19:45
I can only remember Masefield House of those three tower blocks, I can't remember the names of the other two, was one Thackeray? I was called out umpteen times to Masefield at night as the local kids found it to be very funny to empty their left over casters down the lift shaft, with the lift cab light being on permanently the hatching Bluebottles would find their way into there and terrified the residents when the lift doors opened, sometimes there would be hundreds of Bluebottles so you can imagine a buzzing mass of big flies suddenly surging out of the lift, if I wasn't expecting it then I think I would run too.
Comment by: John on 1st November 2010 at 18:51
Comment by: dave johnson on 2nd November 2010 at 08:57
Cyril the other block was Dryden House.
Comment by: Cyril on 3rd November 2010 at 09:34
Comment by: John Cody on 21st November 2010 at 02:19
Does anyone remember what year they demolished the three high-rise flats?? Was it early 90's?? I remember my gran living in the middle one in the early 80's! It was rough in Worsley Mesnes back then!
Comment by: Bev on 28th May 2011 at 23:24
It wasnt rough John. I grew up ther and have very fond memories. I think it is alot worse now 2011 !!
Comment by: ANNA on 26th April 2012 at 00:30
SORRY HAVE TO AGREE WITH JOHN LIVED THERE ALL MY LIFE STILL DO THE 70S 80S WAS ROUGH HARD AS NAILS PEOPLE DRUGGIES VAGABONDS I KNOW ITS NOSTALGIC BUT LETS ACCEPT THE TRUTH
Comment by: Mr X on 2nd May 2017 at 10:44
The silver Austin Metro car indicates that this photograph is from the 1980s and not the 1970s. This is the spot where the old railway line crossed Poolstock Lane, and is where the new M6- M61 link road will be built. The three Worley Mesnes flats are Dryden, Thackeray and Masefield Houses. St Matthew's church spire is visible nearly two miles away. There were also the three and five storey maisonette flats, that were demolished in the 1980s and were indentical to those in Scholes, and a single block in Whelley. There were also some more at Dumbarton Green, Beech Hill.
Comment by: Paul G on 16th January 2019 at 17:54
So sad to see what the area around the shops has now become. It's a cess pool of heroin addicts and thieves where the crooked wheel used to be