Photos of Wigan
Photos of Wigan
Album Contents
Album Contents
Wigan Album
Market Street
16 Comments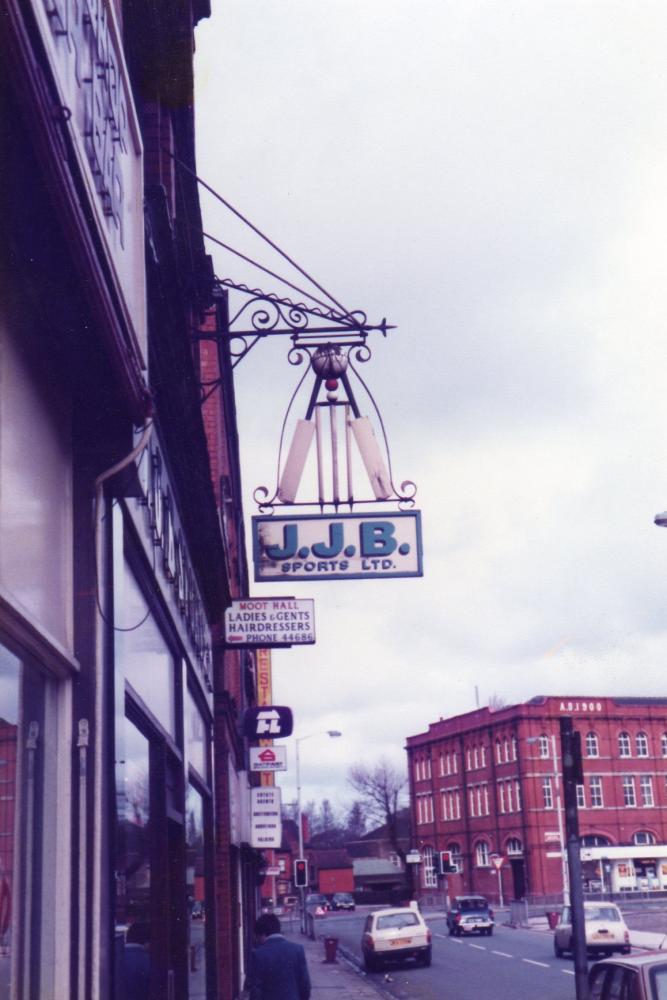 The origial JJB
Photo: Colin Benfold
Views: 3,743
Item #: 15700
The sign over the original JJB shop in Market st(J J Broughtons in those days) taken in the early 80s
Comment by: Mick on 1st September 2010 at 12:47
Dave Whelan had the shop from the mid 1970s, when he took over from Bradburns.
A couple more familiar business signs there as well - Ted Whittle's Moot Hall barbers, and Hilton and Layland estate agents.
Comment by: RON HUNT on 1st September 2010 at 13:58
I would think that every school boy from that era will remember this iconic sign. I wonder what happened to it?
I remember buying my OWZAT game from there in the 1950's I still have it The hours and hours of enjoyment I got from two 1" hexagonal bars of metal, is unbelievable I bought myself (at great expense) a cricket score book and played test matches against all the countries, marking down bowlers and batters averages etc. My friend even made a scoreboard MAGIC TIMES
I think I'll start up an OWZAT cricket league. To be played on a week night in Pubs like a quiz league.
All the thrill of cricket, without the bribes. L.O.L.
Comment by: Keith on 1st September 2010 at 15:27
Great to see such a nostalgic image from our own Wigan childhood. I too Ron, still have an OWZAT somewhere, much of my time in the fifties was spent with friend Eric Long from Manchester Road playing "NEWFOOTY" (arguably much better than Subbuteo which came along later) and going through the entire First Division fixtures. "Strange" how well our respective teams seemed to do, Man U (Eric) and Bolton (me). Newfooty had players with real lead bases to keep them stable, when they had to be put back a quick lick of the fingers and a gentle squeeze on the lead base soon had them upright again - health and safety indeed!
Comment by: irene roberts nee griffiths on 1st September 2010 at 17:18
What lovely warm memories. Ron and Keith.....exactly what Wigan World is all about!
Comment by: Carl on 1st September 2010 at 17:43
Sorry but That isn't the original JJ Broughtons shop.It is the old sign but JJs was about 25 yards further down on the left in what is now a chip shop.
This shop was the first of the JJB sports shops which I think was opened in 1984 and situated by the side of the passage leading to the bus station.
Prior to the bus staion it used to have squash courts at the back of the shop.
Comment by: Bill Eatock on 1st September 2010 at 19:25
I worked just up the road at the Singer Sewing Machine shop. More great memories...
Comment by: fred foster on 1st September 2010 at 19:48
When I was at WGS in 1942-7 someone had the bright idea to use Singer oilcans as water pistols, I think that they cost 6d at the time(that's two and a half pence decimal)In no time at all we had cleared the entire stock!!
Comment by: Bill Eatock on 1st September 2010 at 20:49
Were the oil cans those little round ones? They used to make a clicking sound when the base was pressed. We still had a couple of them hiding in the back of the shop!
Comment by: Colin Benfold on 1st September 2010 at 21:56
You are quite right Carl. What i intended to say was that this is the sign that hung over the original JJB shop which, as you point out, was several yards further down.
Comment by: Derek in Aus. on 2nd September 2010 at 03:32
Ron, I gave my Grandson my OWZAT game about a month ago,
he was wrapt in it. Typical Aussie, he loves cricket.
Comment by: jim on 2nd September 2010 at 08:54
Ron Can OWZAT still be bought had one for years cant find it.
Comment by: RON HUNT on 2nd September 2010 at 10:21
Just checked on the Net You can still buy the OWZTHAT (Sorry just realised after checking mine, it's spelt OWZTHAT not OWZAT" from AMAZON but they aren't metal they are plastic. Cost about £5.00.
There are people selling the original metal game on Ebay but they are asking silly money.
You could probably go to your nearest small Engineering company who would sell you a couple of pieces of hex bar cut to length, Then you can make your own.
Comment by: Martin Pearce on 6th September 2010 at 12:39
My father Colin Pearce used to work there along with my brother Bob in the seventies. There was also the fishing section run by Mr Tommy Blackledge, who later had his own tackle shop up the weind. A little funny story of the time was that the stock of maggots that they kept in the fridges got out one evening this due to a power cut.So in the morning they were met with maggots coming out of the front door of the shop onto the main street. There were thousands and thousands. All the sports stock etc had to be gone through to find the very last ones as they got every where. Then the fire brigade had to be called to wash them off the front street. Good times.......lol
does anyone no what the indian resturuant was called on market street in the 80s. was it taj mahal
Comment by: Barrie Corteen on 12th April 2019 at 14:34
Was originally JJ Bradburns, I used to do work for Brad Imports my Studio was down the side of JJB's Elizabeth Wildings.