Photos of Wigan
Photos of Wigan
Album Contents
Album Contents
Wigan Album
scholes
8 Comments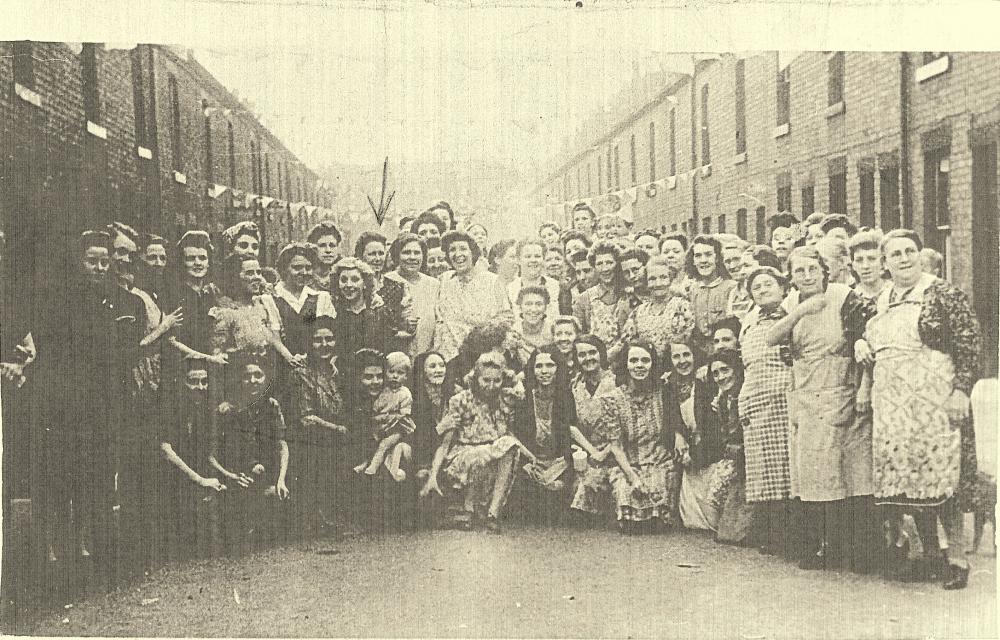 END OF WAR STREET PARTY
Photo: Maurice Long
Views: 4,046
Item #: 15182
THE PHOTO. WAS TAKEN IN STANLEY STREET SCHOLES circa 1945
Comment by: Margaret Wall on 30th June 2010 at 15:25
How lovely. Doesn't everyone look happy and didn't they have something to celebrate?!
Comment by: marie on 30th June 2010 at 17:13
no community spirit like that now everyone was friendly
Comment by: Margaret Wall on 30th June 2010 at 23:27
No Mrs M, I was born and bred in Lower Ince but now live in Appley Bridge. I do have fond memories of the Scholes area though. I used to go to St Pat's church occasionally, even though I was a St Williams parishioner really. Happy times!
I WAS GIVEN PERMISSION TO PUT THIS PHOTOGRAPH ONTO WIGAN WORLD BY BILL. DORAN, WHO LIVED WITH HIS FAMILY IN STANLEY STREET SCHOLES AT THE TIME IT WAS TAKEN.THE ARROW IS ABOVE HIS MOTHER.I THOUGHT IT WAS WORTH HAVING THIS PHOTO. ON THE WIGAN WORLD SITE I AM SURE IT WILL BE OF INTEREST TO A LOT
THE RESIDENTS AT THE TIME.
Comment by: jacqueline penman on 11th September 2010 at 23:04
i was brought up in this street ,im now 58 so this was before my time but ive seen this photo before i spotted mrs doran annie tickler mrs seddon not sure but i think my mams on it too.when i showed her the photo she rhyme all the names off
Comment by: susan lowe nee titler on 20th March 2011 at 19:39
my dads auntie and uncle was jimmy and annie titler my dads name was jimmy titler he was brought up by his grandmother in hardybutts she had a parrafin shop next door to mcavoys slaughter house.does anyone have any information about the titlers. any photos would be great thank you
I have a auntie Margaret, who has a daughter Linda.