Photos of Wigan
Photos of Wigan
Album Contents
Album Contents
Wigan Album
Linney Street
16 Comments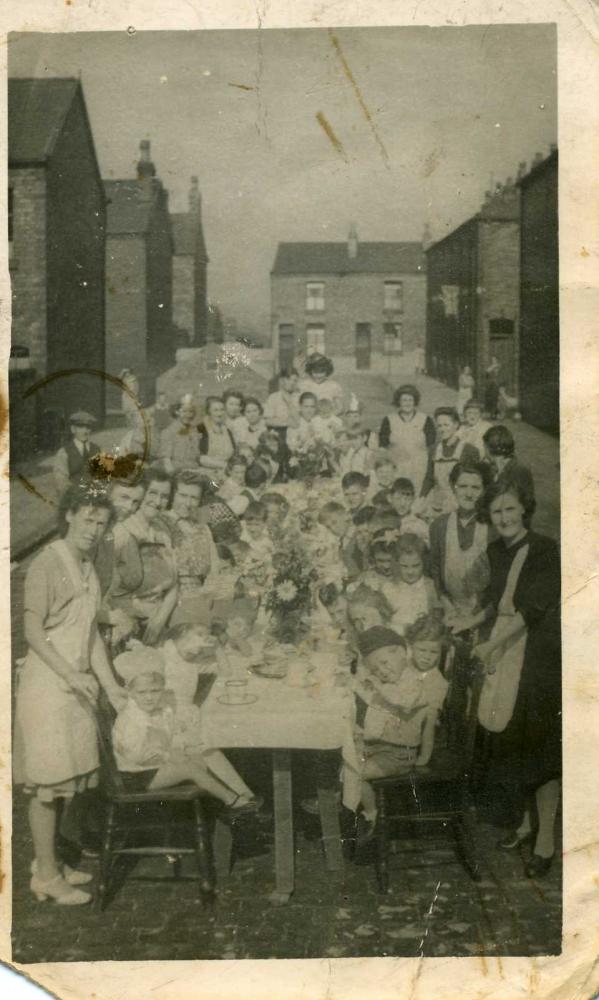 End of War Celebrations. A street party.
Photo: Dot Hesketh
Views: 3,164
Item #: 15172
This photo' was taken in Isabella Street. In the background on the corner of Linney street, is what I think, is an Anderson Shelter. I've never seen one so I can't be sure. The next street up on the left is Caunce street. In front of the (Anderson) shelter is my sister Renee Ince, now 80 years young. The one with the party hat on. Sat at the table somewhere, are my two brothers Norman and George. I would have only been about 1 year old. My mum is the last lady in the right hand row. You can just see the Union Jack in the background. Also somewhere on the photo' are Mrs Santus, Jimmy and Margaret Lowton, Jimmy Marsh, Mrs Carey and Joyce Carey and Mrs Hilton.
Comment by: FredG on 29th June 2010 at 13:31
Congratulations Dot on this fantastic record of the past that has so many memories for all of us. Just what wiganworld is about.
Well said, FredG. Just look at the character in their faces and try to imagine what they had to go through during the war. I remember ration books in the early 1950's. Those kids must be around my age now, early sixties.
Comment by: dot hesketh nee Ince on 12th July 2010 at 19:41
My sister with the party hat on she was 15 in the photo, my brothers where 13 & 11. She is 80 and is still spritly. I was a war baby and am 67 now. Its a grand picture of past times celebrating the end of the war, What year I don't exactly know bot I was born in 1943
Comment by: Joe Thomas on 26th July 2010 at 10:22
What A Brilliant Photo The Second Lady Up On The Right Looks Like Maggie Lowton My Dad's Auntie Elsie Lived To The Left Of This Photo Do You Remember A Lady First Name Was Ruth You Can Just See Her Front Door In Linney Street Wished I Had The Presence Of Mind To Take photo's At The Time Loved Living Around Here Moved Up Norly 1960 Well Done Dot Great Photo's All
Comment by: Dorothy Hesketh (Ince before) on 26th July 2010 at 15:08
Hi Joe what age are you, (cheeky question) Glad you liked the photo Renee my sister gave it for us to copy. PC 49 lived on the righthand side, up towards Caunce St. I think it was the 3rd house.I remember seeing a float,with a ride on it. I think it was on the rec.
Comment by: Joe Thomas on 22nd August 2010 at 18:39
Do You Mean Ernie Weaver He Lived In Isabella Street The Part Near Caunce Street Im 64 But Keep It A Secret
Comment by: Indra Wignall on 23rd August 2010 at 23:26
Mrs Santus (lily) is my great grandmother! I can't see her at the moment but I shall have a good look and see if I can spot her!
Thank you so much for posting this!
Comment by: Ann Roberts ne Lowton on 28th August 2010 at 12:44
I am baby held by Jimmy Marsh,brother Joe to his left,Dad Jimmy far left,mother Maggie Lowton on right,sisters Margaret and Enid in there somewhere
Comment by: xincer(lower) on 22nd September 2010 at 14:09
My grandmum nad grandad used to live in Linny st. Dinah and Jimmy Sommers, They were originally from Durham (Wheatly Hill, I think) came down in the thirties ish looking for work, Jimmy was a miner, Maybe you remember them. I dont remamber much about them as they both died when i was quite young.
Comment by: Ann Roberts ne Lowton on 26th September 2010 at 09:46
I remember the Sumners,they had 2 children,aboy and a girl but their names I cannot remember.Mr.Sumners was a miner like my dad,the reason he is familiar is that Iremember telling him that he talked funny,and my dad told me he was from Durham,the son may have been called Brian,not sure,but I knew the house,it was at the Platt Lane end of the street.Hope this was of interest to you.
Comment by: Donald Underwood on 15th January 2011 at 15:32
I was born in Caunce Street and remember the Summers family.Dinah came from Durham but I think her husband was a Wiganer who returned.Two of the children were Ruth,alittle older than me, & Jimmy
My grandad lived at 5 linney street as a child, he was born in 1935 so will be 10 in this picture if he is here. I know that he had a large family, his mum was called Annie and his father john, he had a brother called Thomas and I think he had other siblings though I am unsure.
Hello
Did anyone know of a Dawber family lived at 24 Linney Street? A Joseph Dawber, who was a Clogger?
Brian Summers was the grandfather of my stepdaughter so James and Dinah were her great grandparents. They were married in Durham in 1923. I have the marriage certificate. Brian was born March 1945.
I might add that James Summers was indeed born in Wigan in 1900. His parents lives at 14 Howard street. Dinah was born in Durham in 1902.
The Summers has a total of 7 children but only the 2 youngest were born in Wigan. The other 5 were all born in Durham before the family moved to Wigan (in the years 1924-1933). The two youngest were Sheila (born 1941) and Brian.