Photos of Wigan
Photos of Wigan
Album Contents
Album Contents
Wigan Album
Parade Wigan - near old Baths, Millgate
5 Comments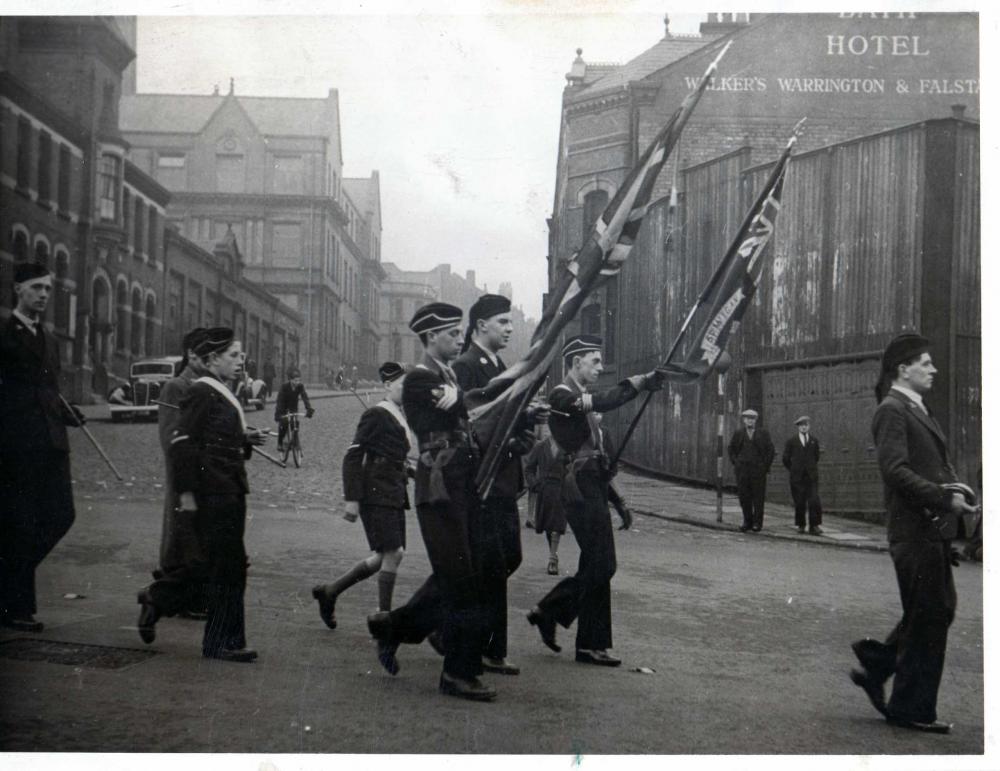 Parade near Wigan old baths
Photo: Jean Rigby
Views: 3,734
Item #: 13924
My dad, Robert Hamill born Oct 1925 is on this photo taken near Baths Pub. You can see the old Wigan baths on left hand side. No idea of year. Any info welcome.
Are they at the bottom of Millgate, passing from Rodney Street? The back of the College (now Town Hall) at the back on the left? Another of those cast iron pissoirs on the corner on the right. What treasures we newcomers to Wigan have missed!
Comment by: RON HUNT on 9th March 2010 at 22:02
Looks like another Urinal I never knew about on the right hand side.
Comment by: aitch on 10th March 2010 at 12:07
I dont remember that pub, but I certainly remember the baths, that was the only entrance as I recall, but I also remember the ale advertised on the pub side, (Falstaff,) this was a winter ale and was very strong.
Comment by: Dave Cockrell on 22nd April 2010 at 13:19
My Grandfather, Jack Cockrell was the Manager at the Baths for some 30 years, having moved up to Wigan from Colchester. He used to drink in the Baths hotel. There were a number of entrances into the Baths buildings. The one in the picture was the main entrance, up the steps with the ticket office on the left. The hallway then lead down to the Mens Plunge and "slipper"baths (the bath we all now have at home and take for granted-back then a lazy half hour in a hot bath was a costly luxury). The Ladies plunge and Slipper baths were to the right and up several steps. A send large entrance was located in the Yard just off the picture to the left. This gave access to the hallway and from there you coiuld go to the Private Function Room upstairs. In the winter months the Mens pool was drained and a wooden floor laid on timber supports. This was used for Dances, Functions, Wresting and Boxing. Access was vis an entrance off College avenue which lead straight into the Pool area behind what was the deep end of the pool.My Grandparents lived in the house that was located behind the ticket office area, with bedrooms over the main entrance.
Comment by: pete barker on 4th September 2014 at 00:02
The old swimming baths were unique and awful. The changing rooms were above the pool all around. They used a colour scheme for swimming, such as red or white. I can't recall how it worked. But I do remember when in the showers, we used to throw the large wooden foot scrubbers at the rats that used to walk along the walls close to the roof of the showers.Rats where common in there.