Photos of Wigan
Photos of Wigan
Album Contents
Album Contents
Wigan Album
CLARINGTON GROVE
17 Comments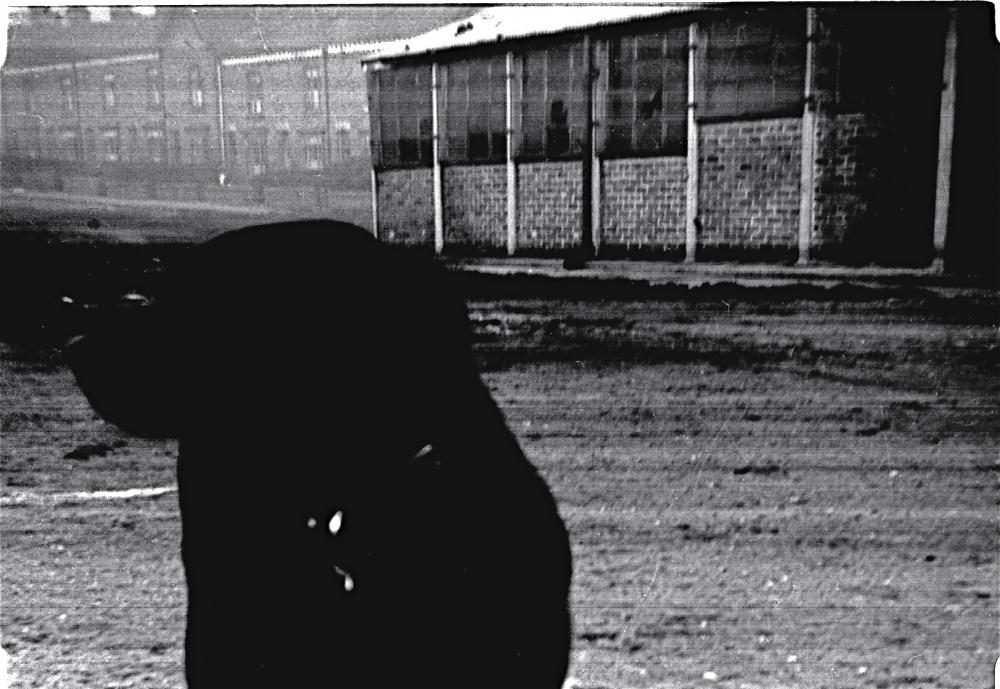 CLARINGTON GROVE/ST PATRICK'S ANNEXE AND "JOCK" 1950's
Photo: Keith Bowen
Views: 2,927
Item #: 12534
None of these exist today and it's my only excuse for posting such a poor quality photo, taken in the mid 1950's.
The photo was supposed to be of my dog but shows the top end of Clarington Grove which was in Wigan Borough and the bottom end (not shown) was in Higher Ince and this was where my mother grew up. The bottom end of the Grove finished at the Leeds/Liverpool canal. The boundary between the top and bottom half of the Grove was the Clarington Brook which was about half way down and culverted underground. The problem was that the retaining walls must have perished and this undermined the foundation of the houses and one by one they began to be demolished, now no houses remain and it now acts as a car park for St Patrick's ARL. I've no idea when the annexe was removed but I do remember it had two classrooms. Jock died in the early 1960's, a lovely, if somewhat overfed, labrador.
Comment by: roy sturgeon on 17th November 2009 at 20:36
i remember annexe very well i was born in harper st 1943 at the side of annexe just above dogs nose was were emergency war shelter was we used to play there /ps keith i was in same class as your ann
Comment by: Keith Bowen on 17th November 2009 at 22:38
I think I just about remember the shelter Roy, I spent many happy hours playing on these "fields" (can't remember seeing a single blade of grass). I know rugby and soccer were regularly played there, I suppose they were early versions of "clay courts". PS Anne is well and living in Horwich.
Comment by: 1934granada on 18th November 2009 at 11:16
Where would the current St Pats rugby clubhouse be situated on this photo?
Comment by: roy sturgeon on 18th November 2009 at 11:28
believe it or not the dog is sat on rugbyfield no grass war shelter was about were the faint letter t is above dogs head
Comment by: ROY STURGEON on 18th November 2009 at 14:36
ST PATS IS IN HARPER ST WHICH RUNS FROM TOP OF CLARRINGTON GROVE TO HARTLEY AVE TOWARDS WIGAN IT USED TO BE SCHOOL CANTEEN WHEN WE WAS KIDS
Comment by: Ashley on 20th November 2009 at 23:48
Clarington Grove and Harper Street were bombed by Zeppelin in April 1918, two people were killed in Harper Street. The erosion of house foundations reminded met that my grandmother, who lived at 29 Clarington Grove, one night heard a loud rumble, only to find it had been brought about by the outside loo completely collapsing, no doubt brought about by the undermining of the foundations.
Comment by: roy sturgeon on 21st November 2009 at 10:51
i was born at 11 harper st 1943 my dad said that the nearest bomb fell at birkett bank they was after top place new springs
Comment by: Ashley on 21st November 2009 at 13:49
Roy, my grandparents lived in Harper Street in 1918 at the time of the bombing, they hid under a table, their windows were blown out and their dog killed. A few doors away the house was demolished and two people died when they were blown out into the fields, the large gas lamp at the top of Birkett Bank was blown up and another person died. A total of 17 bombs landed on Wigan and 7 people perished, the Zepellin was not only off course with its bombs but its original target was the steelworks in Sheffield. A crater caused by a bomb was opposite number 23 Hartley Street, the home of Jack McCann but the next bomb was a direct hit, again in Hartley Street, and destroyed 3 houses, killing Mr Tomlinson, a gas inspector and his wife. The full story, with photos, a map of where all the bombs landed, is contained in a publication, "Zeppelins over Lancashire" which I bought at Wigan Archives a few years ago.
Comment by: roy sturgeon on 21st November 2009 at 15:14
you could be right but was it not hartley avenue
Comment by: ken smith on 21st November 2009 at 16:36
I am the cousin of Roy Pitcher who used at 19 Harper St with his mum and dad and grandparents the Fillinghams I used to come from Blackrod to play with Roy on Saterdays spent many hours on the fields between Harper st and the canal I now live in the Netherlands used to canals here.
Comment by: roy sturgeon on 21st November 2009 at 19:17
ken icame to your house at blackrod with roy many years ago
Comment by: teresa henry on 8th December 2009 at 20:19
iused to live at the only house left on clarington grove. ( no2.)top end of darlington street.
2003-2006. our front faced the factory.
Comment by: teresa henry on 16th January 2010 at 17:58
what street was these houses on in the background?
We lived in the existing house (no 2) in Clarington Grove a few years ago. Was it Harpers street? Or a different street?
Comment by: Keith on 16th May 2010 at 22:47
Hello teresa henry, the houses in the background are all in Clarington Grove, I remember the Connellys and the Wilson families. I wasn't brought up here so my information is limited. However, you are right, Harper Street led onto the top end of Clarington Grove. Both streets received German bomb hits during 1918 and two people died in Harper Street. If I'd moved the camera slightly more to the left I may have captured your home at number 2 Clarington Grove.
I was born at number 5 Clarington grove at my grandparents house. My mother lived there during WW1 and she told me there was a bomb crater in Clarington Grove.
Comment by: Lindsay on 16th February 2011 at 22:08
does anyone remember a James Brown and/or Mary Jane Brown who lived in Clarington Grove? had a daughter named Doris?
I was born and brought up in Clarington Grove at no.15 > I remember Roy Sturgeon of Harper St. and Keith Bowen of the bottom half of the grove . There was Connelly's at n0.1 , Houghton's ( my Mothers uncle ) at no.3 Stephens at no.5 , Walshat no.7, Websters at no.9, Collins at no.11 , Mrs Ryan at no.13, Barrows at no.15 , Winstanley's at no.17 , Frank Connelly at no.19 , and tony Walsh at no.21 . that is all the Wigan end of the street .