Photos of Wigan
Photos of Wigan
Album Contents
Album Contents
Wigan Album
Poolstock Lane, Worsley Mesnes
5 Comments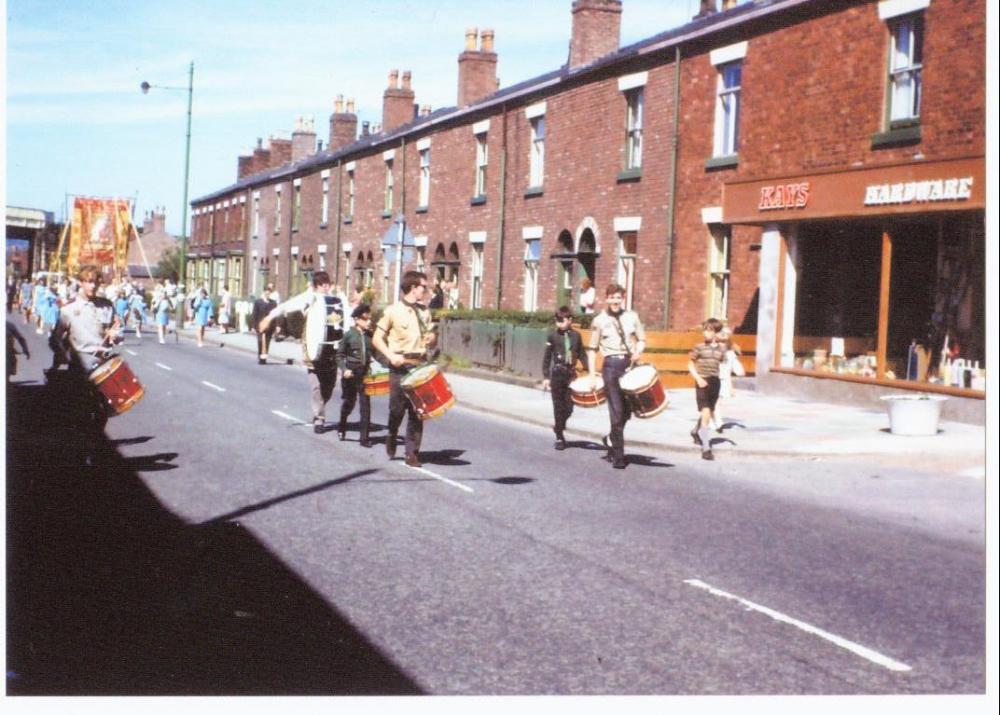 Location of Tippings Bridge
Photo: Catherine Bolton
Views: 4,297
Item #: 12281
The band you see here are walking from St. James' Church to the Mission (Worsley Mesnes Community Centre).
The houses are still there but don't look quite the same because they were renovated several years ago and Kays Hardware is now the end house of that row.
At the other end of the row, near the tall green lamp post is the turning in to Worsley Mesnes Club and the Health Centre.
Beyond that, on the extreme left of the picture, you can see the Tippings Bridge - now just a grassy slope on each side of the road.
Comment by: Paula on 5th June 2011 at 19:43
Is this the row of houses behind which is the new Worsley Mesnes Health Centre, Chandler House?
Comment by: kathleen halsall nee wright on 9th June 2013 at 16:42
yes the new health center is at the back of this row of houses.the hospice was there before.i lived in the row of houses just a little further down,this side of the bridge across from the tippings arms
Comment by: teresa henry on 18th January 2014 at 21:50
my in laws, keith and sheila henry, had the paper shop opposite kays until about ten years ago!!
Comment by: Jim Latham on 7th December 2014 at 12:01
Hello Kathleen, your house of many years ago is behind the Banner. I love these old photos of Worsley Mesnes, and Poolstock too, since I went to Poolstock C of E School in the 40's and early 50's.
Comment by: Wayne Goff on 1st April 2019 at 19:03
Hi Teresa Henry, I was a paper boy back in 1983 at the very same paper shop, before your relatives took it over. I remember they bought if of Florence Hilda Miller, usually known as Hilda . Do you have any idea what happened to her? I remember she had a house up the side of the Bold Horel, Clifton St I believe.