Photos of Wigan
Photos of Wigan
Album Contents
Album Contents
Wigan Album
Wallgate
9 Comments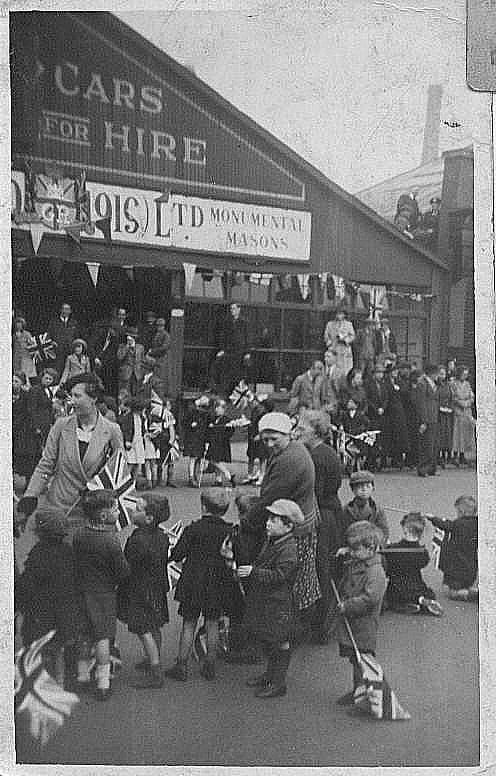 Middleton and Woods
Photo: fred foster
Views: 3,456
Item #: 10637
this shows the old Middleton and Wood funeral place probably on a royal visit around the 1940s at sometime
Comment by: John B on 4th May 2009 at 20:00
Whereabouts on Wallgate was this Fred ?
Adverts in our old parish magazines show that M&W were at 3 King Street West until 1968, when they moved to Egerton House, Lower Wallgate in 1968. Forty years later they moved to their new premises off Manchester Road, Higher Ince.
Comment by: john clarke on 4th May 2009 at 22:45
This is opposite wigan pier, it was later to become their garage for the taxi fleet.
Comment by: Mick on 5th May 2009 at 00:45
Whilst King Street West was a business address, I think they also had a workshop for coffins etc., on the site of the later Egerton House.
Looking again - can you see the group of men in the angle of the roofs on the right? One of them has what looks like a bus-man's cap on. Are they Ribble or Corpy bus staff? If Ribble, then it's on the eastern side of the pier, I'd guess.
Comment by: Helen on 6th May 2009 at 08:18
Seeing some really interesting pics today. My Uncle George Bryson worked for Middleton & Woods back in about 1948/9. He may have been a driver, I remember his long black coat. He lived in Dicconson Street, further up the street from the church just past an arched opening that went through a back alley, that came out by Bailey's the Scotch Bakers in Menses St, opposite the Congregational Church.
Comment by: Jeff Robinson on 19th May 2009 at 15:37
Whoever said that it was near Ribble bus staion is absolutely correct my dad Ken worked there as a coffin maker and sprayer until he became ill and then sadly died in 1968. I can still remember going to meet him sometimes from school and opening the doors for him as he and a mate carried the coffins round. It always smelled of the laquer that he used to spray onto the coffins to make them gleam.
Hi Fred, I was wondering, my Mum lived on Edgerton Street and she has no photo's of housing there, now she was saying that Middleton and Wood was on the corner, do you have any photo's
Thanks

Michael
When I started with Middleton & Wood it was off Miry Lane behind the car salesroom and near the Ribble garage, but it later moved across Wallgate to to Egerton House, But M & W also had a monumental workshop and show room down by the Victoria Hotel. You could see it from Wallgate Station platform.