Photos of Wigan
Photos of Wigan
Album Contents
Album Contents
Wigan Album
scholes
6 Comments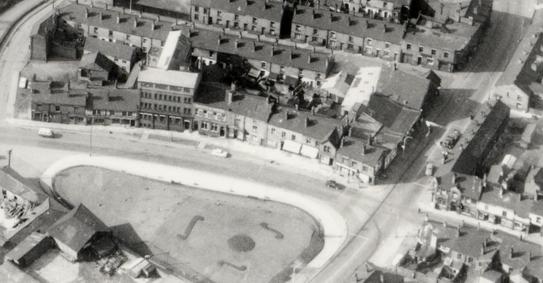 Lower Scholes 1959
Photo: Kevin Higgins
Views: 4,174
Item #: 10149
Photo of lower Scholes taken in 1959. The picture shows the Shovel & Broom, the Garment factory and the various shops. On the right of the School Lane junction is the Blue Bell.
I remember that the pavement at the side of Scholes Park was ideal for roller skating and when negotiating the bend, after coming down at some speed, it was necessary to grab the railings before clattering off the kerb into Amy Lane.
It may have been a bit dangerous but I'm sure it would still beat "Playstation" and "XBOX" hands down.


Comment by: John on 27th March 2009 at 17:25
Brill picture Kevin, if a bit small. Do you have any more of old Scholes? I have been after a pic' of School St, where I was born, for ages - without success.
Comment by: RON HUNT on 27th March 2009 at 18:33
Hi John I have a picture of schools street somewhere???
Watch this space.
Comment by: RON HUNT on 27th March 2009 at 18:35
Hi Kevin any chance of you sending me a bigger scan of the photo.?
ron@wiganworld.co.uk
Thanks
Comment by: John on 27th March 2009 at 20:06
Thanks Ron. I'll be chuffed to bits if you can find one.
Comment by: Ian McL on 30th November 2009 at 17:41
Like Ron I would appreciate a bigger scan of this pic; The Shovel and Broom was my Aunty's pub - would love a good pic of it!
Comment by: gkw on 10th November 2011 at 23:18
We also used to go roller skating at the side of Scholes Park,there were no railings at that time and the park was made up with light coloured gravel and If I remembered correctly , a wide flight of stone steps led down to the bottom.
On the other side of the park was Amy Lane sliding down to the bottom was great fun when it snowed.Nostalgia must be a sign of our dotage (as my sons are constantly reminding me) when everything then appears to be better than now. Perhaps we hanker over our lost youth when there were no TV , computers ,mobile phones, motor cars ,foreign holidays , but made our own entertainment with street games knowing more of our neighbours.