Photos of Wigan
Photos of Wigan
Album Contents
Album Contents
Wigan Album
Police
20 Comments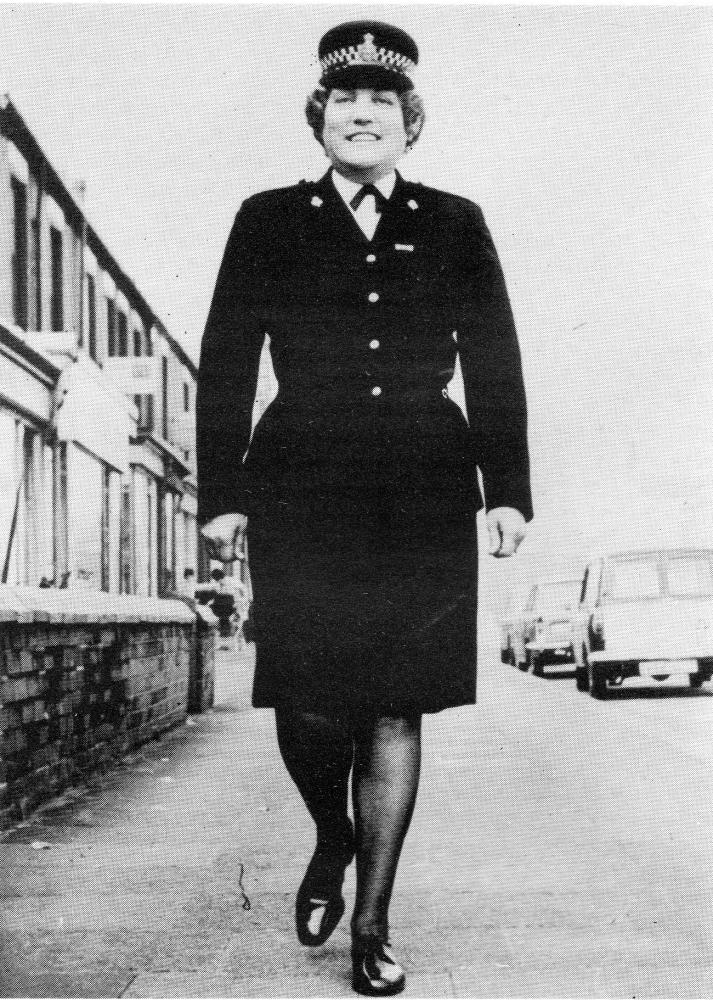 Big Amy on Park Road
Photo: Mark.
Views: 6,868
Item #: 9583
Big Amy Holt policewoman, on Park Road about 1970.
Sadly died a couple of years ago
Comment by: Barbara Dempsey on 26th February 2009 at 15:59
Used to work with Amy in the sixties. She was a lovely woman, very well liked by her colleagues. This pic brings back loads of memories.
Comment by: rubyshoes on 26th February 2009 at 16:48
I can remember when my mother worked at Tescos in King Street. Oven the most hard nosed shop-lifters quailed when they found out it was 'Big Amy' who was coming in to deal with them. My mum told me a tale about one of them... he was not bothered, he was belligerent, mouthy... but he soon shut up when this lady came through the door!
Comment by: Dave 1624 on 26th February 2009 at 19:36
Look at the shine on those shoes. Those were the days when it was smart to have well polished shoes. Just look at the state of the MAJORITY of kids coming out of school these days, their shoes never see polish from being bought to being binned, same with the appearance of their uniforms.
Comment by: Brian Halliwell on 27th February 2009 at 21:23
I remember her for her kindness to many
Comment by: Art on 1st March 2009 at 01:05
That pic was taken across the road from where Amy Holt lived on Park Rd Springfield. Is her husband Graham still living?
Comment by: David on 5th August 2010 at 18:32
I remember Amy on point duty at the Market St, Wallgate junction.
Comment by: linma on 7th August 2010 at 07:34
Remember Amy very well, was a typist with the police. Another policeman I remember was called Bill. He was a member of the police water sports team. He once told the tale of being on duty in Scholes when they always walked in pairs. He used to take off his glove and put a stone in each of the fingers and if anyone misbehaved he would clout them with the glove. Try doing that today. Good memories.
Comment by: Barbara Dempsey on 4th October 2010 at 22:14
I was a typist, Linma. What is your name?
Comment by: linda pendlebury (massa) on 31st October 2010 at 13:40
Hello Barbara Linda Massa that was used to work in CID in Crawford Street but King Street if and when needed.
As a 19 year old fresh faced bobbyI had to take my first body to the Police Mortuary in Sovereign Rd. This was in 1963.Amy and Ivy Brookes took pity on me and came to show me what to do. Amy was a lovely lady.
Comment by: Dave Allen on 30th January 2011 at 22:52
I met Ivy Brookes at Pemberton when in my early days, she was the station Inspector for a while circa 1980. I must say,that she also was a really lovely caring lady as well. Together with Joyce Mellor and Claire Entwistle. Wonder where they are now?
Loved my Aunty Amy Dearly! Was lovely to read all the nice comments and storys about Amy too. I'm So proud of her and i'm honoured to be apart of her family. Joannna Percival
I remember Amy well. She was a lovely aldy and worked with my dad, PC76 Lol Connelly, who died in 2009, aged 90 yrs. I also rember Ivy (Brooks?) Didi she marry Joe and go to live near Rhyl/Towyn? They dont make em like that anymore!
Also remember the third girl of the trio: Alice Jewell - also a lovely lady
Comment by: john walker on 23rd November 2017 at 23:49
she worked with my dad srg walker
Comment by: Phil eatock on 25th November 2017 at 11:35
Met her many times, she worked with my dad Sgt. Wilf Eatock, in the 60,s
Such a lovely lady. She worked with my dad PC Alfred Davies for many years.
Comment by: Mike quinlan on 10th November 2018 at 17:57
Amy used to frequent my old pub every saturday with her husband such a lovely lady
Joyce Mellor was one of my class Sergeants at Bruche in 1974.