Photos of Wigan
Photos of Wigan
Album Contents
Album Contents
Wigan Album
Market Hall, Indoors
11 Comments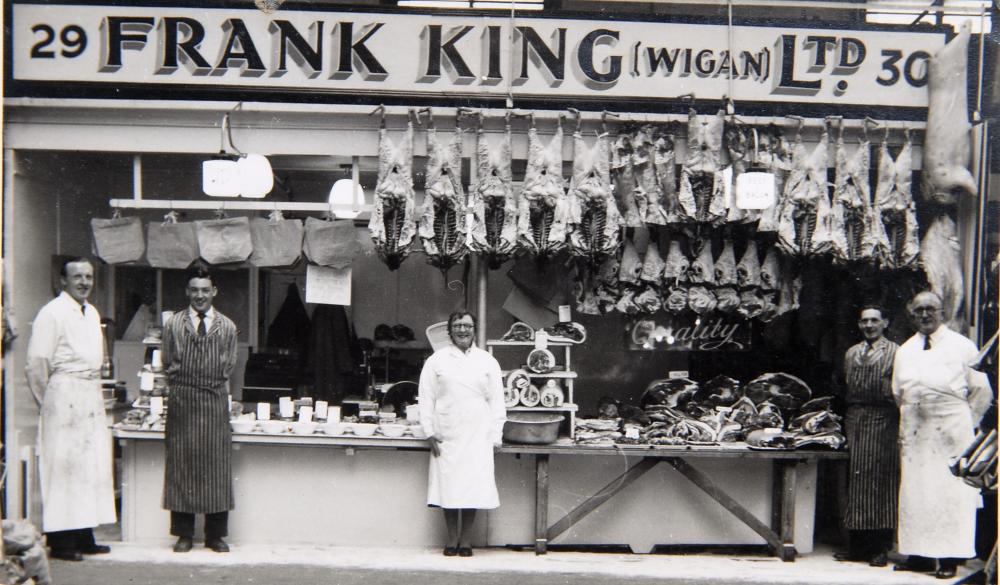 wigan market indoors
Photo: Tom cheetham
Views: 3,012
Item #: 9482
Mr and Mrs frank King with son Lawrence and staff
Comment by: DAVE MARSH on 21st February 2009 at 21:15
Great photo and good to see the bio-degradeable carrier bags.
Comment by: tony on 21st February 2009 at 23:05
Did the guy on the left have red hair. My mum used to buy her beef joint from there, nearly every Saturday, in the 1960's. The guy with the red hair would give me a kit kat!!!
Comment by: Tom on 22nd February 2009 at 09:32
yes tony lawrence did have red hair. he was my brother in law
Comment by: Hilary SB on 12th March 2009 at 05:58
I moithered my Mum and Dad to buy our weekly joint from Frank King as I always got a Jacobs Club biscuit! All the staff were cheerfull and remembered my name.
I have just seen the photo's of Frank King, he was my grandfather's youngest brother, if any one has any information on the King family- butchers, slaughtermen then I would be very interested, I am doing the family history at present
Comment by: Fred Rosbottom on 10th May 2009 at 11:19
Agood photograhp of Lawrence, I knew him well, we were in the Church Lads Brigade together. They sold lovely pork pies.
OMG, Is that Lawrence on the left and old Mr King on the right....and.... is that John Marsh next to Lawrence. John who was good mate to Ronnie Hurst and I? and also to young Billy who went on to have a stall in the new market hall.?

Wow, the memories remain....good old days, what? How is Pat?
Fred Rosbottom, do you remember Jim Rutter who sadly died on a treck to the Lakes aged just 19 years? He worked with us at Kings.He was in the Brigade.
Has anyone got a photograph of Lawrence, and which boys brigade was he in?
Comment by: Sue Ward on 21st October 2009 at 21:44
I am 90% sure that that is my dad that is standing next to Frank King and it must have been around the early 60's
Comment by: tommy c on 6th May 2010 at 15:37
sue if you look in the assorted coloum and go to st. john ambulance band lawrence is there.