Photos of Wigan
Photos of Wigan
Album Contents
Album Contents
Wigan Album
Gullick Dobson
13 Comments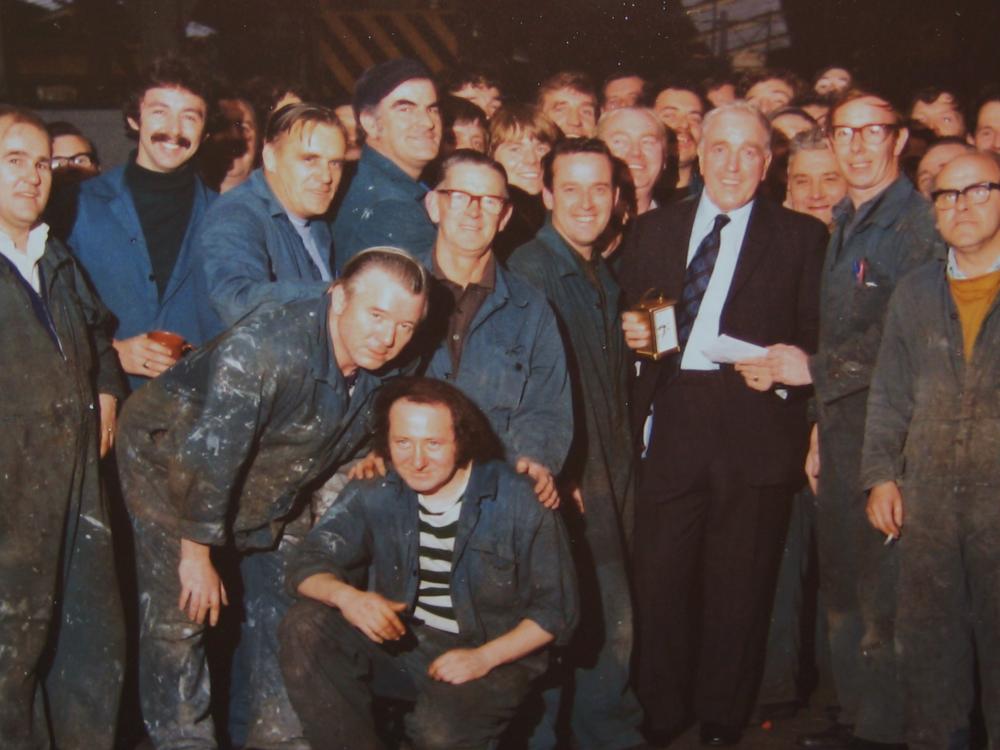 Presentation /Retirement at Gullick Dobson
Photo: Valerie Battle nee Heyes
Views: 8,028
Item #: 9458
I think this photo was taken in the early eighties obviusly a presentaion / Retirement.
My dad Jimmy Heyes is pictured to the left, just off centre of the photograph (wearing glasses.)
My dad used to think Gullicks couldn't survive
without him.We used to tease him by saying him..
'Gullick Dobson & Heyes.
Comment by: gary metcalfe on 20th February 2009 at 21:48
is that john doc the bloke kneeling
Comment by: MICK THOMAS on 23rd February 2009 at 16:08
IS THAT BARRY FITZGERALD WITH THE TASH ON THE LEFT
Comment by: Mark Calter on 23rd February 2009 at 16:14
The guy with the tash, well every one at GULLICKS called him Georgie Best but his name his Gorden Welch, he has his best suit on in the photo,because its the only one he wears he is never away from the place so he cant wear out else
CALTER
Mark Calter is correct chap with tash is Georgie Best
(Gordon Welch) guess what he is still at Gullicks and still
has no suit.Most of the lads are from the chock shop.
(ROOF SUPPORT ASSEMBLY)

DJB
Comment by: georgie best on 12th March 2009 at 18:45
it isnt me its fitzgerald im twice as nice hair longer in that era bevan and calter eyes have gone to old
Comment by: john belshaw on 13th March 2009 at 15:38
I can see Joe Rennox in the middle
1st left is Joe Cherrington my dads cousin, I worked at Gullicks up 1980 as an apprentice/electrician before emigrating to Australia, spent a short time staying with Joesephs brother John in Brisbane.
Comment by: Colin on 13th July 2009 at 13:01
It is Jon Doc kneeling laziest man i ever met.
He went to doctor and doc said how much do you drink he said about 10 pints doc said what a week he said no a session.Happy Days
Comment by: Lesley Lythe(Dutch) on 22nd September 2009 at 20:01
Jack Dutch is the best looking fella on the picture ah ah and Im not biased. Still as good looking today.
I remember Besty. I was a development engineer for Gullicks. Alan Leyland is the funny looking one with the glasses 2nd from the right
Comment by: maureen crossland on 10th June 2014 at 15:19
OMG Barry Fitzgerald not seen him in years my dad worked at Gullicks George Crossland
Comment by: Chris Jameson on 10th September 2021 at 05:21
Pretty sure my Dad, Ken Jameson, is on the very far right, behind the man with glasses. He did work in the chock shop, and he passed away in 2016.