Photos of Wigan
Photos of Wigan
Album Contents
Album Contents
Wigan Album
ross works
No Comments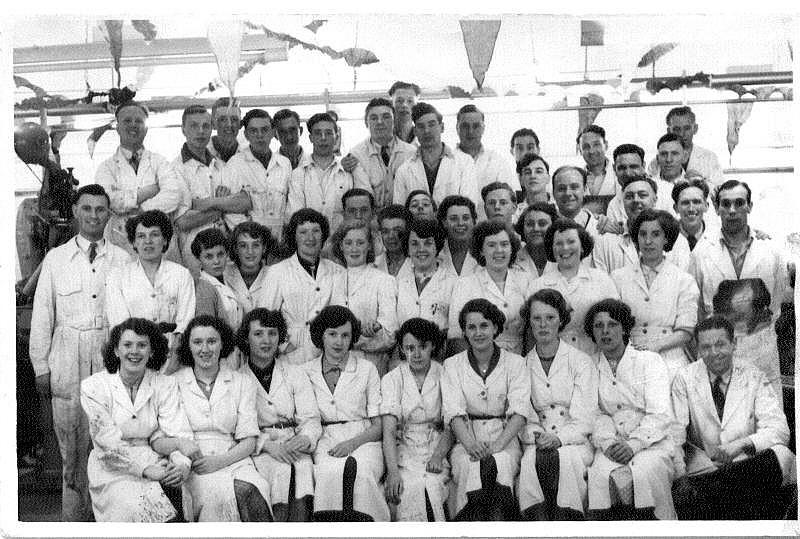 ross works welding room circa1952
Photo: fred foster
Views: 3,050
Item #: 9076
This pic was given to me by Alan Kirk who suuplied the names, Can anyone fill in the blanks?
Back Row.l-r Ike Speakman,Frank Finney, d/k,d/k.Dave Nelson,Alan Parkinson, Les Baybutt, Ken Walsh, Peter Cottom,Jimmy Bibby, John Murphy, Frank Lawrence.
2nd Row.Alan Kirk, Arthur Atherton, Harold Henstead.
3rd row.Frank Crook, Ken Lee, d/k, Roy Clough, Arnold Hulme, John Maddocks, Teddy Moore.
4th row, Cliff Houghton, Jimmy Rylance, Olive Housley, d/k, d/k, Irene Foster,Roy Hurst, d/k, Edna Jackson, Edna Leach, Marion Broadbent, Margaret Wilson,Nora Moran.
5th row, d/k, Edna Birkett, d/k, Ruth Jolley, d/k, -Martindale, d/k, Doris Lawrence, Billy Hall.