Photos of Wigan
Photos of Wigan
Album Contents
Album Contents
Wigan Album
Royal Mail
5 Comments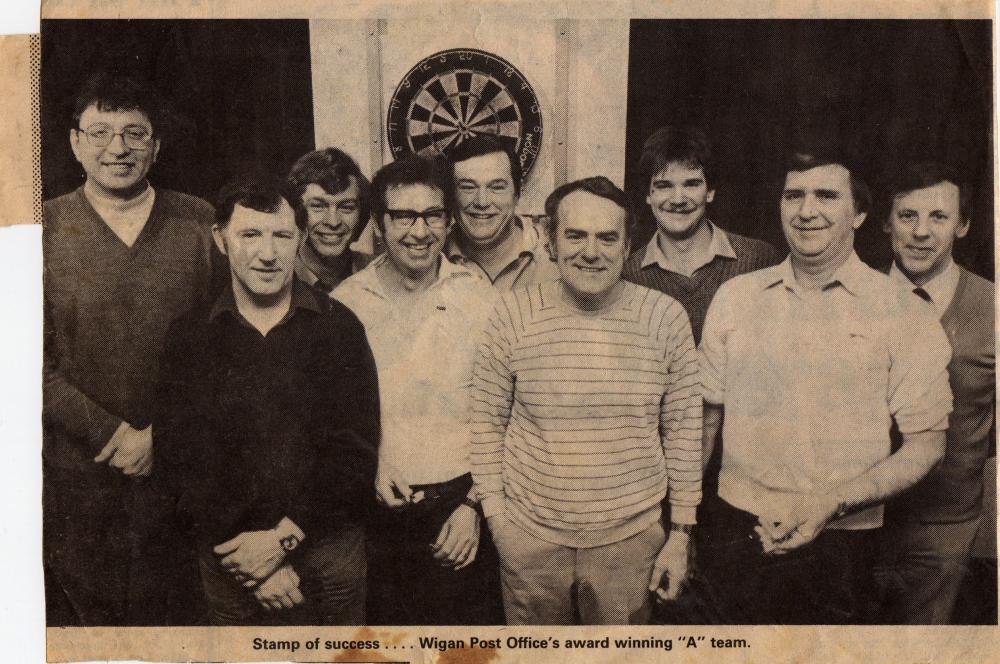 Royal Mail Darts team 1970's
Photo: Roland Middleton
Views: 3,673
Item #: 8519
L TO R, Dennis Winstanley, Ken Hart, Dave Clossick, Peter Baxter, Brian Tucker, Terry Flanagan, Geoff Latham, Trevor Latham, George Wyatt.
Beat Blackpool Telephone to win the Lancashire P.O. cup for the ninth time in eleven years.
Comment by: Frank Healy on 7th January 2009 at 09:26
Peter Baxter: the quickest darts thrower of all time: blink and you'd missed them :0) A good player though.
Comment by: Mark Conroy on 7th January 2009 at 11:24
From the Golden Age of the Wigan Postmen.Nice one Roland.
Comment by: Stu Hazelden on 16th January 2009 at 20:39
Nice muzzie mongo, like a 70`s porn star
Comment by: Ex Posty on 30th August 2009 at 12:16
See George in Asda a few week ago with is wife.It was nice to see him fit and well
Comment by: Lorraine Curran on 27th June 2013 at 01:38
Happy Days when you had time for a chat. Lovely men, some departed now. Brian Tucker always had a laugh and did me a good turn one day for Auntie Marion's funeral. Thank you Brian for that doing some of those flats so I could get to Bury. Geoff still there, The rest have left now. Retirement comes to us all. 68 is now for my age group. How bad is that.