Photos of Wigan
Photos of Wigan
Album Contents
Album Contents
Wigan Album
Unknown place of work
7 Comments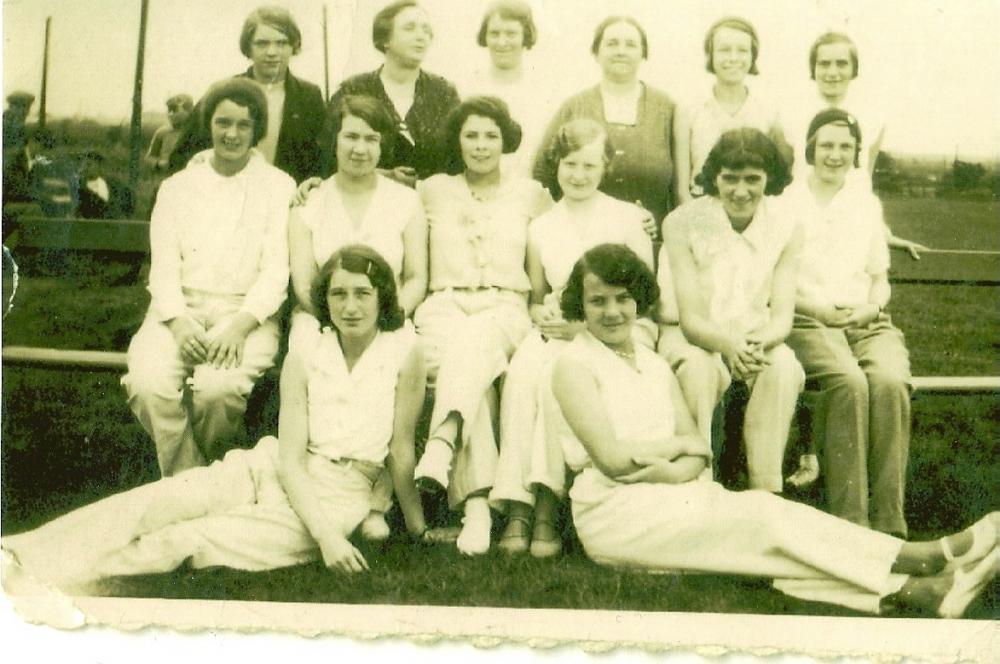 Working girls
Photo: Julie Allan
Views: 3,324
Item #: 7919
Front right sitting on the floor is my great aunt Sarah Barrett Prescott (known as Sally). It is at her place of work but I don't know where this was. She married Edward (Teddy)Fanning in 1934 so I guess this dates before then as I believe married women did not work in those days. The ones that can be seen are all wearing trousers so maybe this is relevant to the work they were doing. I think she lived in Bottling Wood until she married. Does anybody know any other names?
Comment by: W.P on 9th November 2008 at 21:51
"Working Girls" Thats not very nice lol
I wonder if there's any significance in the fact that there are 11 girls in whites, all those visible wearing trousers? It looks more like a team photo - especially since there appears to be a playing field in the background. Ladies' Cricket, perhaps?
Comment by: Ashley on 10th November 2008 at 08:36
Eleven girls in white, apart from the girl wearing light grey slacks, looks like cricket's a strong possibility.
Comment by: Julie Allan on 10th November 2008 at 11:04
oooh WP I didn't think of it like that! lol
Cricket seems so obvious now that you say it. I don't ever remember her telling any tales of playing cricket and she was a great tale teller as an older lady. I have been told my another family memeber that she worked at the Bleachworks for a while, so it could have been a team for them. Wouldn't it have been a bit racey for ladies to be playing cricket in the 1930's?
Comment by: Joseph on 10th November 2008 at 15:39
Not sure about cricket,i can see three of the "gals" wearing ballet/dancing shoes so a dancing troupe maybe?
Comment by: Jm on 10th November 2008 at 19:55
look more like tap dancing shoes to me,
Comment by: Art on 11th November 2008 at 00:06
There were a lot of Ladies Health & Beauty Clubs about then, quite a big organisation.