Photos of Wigan
Photos of Wigan
Album Contents
Album Contents
Wigan Album
Railways
8 Comments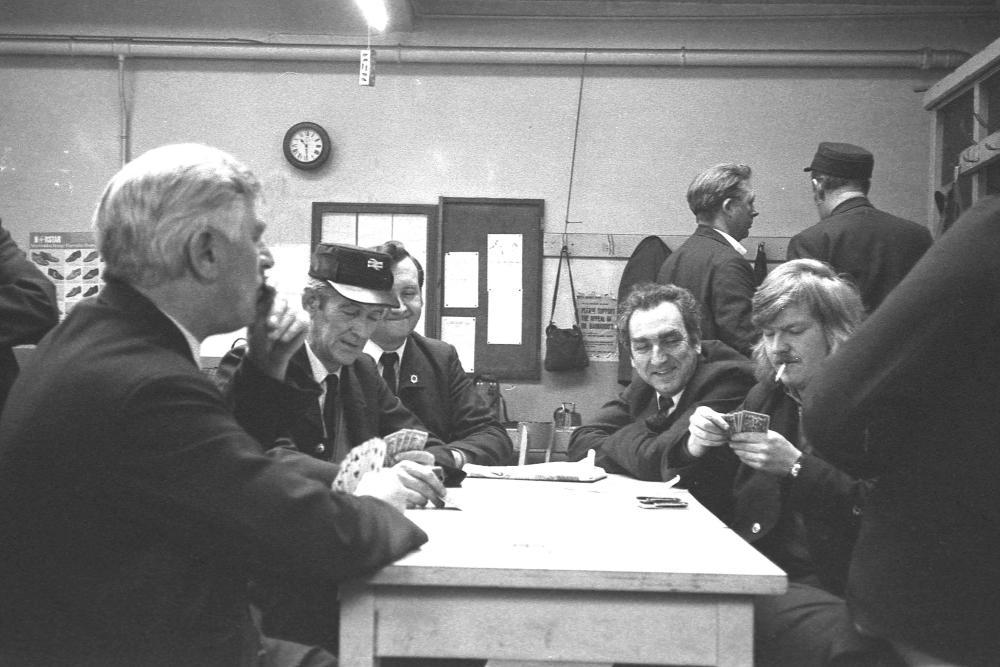 Messroom, Springs Branch. Game of 'blob', 1974.
Photo: Thomas Sutch
Views: 4,433
Item #: 680
Messroom, Springs Branch. Game of 'blob', 1974.
Comment by: stey fishwick on 9th June 2009 at 15:47
my favourite job whilst on railway,specially when jakie
and shawy were in same card school,some faces round table
unfortunately not with us anymore
L to R,Harry Hulse,driver,Jack Rutter,dr,Teddy Holmes dr,taken much too soon,Les Williams dr,and my good self hard at work,B and H in the gob ,,wonder how i used to concentrate with that mop,favver tatty head
Thought this was a still from a Will Hay film but on closer inspection it appears more recent than that; and could that be the legendary Steve Fishwick on the right? The man who fooled Warrington TCS's by substituting his twin brother on his turn of duty?(this story requires verification)
"A still from a Will Hay film", absolutely brilliant.
Not quite "Buggleskelly" perhaps, but near enough!
Comment by: stey fishwick(upthetims') on 1st September 2010 at 13:55
i can verify the fact that our kid never did a shift for me,i was irreplaceable!!!!!!!!!!still can't remember if i won that game of blob
these photos bring back memories i fired for harry hulse many
times.and jack beardsmore fired for me on my first driving turn
westhoughton woody
My dad Harry Hulse often took me down to the sheds and he would sneak me on the foot plate.My dad is still living but still talks about all the lads. He recently spoke about when the rail company sent him down to London at the time when London was being bombed and he was a fire man working all hours moving ammunition around. If anybody wants to contact me please use the email address david_hulse.eng.des@hotmail.com
Comment by: JLythgoe on 28th August 2012 at 19:04
Great photo - Jack Rutter was my grandad and sadly he died 15 years ago (still miss him loads) - I remember as a kid wearing that hat and pretending to be a driver. Great memories.