Photos of Wigan
Photos of Wigan
Album Contents
Album Contents
Wigan Album
Police
2 Comments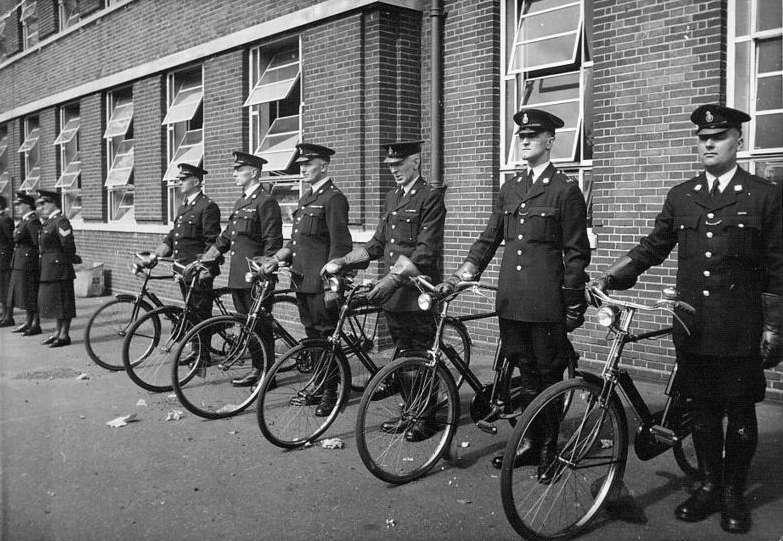 Government Inspection, 1953.
Photo: Richard Humphreys
Views: 2,673
Item #: 666
Government Inspection, 1953 in playground of Wigan Grammar School.

Left to Right - I think the PW was Dorothy Lavery, the Sgt was Alice Jewell
Cyclist left to right. Harry Johnson, Alf Davies M-M, Frank Ascroft, Jim Grass, Myself, Jim Croghan.
My late father Alfred davies is second cyclist from the left.I used to meet him on the corner of Swinley Rd at the end of his shift so that i could ride home on the cross bar. Happy days.
According to James Fairhurst's 'Policing Wigan' (Landy Publishing 1996), Alice Jewell did not get made up to Sergeant until 1955.
The litter on the ground (a bit surprising, I would have thought, given the occasion - with the Mayor, the Chief Constable, and the visiting HMIC officers being present), is also there in a pic of what I think may have been the same Inspection - Alice Jewell is stood as here. Unfortunately, although the inspection party is shown in my shot, the Mayor is not visible - which would have resolved the date, as the Mayor only holds office for one year.
If James Fairhurst is correct, then Alice Jewell would not have had stripes in 1953....