Photos of Wigan
Photos of Wigan
Album Contents
Album Contents
Wigan Album
Gullick Dobson
15 Comments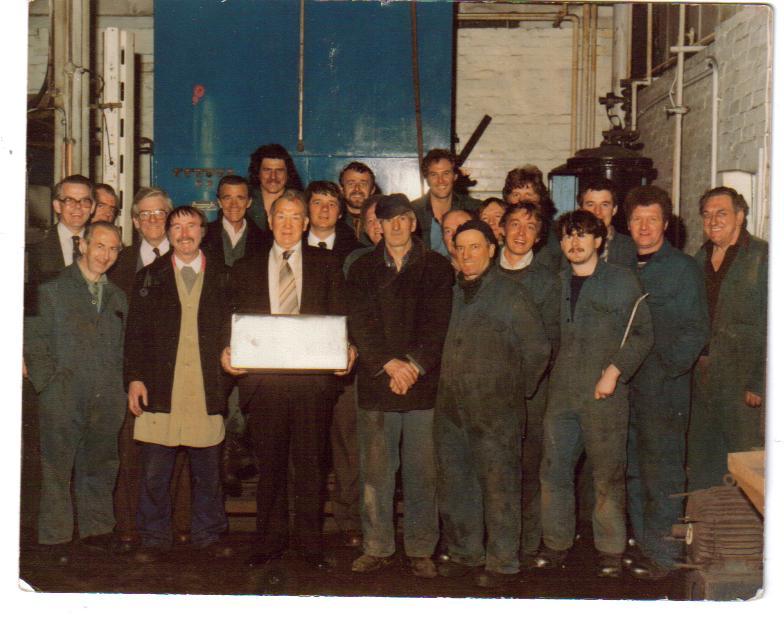 WORKERS AT GULLICKS
Photo: KATHY LEE
Views: 11,280
Item #: 6100
A PRESENTATION MY DAD JACK CLOSE IS ON THE FAR RIIGHT
a few old faces there in the boiler house,,know your dad from old,,there not many foto,s about for gullicks ,considering in its heyday in the late 70,/early 80,s it was one the biggest employers in wigan and district,,has anyone got foto,s stashed away in back of drawers etc,,be good to see a few
Comment by: KATHLEEN LEE on 26th May 2008 at 19:10
I am very pleased that someone has recognised the workers I found these pictures after sorting my dads stuff when he died in 2006
Comment by: kathleen lee on 27th May 2008 at 16:21
JIM
HOW DID YOU KNOW MY DAD DID YOU WORK WITH HIM?
Comment by: stuart on 20th August 2008 at 21:54
my mate fourth from right at front with tash paul roby, what a great bloke he was
I worked at Gullicks since 1977 until 2000 and it brings back lots of Great memories looking at this picture.
I started in the stores before becoming a foreman finishing my days there in the dispatch department.

I recognise most of the faces but its hard to put names to them all, i do see Brian Kennedy far left and i do know the guys pictured represent the fitters, mechanics etc. Happy Days eh.
I also worked at Gullicks 1960--2000 it brings back many happy memories.I started at Ince Forge as app. electrcian, then in the electronics dept. It appears that it was Bob Meaadows leaving retirement,Bob was a boilerman along with Jack Close, Michael taffy Metcalfe, Jimmy Amor. The picture also includes,Geoff Read maintainance manager,Jack Ellison foreman fitter,Colin Round,Ian Cunliffe,John Bond(fitters) oiler and greecer Jimmy Duddy.etc etc

Happy Days

DJB
I was wrong it should be Dickie Meadows on the presentation,and not Bob.If my memory is correct i beleive they where brothers,Bob used to drive the 50ton crane at
INCE FORGE.

DJB
Comment by: roy davies on 14th March 2009 at 19:51
Worked at gullicks for just short of thirty years. Know most of the lads especially Paul Roby. Wish you where still with us.
David Bevan,
I Still dream of that JPS Capri you sold to Peter Martin and bugger wrote it off.I think only had 6000miles on it,
does anyone remember harold pilling he worked at gullicks at ince but went to haydock ..
i work at gullicks from 1985, but not for gulicks,but for Robbies we worked allover the site, from this picture i can rember geoff read , john bond and colin round.
Comment by: Andy Haselden on 4th August 2009 at 22:01
The guy to the right of Jack Ellison(foreman) is Joe Cumberbach,we all remember Jack Close-he was a character.
name not mentioned above was Joe Topping ex.driller then oiler & greaser at claringtion.Joe & I did littlewoods for years but never won nowt'but happy days.se Brian grace at back with hair like modern day pop singer,still same last time I saw him
I ALSO WORKED AT GULLICK DOBSON.
A GOOD OLD MEMORY.
Comment by: JOHN BELSHAW on 17th September 2010 at 15:00
Mr Joe Stead, Brian Grace isn't on this photograph.