Photos of Wigan
Photos of Wigan
Album Contents
Album Contents
Wigan Album
Mining
10 Comments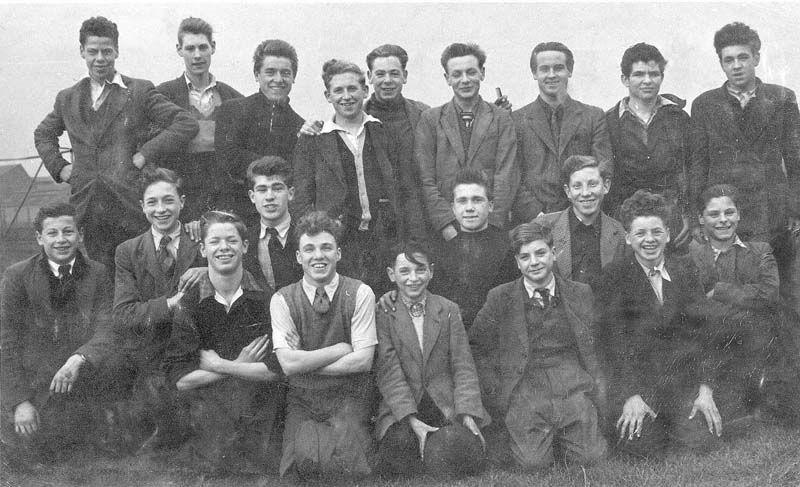 NCB training group at Low Hall, Platt Bridge, September 1953.
Photo: Arthur Culshaw
Views: 3,700
Item #: 604
NCB training group at Low Hall, Platt Bridge September 1953. There's some Abram, Platt Bridge & Bickershaw lads on it.
i was at low hall in january 1958.i remember it well.
I'm the lad on the left with my arms folded. Can't remember any other names, but I remember Low Hall well.
I left Bickershaw and emigrated to Australia in 1969 and am now a retired Deputy Mine Manager. We hope to visit Wigan/Leigh again in 2009.
Comment by: Art on 22nd June 2008 at 17:50
As far as I recall, this is the line-up:
Back row: ?, ?, Mick Clare, John baldwin, Eddie Caddick,?, ?, Me, Fish.
Middle five: ?, ?, ?, Al Burrows, Winstanley.
Front Row: You, Toothill, ?, Les Dickinson, ?, ?

Me? I'm the name at the top responsible for sending the pic in ;o)
Comment by: Fred Sentance on 23rd June 2008 at 18:17
Arthur.Remember you now from your picture,2nd from right back row.I think we all did some training at Low Hall.
Comment by: Art on 23rd June 2008 at 19:25
I'd just turned fifteen then, them were the days..;o)
Comment by: chris g on 29th June 2010 at 09:32
I'm pretty sure that the lad 6th from left, back row is Brian Johnson from Ince Green Lane.
Comment by: thiek c on 29th June 2010 at 09:45
did les dickinson mick clare and eddie caddick all work for the gas board
Comment by: Art on 1st July 2010 at 15:29
I was at Gidlow Sec Mod with 'em, same year Keith.
Don't know what Les & Mick are doing now, but Eddie Caddick died a few years ago :o(
Hi Arther, Yes I remember You and Dennis at John Pit,Loved the toast at Taylor pit on the open fire. Did you know Jacky Partington At Giglow S M. He was a friend of mine, is he still around
Comment by: roland on 3rd August 2011 at 19:42
Middle row l to r second lad is, I think Harry Muscroft from lower Ince he went to Spring View sec. mod.