Photos of Wigan
Photos of Wigan
Album Contents
Album Contents
Wigan Album
sellars bakers
9 Comments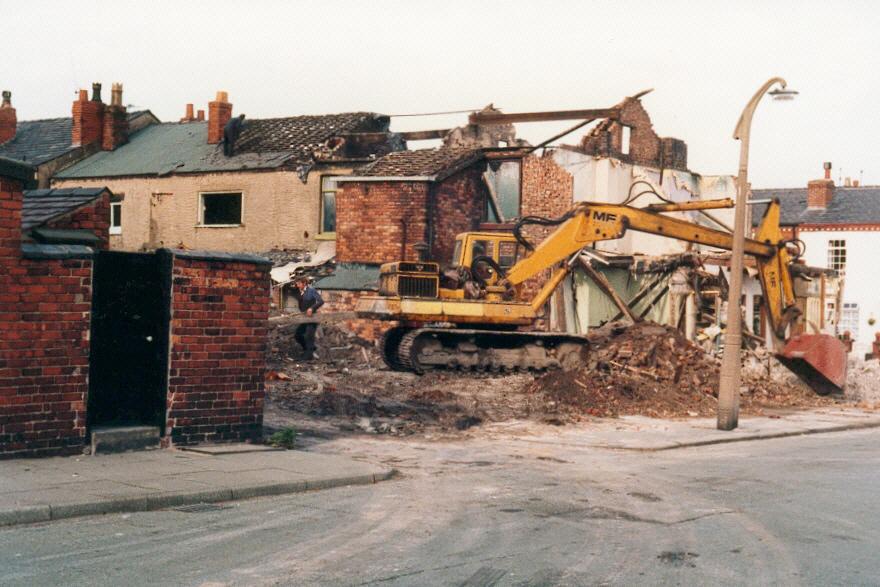 bakehouse demolition
Photo: fred foster
Views: 2,254
Item #: 6036
A sad end to a thriving business. When I worked there, we were producing 5000 meat and potato and 5000 meat pies per day, supplying Rathbones shops and vans along with a wholesale trade as far as Burscough.The staff were allowed to eat what they wanted and small pork pies were a favourite, straight out of the ovens!
Comment by: Elayne on 30th April 2008 at 10:13
Where abouts on Billinge Rd was it Fred? I cant remember it.
Comment by: Jimmy on 30th April 2008 at 14:32
Fred I used to get pies off their driver John, He went on to work as a manager in Whelans first wigan shop near the Park Hotel.
Comment by: dave johnson on 30th April 2008 at 17:49
It was half way down Billinge Rd almost across from the entrance to Alexandra Crescent.
Comment by: Dave (1624) on 30th April 2008 at 22:36
10 thousand pies a day seems a little unbelievable from at tiny bakery.Could it not be 500 a day?
I know the owner, probably he could clarify when i next see him.
We produced 10 racks of each, 21 trays to a rack and 21 pies to a tray and that is 4000 approx, plus a further 2 racks of medium pork pies and a rack of small pork pies, also pasties and family sized steak and family pork pies.I realise that I was a bit out on the estimated production, my maths arn't as good as they were!
Comment by: Monumental on 6th May 2008 at 17:20
Was this shop the old Sellars Bakers, halfway along Billinge Road
Comment by: colin butcher on 3rd February 2009 at 22:30
considering we (us wiganers) are quite well up on pies, ive Not seen many photos of pie shops, lol. one of the best has recently closed, whittles, at the end of tunstall lane, [photos please] thanks.
Eric Sellars, the last of Sellars Bros, died in December 2009.aged 78