Photos of Wigan
Photos of Wigan
Album Contents
Album Contents
Wigan Album
Knocker Up
17 Comments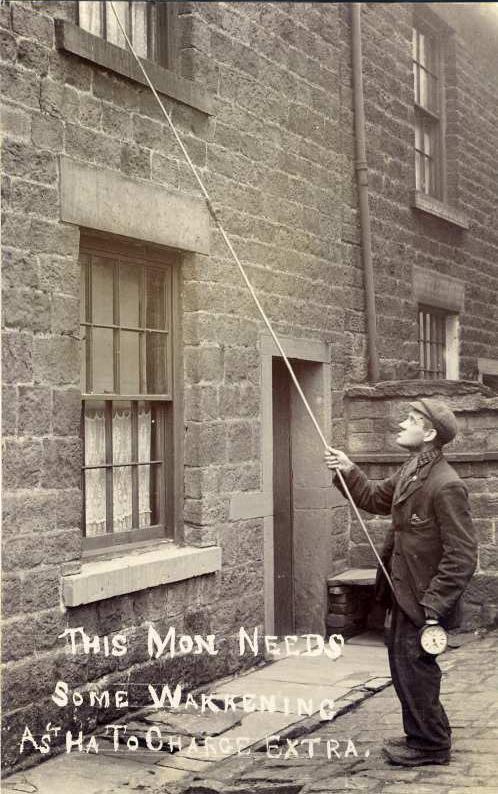 Knocker Up
Photo: Ron Hunt
Views: 8,653
Item #: 577
A knocker-upper, location unknown, but taken in the North of England.
Comment by: Gareth on 22nd February 2008 at 18:00
Who woke the knocker-upper up??
Comment by: protect the innocent on 26th October 2008 at 12:22
One twenty year old girl from Stanley Street, Scholes told her Canadian relatives she used to get knocked up every morning by this man.
They did not know whether to be shocked or full of admiration.This phrase has a totally different meaning in North America
when I was a little girl I remember the knocker up he used to live in Platt Lane Scholes and every morning around 5 he would come knocking my dad up for work those were the days ah ah
Comment by: hilly on 8th September 2009 at 20:25
Joan, can you recall any more information about the knocker up from Platt Lane ? My Grandfather, William Hill, lived in Platt Lane. He went to the Somme battlefields in 1916, aged about 27 yrs, and was wounded badly. He was discharged from the army, and was employed as a knocker up ( On his death certificate he is described as a railway knocker ). Any info would be welcome for my family history research.
dosr anyone remember my great uncle tommy heyes he was a knocker-upper around wigan
Comment by: terry on 19th January 2011 at 18:27
it was the knocker uppers knocker upper who woke the knocker upper up ??? then again who woke him! ???
When I was in the Wigan Borough Police,in the late 50s. early morning working round Scholes,a knocker up lady knocked the panel out of a front door using a hammer. the householder went mad as she was knocking up at the wrong house
hilly refers to railway knockers. When the Maypole Colliery closed in the 50s. My Uncle Albert got a job at Springs Branch.After getting steam up, on the locomotives,his next job was to pedal to various parts of Wigan, in all sorts of weather. Knocking up drivers and firemen. Who would do that today?.
Comment by: David Simm on 8th April 2012 at 03:02
Oh my goodness I can hear the sound of clogs on the pavement as the miner's rush off to the bus stop, I must have been about four years old when I last saw a scene like this, this and the lamp lighter roaming through the streets.
Comment by: alan on 4th July 2012 at 15:45
My uncle,George Lambert who lived in Scot Lane Newtown was a Knocker up He had a bike with an L.M.S.name plate on.
I remember him during the 1940'S
Comment by: Alan on 5th July 2012 at 09:38
Further to my previous comment.My uncle George Lambert is described as a "CALL-MAN" on his daughters marriage certificate in 1945. Is this the correct term for a knocker-up ???
the knocker up man in the forties and fifties,in the hardybutts area was pat o'tool.he was very persistant
any one remember little harry ashton lamp lighter and knocker up newtown area knocked to hard one morning he broke bedroom window
Comment by: Paul Roche on 2nd April 2015 at 15:38
im just researching my partners family tree and william hill was her great uncle.
Just doing my family tree also, my grandad was George Lambert, his daughter Kezia, aged 91, is my Aunt and his wife Mary. I know he was a "call man" because she told me. Hope Alan can let me know who his father or mother is?
Comment by: Linda Massa on 18th December 2016 at 07:06
Did you have to pay the knocker upper?
Comment by: RON HUNT on 18th December 2016 at 08:21
Yes you had to pay him. That was his job.