Photos of Wigan
Photos of Wigan
Album Contents
Album Contents
Wigan Album
Royal Mail
9 Comments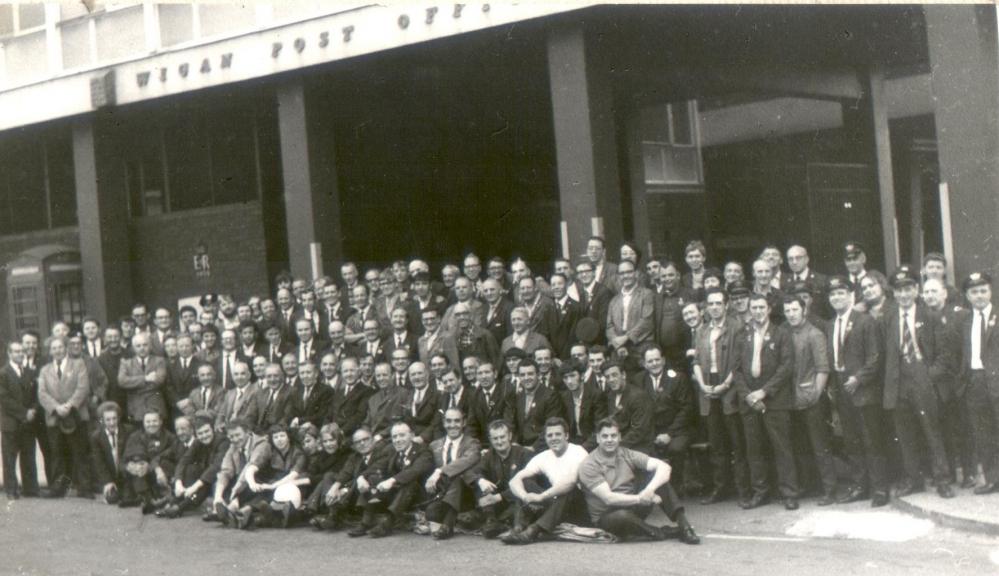 GPO Workers 1972
Photo: Minnie
Views: 4,252
Item #: 5293
Wigan Sorting Office Staff circa 1972
Comment by: coccium on 29th February 2008 at 17:34
Is there still that many work there today?
Comment by: wigan1957 on 29th February 2008 at 20:12
i started work at the sorting office in 1977,i can see a few people on there i remember,a lot i cant though.
I well remember this photo It was taken by a postman named Tommy Mason most will know him by his nickname Catweazle he was real character, also a photographer, most of them are now gone, one or two who still work there and are on the photo, Alan (Holly) Almond and Alan Greenhalgh I was probably working when this was taken! the reason some are not on it is that they may have been on night shift, afternoons or holidays.
Comment by: Mark Conroy on 13th August 2008 at 13:22
I started in 1976 and stayed for about 11 years.Some faces I can put a name to are Charlie Browm,Alan Greenalgh,Witchipoo,Dave Gregg,Roy Webster,Peter Baxter,Ronnie Hilton,Trevor Latham,Joe Gibson.I know many others but can't recall their names.
Comment by: alan greenhalgh on 23rd November 2008 at 17:10
front row ; Dave Gregg,Jimmy Daly,Charlie Brown,Jimmy Lowe,Olly,Kieth Farnworth,me,Witchypoo,Norman Liptrot. Arthur Fisher,Reg Gallop.Wooly (head postmaster) Tommy Rigby, Ronnie HiltonKen Hart, Tommy Pidgeon, Bob McCormick, Ronnie Rebate, Jimmy Fitz, Eric Bates,Alan Haury and you could go on.
Comment by: dave thomas on 20th February 2009 at 13:38
The man extreme far right looks like my father in law james callaghan.
Comment by: roland on 24th February 2009 at 15:59
It is indeed Jimmy Callahgan
Comment by: brenn on 10th March 2009 at 16:58
my dad(george brennan)on the front row.the only one with a white t-shirt on
hi roland just come across the photo cant believe you missed me im the young bloke on the back row about 5th from right hope you ok we live in australia now .