Photos of Wigan
Photos of Wigan
Album Contents
Album Contents
Wigan Album
Railways
20 Comments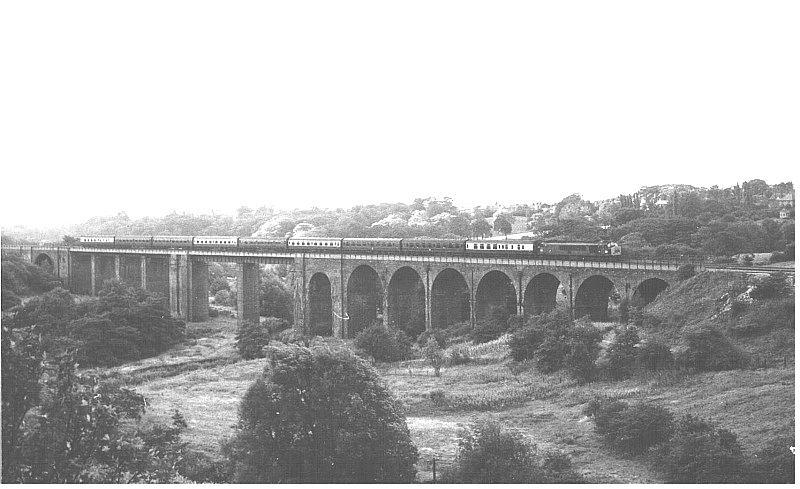 Diesel on Twenty bridges
Photo: winder
Views: 9,681
Item #: 5268
Another from an unknown photographer.
Info on back of pic; Leeds-Blackpool 5.9.70.
The train is crossing the Douglas Valley on what was once a magnificent structure, it was known locally as Twenty Bridges but in reality there was only nineteen,thirteen arches and six spans. It is at the present time very difficult to gain access to it, because of security fencing at both ends. So it sits there, crumbling away instead of being repaired and opened up as a footpath.Other local authorities are proud of their heritage, this is not the case in Wigan.

Comment by: dk on 25th February 2008 at 20:07
A fine picture winder and such a fine structure. It should be put back to this, at least to look at. It wouldn't be so hard to shift the undergrowth.
On the other side of the bridge there was an underground tunnel accessed by a cover containing a big pipe. It was possible to get in at one end and shimmy along the top of the pipe before emerging through another cover at the other end of the bridge. It's a faint memory and I can't be too clear about how long the tunnel was but it was practically pitch black and we did do it.
Thanks Winder.
Comment by: peter frost on 27th February 2008 at 20:34
is this structure near wigan
i cant for the life of place it
Comment by: Mick on 27th February 2008 at 21:40
Peter: Enter Haigh plantations via Plantation Gates on Wigan Lane, cross River Douglas bridge, then follow path to left, instead of turning right towards Haigh Hall.
Comment by: Steve Worthington on 27th February 2008 at 22:25
I've walked this bridge many times in the early 90's when it was possible to get on it. Just go down Leyland Mill Lane (I used to have a Girlfriend who lived down there) Keep going straight along, and past the new houses on the left. Eventually you pass under the first arch of this magnificent structure. I remember once a mate and I spent three quarters of an hour dragging a small tree onto the viaduct, so we could drop it in the Douggie and see the splash. Imagine our dissapointment when the expected splash was more like a plop!
Comment by: TT on 28th February 2008 at 12:59
Just follow the old railway track that runs through the plantations past Wigan rugby union club and it leads you straight to the twenty bridges. Thats the way I used to get there years ago.
Further to my comment above, I've just visited the Twenty Bridges today, so I've got slightly more in depth directions.
Leyland Mill Lane is situated off the A49 between The Cherry Gardens Pub, and Wigan Infirmary.
Go down Leyland Mill Lane, and as you get into the bottom of the dip, follow Leyand Mill by bearing hard left. Keep on this road, and as I've said in the above comment you'll pass some new houses on your left, which are behind a high fence. The tarmac road soon comes to an end at the junction of Sennicar Lane and Pendlebury lane.
Carry straight on down Pendlebury Lane, and you pass under the Twenty Bridges viaduct after about two hundred yards. Just after the arch there's a gap in the fence on the left. Here you can walk down to the River Douglas, and get a good view of the viaduct towering above you.
I hope this helps.
dk, thanks for the comment.
Steve, after you pass through the fence, the third arch along used to have a railway line running through it. The line went from Haigh Junc to Brock Mill and Haigh foundries.
Someone, probably the farmer, has written "Beware of the Bull" on the wall of the third arch.
I didn't know about the branch down to Brock Mill, but it can sort of be made out on Google Earth.
A few months ago I visited the Standish end of Twenty Bridges, and part of the security fence had been removed, allowing a slim person access to the viaduct. Unfortunately I couldn't take advantage of the gap in the fence. No, it wasn't because I'm too fat, it's because I'd forgotten my bike lock. Honest!
Comment by: peter frost on 28th February 2008 at 20:42
i went to the bridge today 28th feb followed your instructions and found it no trouble
photographing it however was more difficult
it was very overgrown and very hard to photograph.
what photos i managed to get i have put on the forum under twenty bridges
i will go back and try to get a better pic than the ones i got today
Hi Peter.
I'm having trouble finding your pictures in the forum.
Would yo be kind enough to paste the link on this page?
Many thanks
Comment by: peter frost on 28th February 2008 at 22:47
here it is steve
http://wiganworld.co.uk/forum/viewtopic.php?t=4815
Thanks for the link Peter.
You got some good shots. It's just a real shame it's so overgrown.
The photo dated 1970 looks as though it's been took from the railway line that crossed over the Whelley Loop. That railway went from the junction at Boars head through Red Rock and on to Adlington.
This crossed the Douggie Valley on a viaduct even higher than the Twenty Bridges. The remains of this viaduct can be seen at the Standish end of Twenty Bridges.
The huge supporting pilars are still there, although the actual decking has been removed. The supporting pilars are clearly visible on Google Earth.
Anyway, I've signed up to the forum, so hopefully I'll be able to discuss Wigans once vast network of Railways on there.
explorations has put another picture on the forum of this viaduct
quite a good pic too
From the pictures on the forum, the viaduct looks still to be in good shape, minus a few bricks. Thanks for the great
photos. I love picturs of old bridges, especially rail bridges.
Comment by: peter frost on 29th February 2008 at 23:07
the viaduct does look in good shape
but it is very overgrown as you can see from the pics
wow,,,that was my first thought when I saw this pic,,all this in wigan,,,your dead right about this being opened up...in The Wigan Evening Post of Mon Feb 8th they ran a feature to get local buildings and structures of local interest compiled for a local database being run in conjunction with Wigan councils conservation dept.
Its asks for peole to nominate same with just that view ,to possibley open up such structures as this,,,
If ever there was an example it is surely "Twenty Bridges" how many more people like on of the pics contributors are unaware of this,,I,ll wager three quarters of present day wiganers dont know its exists,,,
Start nominating NOW at www.wigan.gov.uk/blints,,,j.kennedy@wigan.gov.uk or contact Jason Kennedy on Wigan 404254 for a paper copy of the nomination form,,
or log on to WE Post website,www.wigatoday.net and tell them ....Closing date is June 20th,,
Lets get this have this monument of our industrial heritage restored and reopened
Hi Jim
Thanks for the tip off. I've just nominated this viaduct, and I've passed the info to all my mates who like me are railway obsessed.
Thanks mate.
Comment by: darren harlow on 18th April 2009 at 14:44
does anyone know how long ittook to complete whelley loop line and perticulare the magnifecent twenty bridge
Comment by: No 3 Pit Winder on 10th August 2009 at 03:57
Yet another gem from a certain Brian Barlow I have this photo framed on my hallway wall.Great stuff.
Comment by: B Boardman on 19th February 2010 at 20:18
How did the nominations go for the twenty bridges ,
it is such a shame they have been left to deteriate
so much . This area was the nicest part of Wigan.