Photos of Wigan
Photos of Wigan
Album Contents
Album Contents
Wigan Album
Police
4 Comments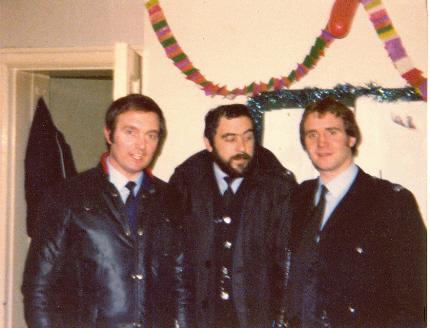 Pemberton Police Officers
Photo: Mick
Views: 3,713
Item #: 4029
P.C.s Alan Prescott, Dick Green and Don Barrow,
Pemberton Police Office, December 1978.
Comment by: Lynne Aspinall (nee Ashurst) on 29th November 2007 at 22:20
Now Dick Green - i lived next door to dick with my father Jack Ashurst - MANY MANY Moons ago.... and the name Alan Prescott rings a bell.
Comment by: Alan Prescott. on 18th February 2008 at 21:10
I retired from the Police service in 1994. I still live in the Wigan area. Dick Green is retired and resides in Wales. Don Barrow retired some years ago and is now a Magistrate. This photo was taken on Christmas morning 1978. We had just finished night duty.
Comment by: julie on 26th February 2008 at 01:02
I also remember them well. hi alan... it has been a long time since then..I also served at pemberton. you will know doubt remember debbie.. john and myself still live at the same address
Comment by: Dick Green on 24th July 2009 at 16:18
Hello hello hello, it's little me,withblack hair and almost sober,(afterall it was Christmas.)I live in Mid Wales still with our Nora, and my two sons Jason and Richie.I have only just found this site (Wiganworld) but i'm not too good with one of these here computers. I come up to see Mike FInney Don and Grassy when I can. I'll show this photo to my two lads to prove! 1 I once had hair,2 it was black,3 Iwas sometimes only drunk,5 Don realy did exist.I shall keep an eye on this site from now on so hope to hear from you all from Pem;