Photos of Wigan
Photos of Wigan
Album Contents
Album Contents
Wigan Album
Police
18 Comments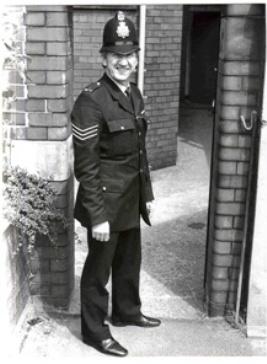 Sgt 5684
Photo: Charles O'Leary
Views: 3,163
Item #: 3754
Taken at the rear of the old Pemberton Police Station, now demolished just before my retirement in 1983
Hello Charlie :) I remember you very well. i wonder if you could share any stories with me please? my dad would never say alot, but Ive been told very recently that they still talk about him in Wigan! with respect of course ! hehe
Comment by: Charles O'Leary on 26th December 2007 at 14:16
Linda, can't think of any at the moment (good or bad ??) I'll let you know if I do !
Comment by: Brian North on 25th February 2008 at 02:12
Hello Uncle Charlie......them were the days Eh??

Brian
Comment by: Guesswho on 6th July 2008 at 02:19
Harold Moss, a.k.a. 6291! Still singing Harold?
Comment by: 6291 on 11th July 2008 at 13:15
you know me any chance i get ,a bit more info as to who you are
Comment by: Mick on 11th July 2008 at 20:35
I'll not keep you guessing any longer Harold ... Mick Finney.
Comment by: 6291 on 12th July 2008 at 22:00
hi mick just been looking at some comments cant remember brian north?
Comment by: fatty on 4th March 2009 at 07:50
This is a very rare photograph i.e. Charlie NOT on the telephone. Joking apart, a lovely fella,who did his best for everyone (public and the lads he worked with) Our nickname for him 'UNCLE'' says it all. Charlie, if your wondering who wrote this, remember I was always saying to you, 'We didn't do it like that in St.Helens borough' Best boss I ever had. K.W.
Comment by: brian north on 17th September 2010 at 23:49
Just clocked this......KW,is that you wilkey???
Keith, thankyou for those kindly comments about me. Others thought otherwise. Do you happen to know if St Helens still does things the round way round ?? You still kicking Brian? Not spotted you for a while even though we only live round the corner from each other.
Hi Charlie. Do you remember in the Wigan D.H.Q bar one night when you were coming out with the beef about J.J. Lawson's wife being pregnant again. Then I dropped it on your toes that the person I was with was the curate at St. Andews Church at Springfield. Your replies are not printable! Anyway nice to see you are stll around.
Comment by: Keith Wilkes on 6th February 2011 at 10:24
Hello again Uncle Charlie, sorry but I,ve only just seen your last entry. Be sure that ALL of our crew agreed with my comments and those who DID think otherwise don't matter to us anyway. You deserved a medal for keeping our lot in check. Do you remember, Malc, Jimmy, Mick and of course the 'main man' KLON' What a character he was and what a sad loss to us all.Won't go on and on so just to say I'll speak to you soon. All the best
Fatty W
Comment by: Fatty W on 6th February 2011 at 11:42
Brian North, apologies Brian, forgot to say 'Hello' (It's the brain cells dying you know!!) hope you are fit and well.
All the best Fatty.
Comment by: Dave Allen on 6th February 2011 at 12:57
Just on the left as you went through the gate was a cellar where the incinerator was.
Myself and John Collins used to tell Agnes the cleaner that there was a very large Aardvark living down there.
We explained what one was and she was always terrified of going near the place. Sometimes we would go in there unbeknown to her and make scary noises when she was close by or passing. Happy days!!
Hello Charlie
How you keeping these days, hope your in fine fettle.
I stubbed across my Dads pictures and comments tonight.
I am the proud son of Charlie "auto right" O'Leary.
It's great to see that he was respected and a good guy as my Dad passed away on 26th February 2016 after a 12 month illness from a stroke and stage 4 lung cancer..
Dads gone to be with my Mum.
Comment by: Linda on 19th March 2016 at 15:40
RIP Charlie, only just heard of your passing. I would have been at the funeral had I known sooner. Lovely guy, I hope you and my Dad are having a ball in heaven together x