Photos of Wigan
Photos of Wigan
Album Contents
Album Contents
Wigan Album
Police
12 Comments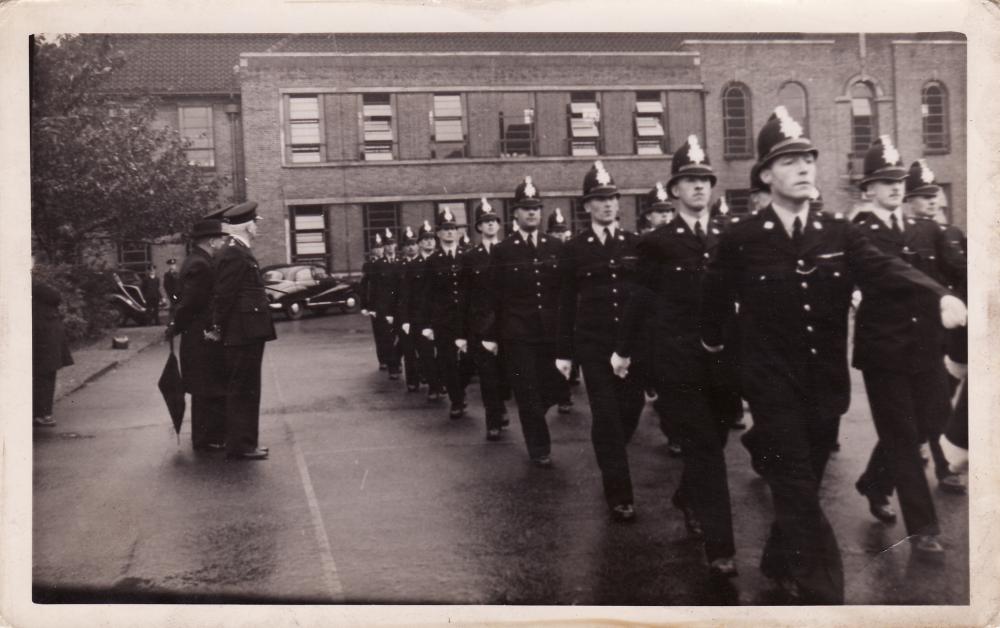 Wigan Police c1950's
Photo: Linda Maguire
Views: 3,066
Item #: 3591
My dad is on the right in the centre
Comment by: ex bobby on 28th July 2007 at 18:05
Is that Walter Unsworth leading, with Jim Croghan 3 men behind him?
Comment by: Linda on 2nd August 2007 at 21:48
Charlie O'Leary may know?
I don't think it is Walt.Going down the line with a Question mark against those I'm not sure about, I reckon it's Bob Ryder,then John Hook,Morris Ramsdale,Jim Croghan, Stan Fairhurst ?, Ken Marsh ?. I'm out of sight in the middle rank. Can't make out any more.
Comment by: Mick on 28th December 2007 at 21:06
Hello Charlie. Ken Bridge has identified himself as officer third from rear (immediately behind Ken Marsh).
Comment by: Mick on 1st March 2008 at 22:46
Sadly Ken Bridge died in hospital on 16th February 2008.
hi everybody just found the web site good to read the comments about the old days
I think this may have been 1953 and the Queens visit to Wigan. It's on parade in the Grammar school yard (now NHS Linacre centre. My dad PC76 Lol Connelly is on a similar photo.
Im looking for any info on my dads side of the family as i am researching my family tree.My dads name was John Ryder and was born in 1947.His father,my grandfather was called Robert Ryder and was in the police force,im unsure if hes in this phot but any info or memories would be greatly appreciated.thanks x
Was very nice seeing photo of my father, if anyone has more please would you send a copy
Was very nice seeing photo of my father, if anyone has more please would you send a copy
I've recently put a series of Inspection Parade pics up in the Album - and all of the Inspections took place on fine days. As far as can be ascertained so far, the Inspections featured are for 1955, 57 and 59. If the Mayor for the year had been visible, standing with the inspection party, it would have been possible to date the pic..., but if it was 1950s, it could have been 1951 or 1953 ( as I think the Inspections took place bi-ennially, in the odd years).