Photos of Wigan
Photos of Wigan
Album Contents
Album Contents
Wigan Album
WIGAN WATER WORKS
4 Comments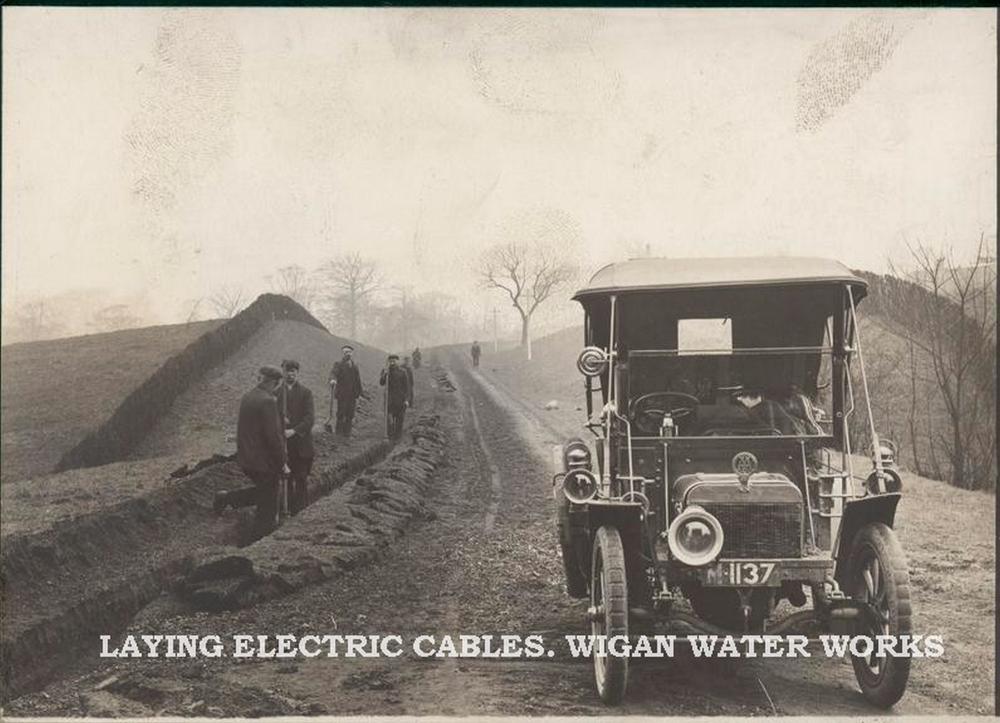 LAYING THE ELECTRIC CABLE early 1900's
Photo: RON HUNT
Views: 1,200
Item #: 33319
LAYING THE NEW ELECTRIC CABLE AT WIGAN WATER WORKS THE CAR IS A ROYCE CAR M1137
THE COMPANY DOING THE JOB WAS W.T.GLOVER.CO.LTD
A SCIENCE AND INDUSTRY IMAGE
Comment by: Barrie on 15th September 2021 at 19:51
" Better look as if we are busy, Gaffer coming down the track for his car"
Nowadays, they would be "yacking" on their mobiles!
Photo after 1905 as that was the year the AA was formed as the badge is displayed.
Comment by: Tonker (off Wigan World) on 15th September 2021 at 22:10
The car was first registered on 6th August, 1909
to W. T. Glover Co. Ltd., Trafford Park, Manchester.
Comment by: Rev David Long on 15th September 2021 at 22:36
Notes: The Second Royce Car : 1903 Royce 10hp 2-cylinder ? Registration No. M-1137 (previously N414) belonging to W.T. Glover & Co. Ltd.
Chassis: 10hp
Notes: The Second Royce Car - Copy of Entry in Register Of Motor Cars dated 6 Aug 1909 for Registration No. M-1137.
Illustrations Information Category: Document
Item: Entry in Register of Motor Cars, County of Chester - No. M1137 10 hp Royce
Comment by: Rev David Long on 15th September 2021 at 22:50
More stuff on the car - it appears its engine is still around - https://praeclarum.rroc.org.au/pdf/00301_Number2-19_Apr_2019.pdf