Photos of Wigan
Photos of Wigan
Album Contents
Album Contents
Wigan Album
GROVE CHEMICAL Co.
6 Comments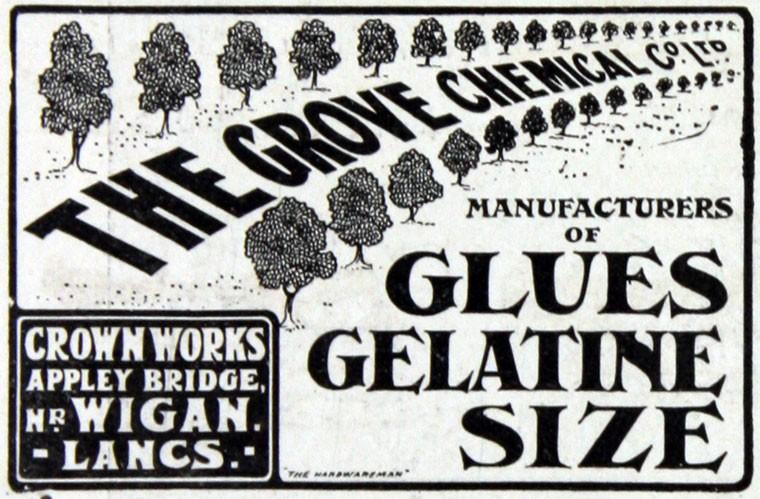 GROVE CHEMICAL Co. APPLEY BRIDGE
Photo: RON HUNT
Views: 938
Item #: 33081
ADVERT DATED 1908
Comment by: Cyril on 8th April 2021 at 17:14
One of the joys of going to Southport on the train was to have the windows fully open when passing here, then breathing in deeply through your nose - ahh lovely, ugh definitely not.
I remember it well, Cyril. Going to to Southport from Ince Station on a hot Summer's day. The carriage windows in the lovely old steam trains were held open with a big leather strap until we approached Appley Bridge when the sound of the windows being shut all along the train was like machine-gun fire!!
Comment by: Cyril on 9th April 2021 at 12:53
It was an awful smell wasn't it Irene, and worst of all if you happened to catch a whiff it stuck in your nose and seemed to linger for ages.
Comment by: Carolaen on 9th April 2021 at 13:45
The smell of the blue factory was followed shortly afterwards by the sewage works at How Far Moss. Yet as you both say wonderful memories of the steam train on days trips to Southport.
Comment by: Carolaen on 9th April 2021 at 16:42
Damned Predictive text ! Hoscar Moss of course is what I actually typed.
Comment by: Jayne on 10th April 2021 at 08:33
Yes,likewise as I typed Persil the other day which came up as Persia !