Photos of Wigan
Photos of Wigan
Album Contents
Album Contents
Wigan Album
Wigan Corporation Transport
8 Comments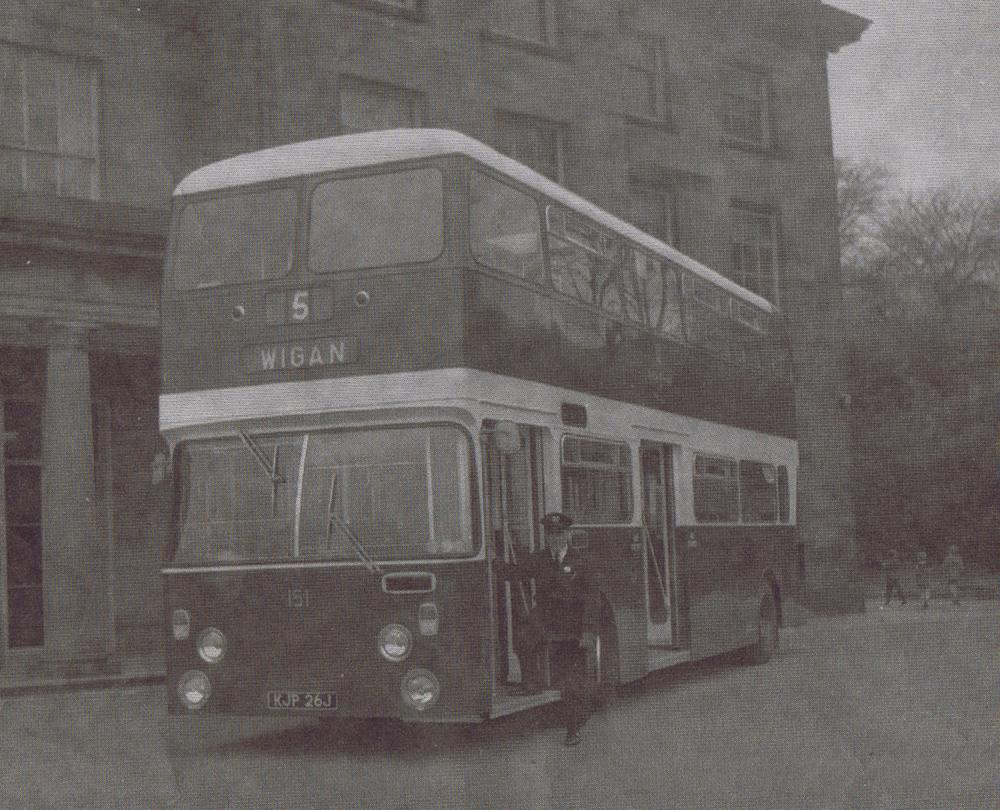 NEW DOUBLE DECKER 1970'S
Photo: RON HUNT
Views: 400
Item #: 32932
IMAGE SHOWING ONE OF WIGAN'S NEW DOUBLE DECKER BUSES IN FRONT OF HAIGH HALL. EARLY 1970'S
Comment by: Julie on 10th February 2021 at 13:24
I can remember that bus with that registration in wigan town centre well in the 70s. You never forget. When you used to go into wigan regular.
Comment by: Cyril on 10th February 2021 at 14:21
Those Leyland Atlantean buses was a smart replacement for Wigan's older bus stock, but remember when SELNEC took over the operation from Wigan Corporation and took them to operate in the desirable residence areas of Manchester, whilst Wigan had their ramshackle, poorly maintained and forever breaking down buses, painted in a horrible Tango orange colour.
Comment by: Mr X on 10th February 2021 at 19:03
Wigan Corporation had 32 rear engined Leyland Atlanteans bodied by Northern Counties new 1968-72, FJP566G, GJP2-10G that were short PDR1s, KJP20-31J, long PDR2s, and NEK1-10K, AN68s. At the time Manchester had over 400 similar buses but with a distinctive shape of body with large windscreen that were the well known Mancunians. Bolton also had their distinctive style of bodywork for their Atlanteans.
Comment by: Cyril on 10th February 2021 at 23:46
But, Mr X if SELNEC (GMPTE) became to inherit that many Atlantean buses both in Manchester and Bolton, why did they have to remove the well maintained ones that Wigan had, and then replaced them with old style decrepit boneshaking buses?
Comment by: Neil on 13th February 2021 at 23:52
None of these Atlantean buses were moved out of Wigan to other GMT garages. They all worked the whiole operating lives from Wigan. Similar buses came from Salford & Bolton to Wigan to help modernise the inherited fleet to enable a faster transition to driver only operation.
Comment by: Stuart on 14th February 2021 at 09:48
Sorry Cyril but what you say is wrong. Neil is correct in that GMPTE (Wigan was never a part of Selnec) did not transfer any of Wigan's Atlanteans away from Wigan. The only buses transferred where 4 to Oldham nd the rest were the oldest PD2s to Manchester garages. So the opposite of what you say actually happened. Manchester got some of Wigan's oldest buses and Wigan got Salford's, Bolton's and Ramsbottom's newest buses to up date the fleet. It's amazing how time and prejudice cloud people's view of the past and distort the truth.
Comment by: Cyril on 15th February 2021 at 23:56
If that were so then how come there was old boneshaker buses running in Wigan painted in the SELNEC orange and white colours in the early 1970s, I can assure you there is no prejudice at all on my part. See here: https://www.wiganworld.co.uk/album/photo.php?opt=3&id=18218&gallery=Wigan+Corporation&offset=0
Yes, the proof and the truth of a photograph is truly amazing, isn't it!
GMPTE was a darker orange/white with an awful brown stripe on the lower deck. https://www.picclickimg.com/00/s/MTA0N1gxNjAw/z/QmgAAOSwBLlVdRgm/$/SELNEC-GMPTE-MCTD-Manchester-Buses-Sets-of-ten-_1.jpg
Comment by: Mr X on 16th February 2021 at 10:25
By the time Greater Manchester Transport took over Wigan Corporation In 1974, there were no rear entrance Leyland PD2 double deckers (the last had been withdrawn in 1972) so it was all those with front entrance that passed to GMT, and the oldest were bigger PD3s, EJP501-510 that remained in corporation livery, then came GJP8-19 I think all or most were repainted orange and white, followed by HEK705-707 and HJP1-11 (HEK705 became the celebrity bus in crimson among the new GMT standards by the late 1970s). So I think all the older buses were boneshakers, whether they were LUT, Ribble, Wigan, Leigh, Bolton, St Helens, Salford, Manchester or wherever.