Photos of Wigan
Photos of Wigan
Album Contents
Album Contents
Wigan Album
POTTER'S
5 Comments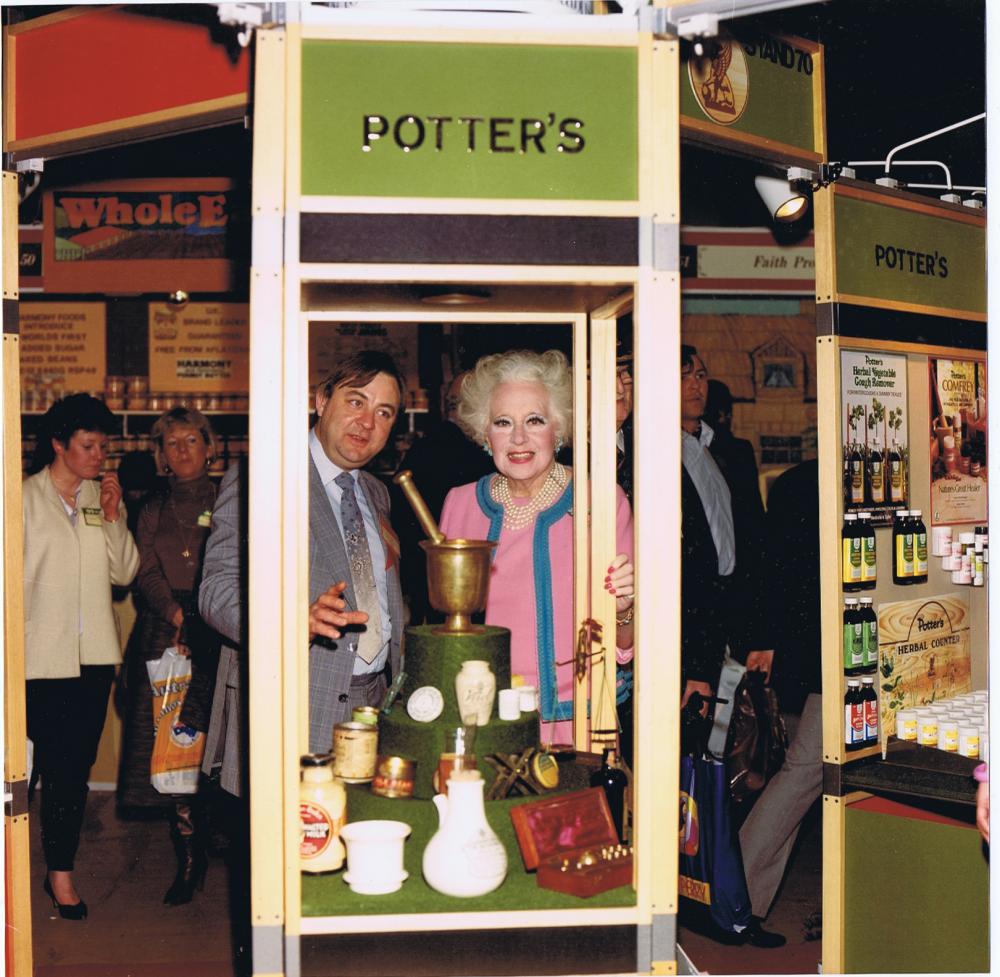 TRADE FAIR WITH BARBARA CARTLAND
Photo: RON HUNT
Views: 421
Item #: 32883
SOME OF THE PRODUCTS MANUFACTURED BY POTTER'S HERBS. AN OLD ESTABLISHED WIGAN COMPANY. GOING BACK TO THE 1800'S. SADLY NOW NO LONGER TRADING.
THANKS TO PAUL FROM PK AUTOMOTIVES, WHO SAVED THESE PHOTOGRAPHS AND MANY MORE SHOWING THEIR RANGE OF PRODUCTS, THE MACHINERY, AND PEOPLE WHO WORKED THERE. FROM BEING SKIPPED WHEN WORKMEN WERE DEMOLISHING PART OF THE OLD POTTERS BUILDING IN LEYLAND MILL, LANE.
PHOTOGRAPH TAKEN AT A TRADE FAIR 1970's /80's? WITH BARBARA CARTLAND
I used to work at Potter's from 1983 -2018 the company was bought out in 2003 by Swiss firm Galenica in 2006 Potter's moved to a purpose built factory at Botanic Court Walthew House Lane near Heinz factory. Some of the medicines are still available ,the company is now called Soho Flordis. I'm shocked to read these photos have been saved from the skip the people tasked to ensure the factory was emptied did not do a very good job this is part of the history of the company.
i would love to see the other photos.
Comment by: Veronica on 19th January 2021 at 11:55
My Grandmother was very much into Herbs for treatment of everything from Acidity, Acne, and Anaemia to Worms and Whooping Cough. This was before the NHS came into being and they had to pay a doctor for treatment. I have a little Wartime Edition of The Famous Book of Herbs , a booklet sent to her from Heath and Heather in 1941. It still has her name and address on the front with George V1 stamp on it. There's 64 pages of so much information for all types of diseases, I would hate for it to be thrown away when I am no longer here. I wonder if the History Museum in Library St would be interested in it.? I need to call in there and ask.
Comment by: Cyril on 19th January 2021 at 14:47
That is David Hampson talking to Barbara Cartland.
That is me in the first photograph holding the carrier bag
Comment by: Edna on 19th January 2021 at 18:48
These photos bring back a lot of childhood memories, my Auntie swore by potter's cough medicine, and I was dosed with it on several occasions.What a find!!!