Photos of Wigan
Photos of Wigan
Album Contents
Album Contents
Wigan Album
Lavin's Colliery Garswood
12 Comments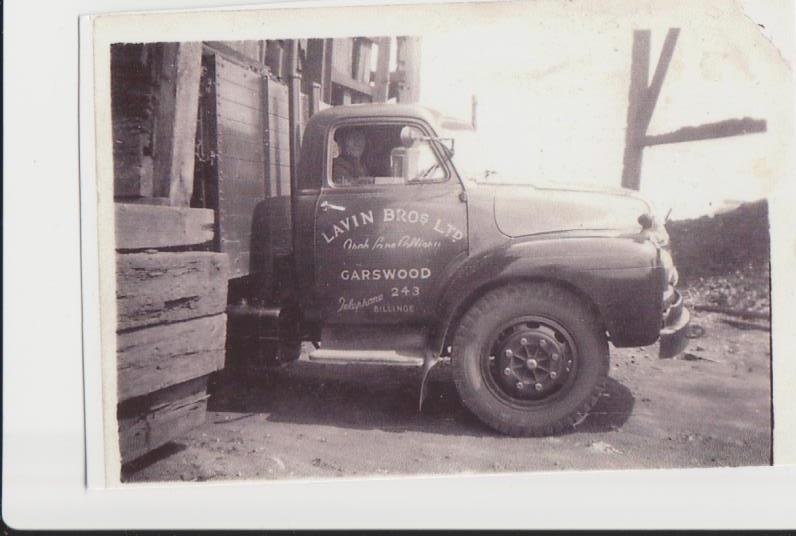 Lavin's Colliery Garswood
Photo: Dave Ashcroft
Views: 2,000
Item #: 32730
My dad (Arthur Ashcroft) in his wagon, under the screens loading slack in 1950's.
Comment by: Albert.S. on 20th October 2020 at 09:25
All of these small coal mines that have been recently mentioned on W.W.A. Were they each independent of the N.C.B. I only had the knowledge of the large coal mines. Maypole, Junction, Giant's Hall. Ince Moss. Etc.
Comment by: Dave Ashcroft on 20th October 2020 at 16:03
Albert .s. can not say for certain
but think they would be may be .
Comment by: TommyT on 20th October 2020 at 16:20
Arch Lane colliery is the name on the door, known locally as Lavins pit.
Is the wagon a long nosed Bedford?
Comment by: Barrie. on 20th October 2020 at 17:25
According to the "Guide to the Coalfields 1949" book in my possession(Dad's), Arch Lane Colliery. Garswood was a Licensed small mine granted by the NCB to operate as a mine. Listed under the name of Lavin Bros. Ltd with mines 1-5 in the list and produced coal for household and steam. In 1949 their manager was Mr.T Webster.
Comment by: tuddy on 20th October 2020 at 19:45
Albert, There were several private mines around the Billinge/ North Ashton area, usually small drift mines they were limited to the number of men that they could employ. I'm not sure if it was 20, or 50, and yes they were independent of the N.C.B. Apparently working conditions were primitive. The ones that I remember are: Quaker House, Windy Arbour, Lavin's, and Leyland Green.
Comment by: . Ozy . on 20th October 2020 at 20:10
Excellent photo that Dave, considering the year it was taken and the fact that very few people had access to decent photographic equipment at that time.
The wagon is a Bedford obviously. I'd guess at a D series , introduced around 1958. The very similar looking A series was introduced a few years earlier.
Either way, at that time it would have been considered to be " the dog's ".
I can't say I remember the seeing the motor if I'm being perfectly honest, although logic dictates that I must have done.
I don't recognise your dad in the shot either unfortunately, but that may be down to the fact that this ill conceived, in the basement of a Gorbals crack house retrograde new format won't allow me to expand the pic without shutting me down.
Regards. Ozy.
Comment by: whups on 21st October 2020 at 00:12
my old chap worked at all of them ste.
Comment by: Keith Beckett on 21st October 2020 at 09:44
Albert S
When the mines were nationalised in 1947 the ones employing less than 25 people were excluded.
The split was approximately 950 to 250.
Comment by: Albert.S. on 21st October 2020 at 11:22
My thank's to each of you for your constructive answers to my comment.
Comment by: Mike Barton on 21st October 2020 at 14:59
A little more info: Although these small mines were never nationalised, the coal they were mining was vested in the Crown with the NCB designated as the sole Crown Agent, at the time of nationalisation. Hence small mines had to be operated under licence granted by the NCB and would have paid a royalty to the crown (NCB) based on the tonnage mined.
Comment by: Dave Ashcroft on 23rd October 2020 at 17:53
ozy thinking about you loading once every fortnight out of arch lane lavins stock piled coal in the summer months from yorkshire lol and fred had them maybe Reg had one
Comment by: . Ozy . on 24th October 2020 at 00:09
Dave, I was bagging for Reg from '64 till '66.
Then in 1969 I was hauling coal back to Arch lane in bulk from Nottinghamshire pits such as Oxcroft, Manvers, Bentinck, Pye hill, Ollerton, and many others, the names of which I've forgotten and which, like all the rest are now history.
I used to deliver to the yards of both Mike Lavin and Sid Melling as well.
And you're right, they did used to stockpile in the summer, but I could never understand why it had to come all that distance, when the likes of Bold, Sutton Manor, Bickershaw, Cronton, Parkside, and a multitude of other pits were still in full production and only half an hour away.
Price maybe?