Photos of Wigan
Photos of Wigan
Album Contents
Album Contents
Wigan Album
Wigan Flood Alleviation (FAS) Phase 1&2.
4 Comments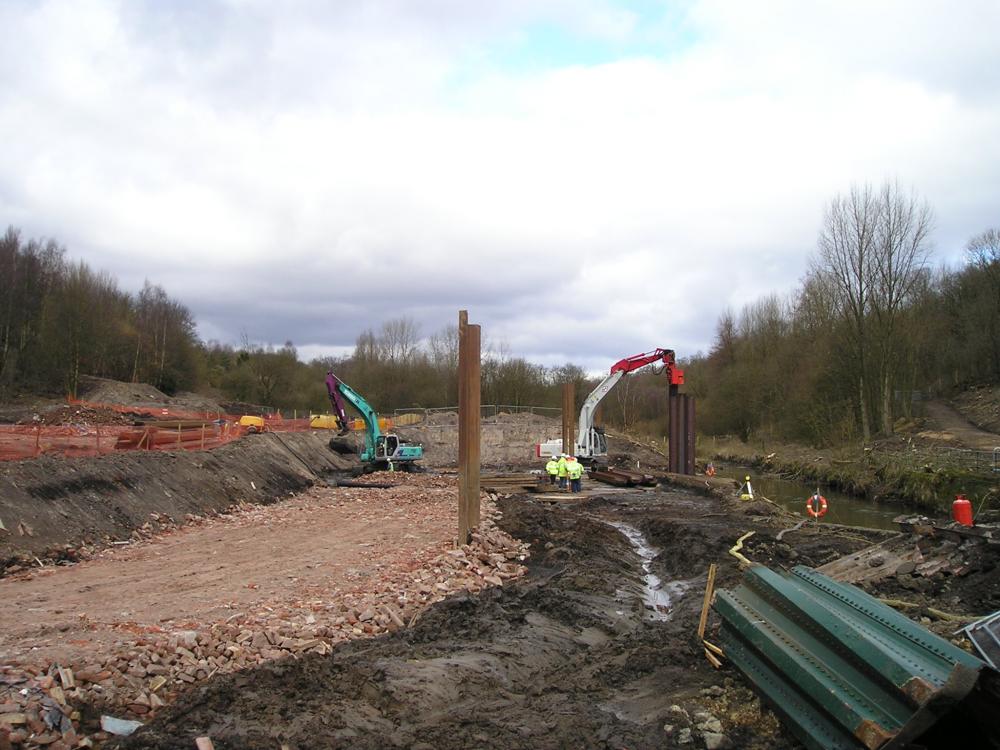 12-03-2010. In due course a concrete structure will appear.
Photo: Barrie.
Views: 209
Item #: 32708
My last photograph that I took during the construction of the Wigan Dam. On March 31st, I made my last brief visit to the site as I handed over the H S&E reigns to my colleague to continue the safety visits during construction as I, (after nearly 50 years in Construction), retired at the end of April.
If Brian allows,I will complete this record of the Wigan Dam photographs up to the (near) present day in due course.
Comment by: Barrie. on 12th October 2020 at 11:17
My 1st photographs shown on WW album was of my 1st employment in construction (M6 -Work) 1961 onwards. By coincidence, I finished my construction career, as I retired ,back in Wigan. In nearly 50 years of working on projects, it was mainly in the North including Glasgow/Ayrshire but mainly around the North West plus a short spell in Oxfordshire in the mid 90's. Not bad for a "Standisher" & educated in Wigan.
Comment by: . Ozy . on 13th October 2020 at 15:47
No connection with the above photo I'm afraid Barrie, but I was informed recently by what would appear to me to be an extremely knowledgable chap with regards to civil engineering matters in the northwest, that during the construction of the M61 near Farnworth, a brand new D8 sank, and was lost in the boggy ground. The story goes that it was written off by Mc Alpine's insurers as it was deemed to be too costly to recover and is still there to this day. If I'm being perfectly honest, I'm a little dubious, and wondered if you, having worked for Mac's had any knowledge of the alleged incident.
Apologies for bowling a curved ball.
Comment by: Barrie on 13th October 2020 at 17:49
Ozy, Can't help you on that story as that would be around 1969 or so and I was up in Scotland by then. If you can contact Broady via the message board or he sees this item, he is still in contact with the "McAlpines lads" via their Facebook page (remember sir alfred mcalpine and sons ltd public group(facebook ). I'm sure someone will remember the incident -that area was peat bogs and very soft ground according to a book I have on the motorway construction era.
Comment by: . Ozy . on 13th October 2020 at 21:55
Thanks for the reply Barrie. 1969 or thereabouts seems about right as Mac's had a plant between the M61 and the A6 at Brackley colliery near Little Hulton at that particular time.
The chap that related the D8 tale is a Wigan lad called Joe. I don't know his surname. He reckons to have operated plant for Mac's and worked on the M6 bridges for Fairclough.
You may have come across him at some point, or more likely not, as I know from personal experience that Mc Alpine's fusiliers were recruited from far and wide.
Regards. Ozy.