Photos of Wigan
Photos of Wigan
Album Contents
Album Contents
Wigan Album
PRINCE ALBERT COLLIERY
8 Comments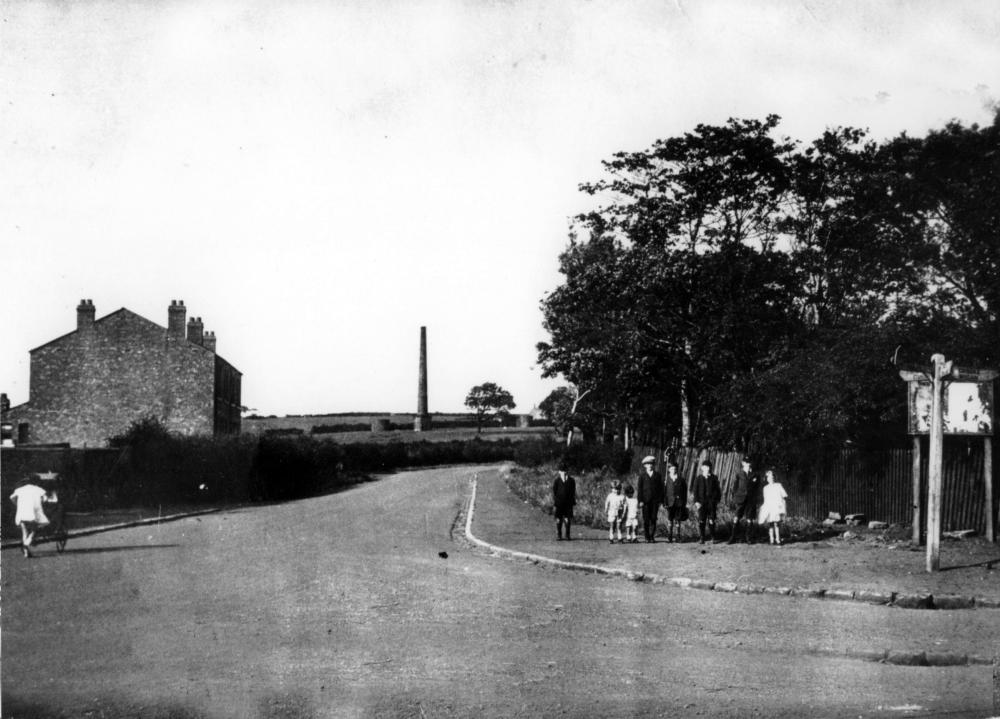 PRINCE ALBERT COLLIERY
Photo: Frank Orrell
Views: 734
Item #: 32701
Shevington Lane at the junction with Church Lane around 1925. In the background can be seen the tall chimney and mine shafts of the Prince Albert Colliery.
On the 1st of November 1861 an explosion ripped through the mine 260 yards below ground and 13 local colliers died as a result. A memorial plaque was unveiled on Saturday 27th of November 2010 by Shevington and District Community Association. The mine was closed in 1887.
Comment by: Cyril on 26th September 2020 at 00:35
Can that round pit ventilation shaft stack still be seen going along the northbound lanes of the M6, I haven't been along that stretch for some time so don't know, if so could that be the only surviving shaft stack around in the Wigan area.

There were old pit ventilation shafts on the playing fields of Pemberton Senior school (now Wigan Warriors Central Park Academy ) and we pupils would throw rocks and bricks down to hear them crashing against the shaft sides as they fell down, eventually hearing a faint splash as they hit the water at the bottom, they were later filled in and capped.

I remember an old shaft being uncovered by a digger when the land at the rear of the infirmary was being cleared in the 1980s ready for the building of new wards, it had originally been covered with baulks of timber and eventually had got covered over with soil and grass and forgotten about, it was close to where the garden fetes were held so luckily it hadn't collapsed like some other long forgotten shafts have, a man in Acton Terrace just down the road from the infirmary heard a rumble during the night and when he looked out in the morning there was a large deep hole in his yard and another collapsed quite recently in the nature reserve at Bickershaw, they too had been covered with baulks of timber which had rotted.
Comment by: Mick on 26th September 2020 at 23:21
Cyril this ventilation shaft was in my brothers back garden when they built his bungalow in Lyndon ave.
One night it just vanished and all that was left was a big hole, NCB came out and spent a few weeks pumping concrete down it and left it with a cap.
On the corner of Lyndon and Shevy lane is a house with a big lawn thats never been built on because there is a shaft under it
Comment by: Cyril on 27th September 2020 at 15:12
The one I've seen from the M6 must be a different one then; as it looked to be in the middle of a farmers field.
Comment by: Mick on 27th September 2020 at 16:42
Yes Cyril that one is still there
Interesting photograph from yesteryear. That chimney & shaft was part of the John Tayleur's Shevington Colliery. According to "The Industrial Railways of the Wigan Coalfield ( Pt 2) book I have, it had various owners from around 1840-44 until John Tayleur became sole proprietor. He then sold out to the Wigan Coal & Iron Co Ltd in 1876. On the 1849 old maps of the area there is a tramroad linking all 3 pits to the canal at Appley Bridge.
Comment by: James Rudd on 28th September 2020 at 08:50
I recall around 1970 a young boy fell to his death down a pit shaft off Worsley Meshes Drive, he had climbed over wall searching for bird eggs. I can't recall his name, after his death the shaft was capped.
Comment by: james on 28th September 2020 at 11:28
Sorry , typo error , Worsley Mesnes Drive.
Comment by: Cyril on 28th September 2020 at 15:03
James, howdoo wrote:
i think it was june 1970 the lads name was john conway, him and two mates were bird-nesting over a pit shaft at the back of where st clements court is now on worsley mesnes drive.the family used to live on walpole ave but then they moved to scholes area. john was a mate of mine.

A later date of 1972 was added.

From a discussion on wiganworld, here: https://www.wiganworld.co.uk/communicate/mb_message.php?opt=f3&msd=31401&page=9&subject=Missing.

A tragic death for two young lads at the time.