Photos of Wigan
Photos of Wigan
Album Contents
Album Contents
Wigan Album
TOP PLACE
7 Comments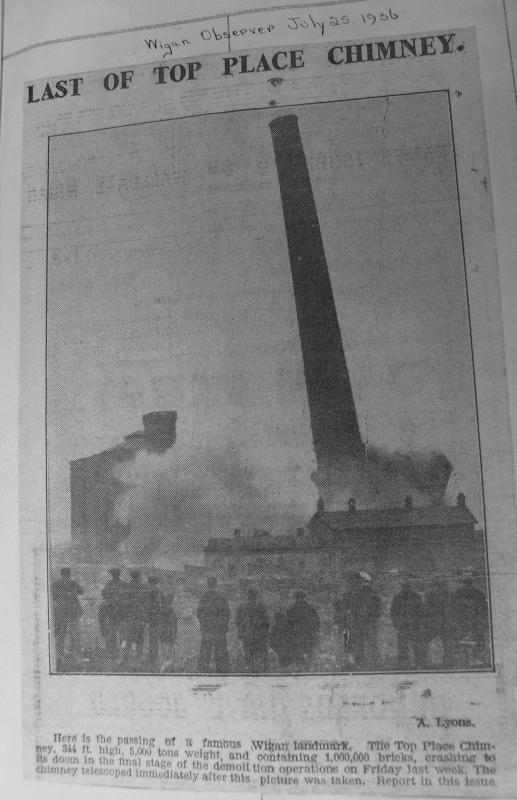 DEMOLITION OF CHIMNEY JULY 25th 1936
Photo: RON HUNT
Views: 475
Item #: 32591
NEWSPAPER CUTTING
Comment by: Tim on 10th July 2020 at 07:58
That was some pile of bricks Ron!
Here is a little video of the chimney being toppled.
https://www.youtube.com/watch?v=pBXoyEwrMa4
Comment by: Albert.S. on 10th July 2020 at 09:44
I believe this industrial complex moved to Irlam.
Comment by: Mr X on 10th July 2020 at 10:19
Which chimney was this? I didn't think many chimneys were demolished as early as 1936. That was around the time Fred Dibnah of nearby Bolton was born. He toppled about 100 chimneys in his career, precariously climbing to the top of others without safety equipment to repair them, and his other interest was steam engine vehicles. Did he topple any chimneys in the Wigan and Leigh area? Not sure if he was present when the Westwood power station cooling towers and chimneys were blown up. I remember seeing him having a meal and drink at the now abandoned Orwell pub at Wigan pier about 20 years ago.
Comment by: Cyril on 10th July 2020 at 12:57
Don't know if Fred ever did topple any local chimneys, though he did some work on the chimney at Potter's malt works down Leyland Mill Lane by lowering it and pointing the remaining brickwork. Some photos of the master at work demolishing the chimney at Southern's of Bolton in 1972. https://www.wiganworld.co.uk/fred/freddibnah1.php?opt=k

A Wigan Observer reporter in the early 1970s took some photos from the top of one of the two tall chimney stacks at Westwood when they were being repaired, possibly Frank Orrell, if so maybe the photos are in one of his books.
Comment by: wigginlad on 10th July 2020 at 15:08
Ron, I've just watched the small video that Tim suggested. I was born 1947 so just after the war but mother told me that she saw the demolition of the chimney and she told me that it was feared it could once again become a landmark for the enemy aircraft , how right they were !.
Comment by: Wiganer on 12th July 2020 at 13:19
Cyril, Frank Orrell didn't work for the Wigan Observer, I think it was the post and Chronicle. Arnold Hall could be your man.
Comment by: Cyril on 13th July 2020 at 19:29
Wiganer, I've been told it was Geoff Shryhane and photographer Jeff Somers who became steeplejacks for the day and scaled the dizzying heights of the chimney.

There's also a story of interest about this newspaper cutting, Austin Lyons who photographed the demolition was going off to war and so put the negatives inside a box in the shed at his home, when he returned they'd all jelled together and spoiled.