Photos of Wigan
Photos of Wigan
Album Contents
Album Contents
Wigan Album
Kwik Save Ashton in Makerfield
22 Comments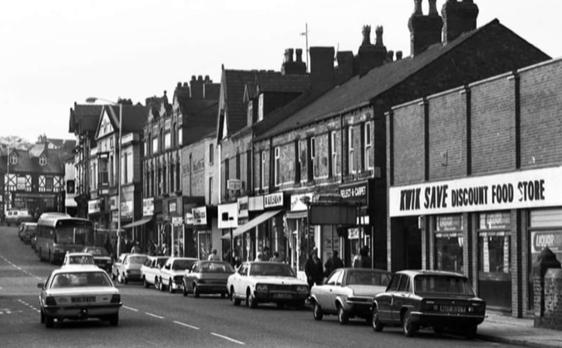 Kwik Save
Photo: Colin Harlow
Views: 1,084
Item #: 32542
Kwik Save Store on Gerard Street Ashton in Makerfield 1980s.
Now, Wetherspoons Sir Thomas Gerard, occupies the building.
Little has changed in almost 40 years
Comment by: Thomas(Tommy)Walsh. on 21st June 2020 at 01:02
Absolutely wonderful memory, this shop next to Kwik Save, Select-a-Carpet was where I was in business from 1969 I retired 2005 . I made wonderful friends , and still miss the shop And the customers ,particularly the customers to this day. When I first opened the shop the building In this photograph occupied by Kwik Save was the site of Ashton Congregational Church.
Comment by: walt (nth Yorkshire) on 21st June 2020 at 07:30
Colin, good photo of KS reminding me of those times at Ashton RDC. I remember sending in the racking and then the goods to fill the shelves, long time ago now. Wasn't there a small car park at the rear that made it difficult for artics so we sent the rigids in ?. Good to see a posting from you matey, stay safe.
Comment by: Arthur on 21st June 2020 at 07:31
Kwik save and proper shops too, little change but some shops are not as good.
Comment by: Colin Harlow on 21st June 2020 at 09:35
Yes Walt, the car park at the rear wasn't suited for artics only 4 wheeler rigids and that was a task especially on market days. Ashton is a quite a busy place and has many great amenities to offer.
Take care Walt.
I started work in the black-and-white building just in view at the top of Gerrard Street when I was sixteen in 1969. It was Richardson's Chemists back then . I must have passed your shop many times, Tom!
Comment by: Owd viewer on 21st June 2020 at 23:22
I worked at Cromptons from 1965-80, it was on the left as you go up Gerrard st.
Comment by: Mr X on 22nd June 2020 at 10:40
Gerrard Street, Ashton in the 1980s. I dpn't remember Kwik Save, and what used to be where B and M was until last year before moving across the road to the new precinct? A very ubiquitous white Mk4 Ford Cortina passes what looks like a tiny Fiat 126. Parked up are a Triumph Dolomite, Vauxhall Viva, two Allegros, sporty white Mk2 Ford Escort, and possibly a Marina or Ital estate. The big Japanese car I think is a Toyota Crown (my gran had the smallest Toyota 1000 at the time). A British Gas Sherpa van is about to go round the corner, and the bus is a Leyland National in GMT livery, so the likely routes are 601/602 from Wigan depot, direct route to Wigan, 1 St Helens to Atherton, 320 Liverpool to Wigan, 644 to Warrington direct, or 653 via Earlestown from the Hindley LUT depot, or 555 Billinge to Leigh from the Atherton LUT depot.
Comment by: whups on 22nd June 2020 at 11:47
iv,e actually done my shopping in that kwik save .
Comment by: Philip Gormley. on 22nd June 2020 at 19:07
The 555 got me from Billinge to Leigh Tech, and then back, in the mid-sixties - yeh, that's what I say, I say mid-sixties.
Comment by: Mr X on 22nd June 2020 at 21:23
Philip Gormley, are you related to Joe Gormley, the former president of the National Union of Mineworkers until 1982 being replaced by Arthur Scargill, who was born in Ashton in 1917 and died in 1993?
Comment by: Philip Gormley. on 22nd June 2020 at 23:01
Mr X, He and my grandfather were cousins. I never saw him, in the flesh, while mam and dad once spoke to him at a 'big do' somewhere.
Comment by: whups on 23rd June 2020 at 00:01
hi phil . i,m going to put a message for you in general .
Comment by: Philip Gormley. on 23rd June 2020 at 20:03
I've read it whups. No joy regarding your query, I'm afraid.
Comment by: whups on 23rd June 2020 at 23:52
we,ve exhausted our info & still cant get any more than a dead end phil . if you hear owt then put in on that threat .
Comment by: Arthur on 25th June 2020 at 08:14
Wish KWIK SAVE was back, very cheap top brands.
Comment by: Chris Dickinson on 28th June 2020 at 08:59
The Kwik Save depot was nearby on Lockett Road in Bryn. My uncle was a Transport Manager there in the 1990s. I can't remember when Kwik Save stop trading but they were taken over by the Gateway/Somerfield chain.
Comment by: Alan on 29th June 2020 at 09:27
You've all spelled Gerard Street wrong.
Comment by: Colin Harlow on 29th June 2020 at 21:21
Kwik Save was indeed based on Lockett road.
Kwik Save merged with Somerfield in 1998, Kwik Save went into administration in 2007, Somerfield originally Gateway was taken over by the Co-operative food in 2009 and all Somerfield stores were converted to the Co-op brand, but many Somerfield stores were sold off.
Kwik Save on Lockett road, was a great company to work for and was in-house operation, it was one big happy family from management to staff.
Comment by: James Hanson on 30th June 2020 at 00:26
Kwik-Save did have a depot on Locket Road, Ashton, but was always based in Prestatyn.
Comment by: Colin Harlow on 30th June 2020 at 10:30
Kwik Save had a number of Distribution Depots based up and down the country ie, Ashton, Winsford, Newport, Tipton, Sherburn-in-Elmet to name just a few. Prestatyn Depot was Kwik Save's head office.
Albert Gubay opened his first Value Food store in 1959, The first Kwik Save store opened in Prestatyn in 1965, the second in Colwyn Bay and by 1970, Albert Gubay the founder of Kwik Save had 24 stores.
By the mid 1990s, Kwik Save had around 1,000 stores.
Comment by: George (Hindley) on 1st July 2020 at 22:32
A company's base is always it's registered head office. Asda is based in Leeds, Heinz UK is based in London, Kwik Save was based in Prestatyn.
Comment by: Alan on 2nd July 2020 at 16:37
Morrisons head office in Bradford, so what is your point George??????