Photos of Wigan
Photos of Wigan
Album Contents
Album Contents
Wigan Album
Police
11 Comments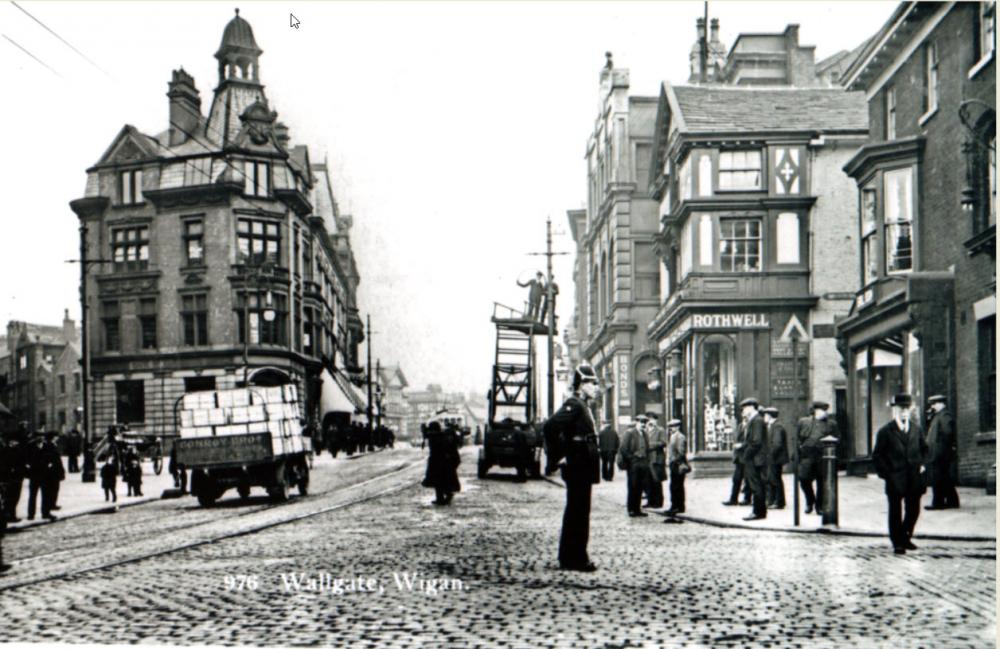 Policeman in Wallgate
Photo: PF
Views: 828
Item #: 32182
Conroy's lorry making its way fully loaded up the hill. Council maintenance team repairing something or other.
Question:- Is the policeman Tom Pey and what year?
Comment by: Linma on 9th May 2020 at 16:49
I wonder if those cobbles are still there underneath the tarmac.
Comment by: Garry on 9th May 2020 at 18:58
This is a tricky one. Conroy Brothers Ltd were fruit and potato Wholesale greengrocers, I think founded in 1937 ish.
This photo look a little older but could be wrong.
Comment by: jack on 9th May 2020 at 20:03
Linma I think they are still there, together with a lot of other roads within the borough.No pot holes then.
Comment by: baker on 9th May 2020 at 22:13
many wigan streets still have their cobbles under the top layer of tarmac.one of the better hard wearing surfaces.
Comment by: Ray on 10th May 2020 at 09:26
I think that the picture is pre 1930s, because the tramlines
are still there. The lorry loaded with crates of fruit may
have been Owen Owen who were fruit and veg wholesalers in Wigan, later to become Louis Reece, or it could be a full
load of oranges from Spain, landed at Liverpool Docks.
Comment by: Arthur on 10th May 2020 at 09:53
The Councilmen on that flimsie scaffold are about to put up Christmas street decorations. I would estimate 1940s.
Comment by: Ray on 10th May 2020 at 11:17
Arthur, I am sure that you will recall that for the first
five and a half years of the 1940s, This country was at war
with Germany, and if any lights were on, Warden Hodges would
be shouting " Put Them Lights Out ". Definitely pre 1940s.
Comment by: Veronica on 10th May 2020 at 11:53
Those 'cobble' laid roads will last for centuries to come , unlike modern roads. At least they have been left behind, even if hidden. Most children picked the tar from between them in the Summer months, to make tar- babies. I often wonder what happened to the stone pavements that were everywhere in Wigan, nothing better than stone even when they were cracked in parts. . We used to play a game of avoiding stepping on them.... Idyllic days of yore, playing outside for hours.
Comment by: Albert.S. on 10th May 2020 at 12:24
When they lifted the surface of Talbot Road, Blackpool for the laying of the new tram tracks. The old tram lines from long ago, were uncovered.
Comment by: Alan on 10th May 2020 at 12:39
It quite clearly says at the back of that small lorry Conroy Brothers
Comment by: MickLD on 10th May 2020 at 13:43
A better version of this photo can be found in the Wallgate album, dated to the 1920s (Item #: 25988).
The police officer in the photo - a Police Constable - can't be Tom Pey because he would most likely have been Chief Constable at the time. He was promoted Sergeant in 1905, Inspector in 1908, and Chief Constable in 1921.
The workmen on the mobile platform are maintaining the overhead cables for the tram service.