Photos of Wigan
Photos of Wigan
Album Contents
Album Contents
Wigan Album
Hindley Paint Company
9 Comments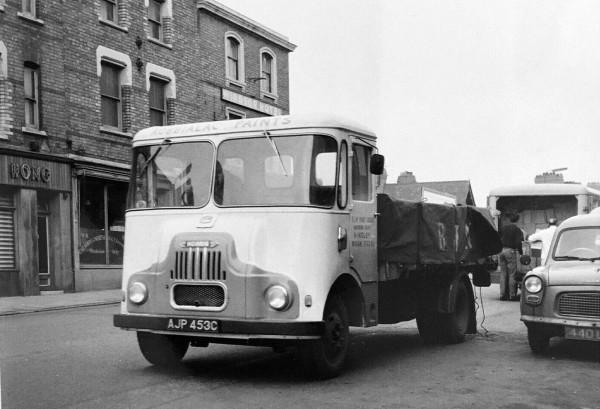 Paint company lorry
Photo: Ray
Views: 856
Item #: 32073
I have tried to read the name of this paint company on the door of the lorry, It looks
like ???? Paint Co, and I think it shows
Hindley and Wigan on the cab door. Any ideas ?
The Morris FG lorry has a Wigan number plate,
AJP 453C. I cant identify the location.
Comment by: whups on 12th April 2020 at 14:56
it looks like acebialac paints .
Comment by: Albert.S. on 12th April 2020 at 15:42
My brother worked for a paint company, in Hindley, in the late 1950s, early 1960s.. Keystone Paints, in existence since 1937. Now in Tottenham, London.
Comment by: Mick LD on 12th April 2020 at 16:44
The wording above the cab reads 'Robbialac Paints'. They were quite a well known company. Merged with Berger in the 1960s.
Quite a bit of information on Google.
Comment by: Ray on 12th April 2020 at 18:25
A little bit of research tells me that there was a paint factory on Atherton Road, and also Platt Lane in Hindley.
One factory became Keystone Paints and then later became
Berger Paints. The name above the windscreen is Robbialac
Paints, one of several brands that was sold by this firm.
Perhaps Robbialac had a factory at Hindley, or maybe just
a sales outlet for the decorating trade. I expect that some
older folk from Hindley will remember the paint factory.
Comment by: Jim Latham on 12th April 2020 at 19:32
The name ROBIALAC springs to mind
Comment by: DerekB on 12th April 2020 at 21:14
I worked in the 60s for Berger Paints in Hindley whose plant and offices were just beyond and on the other side of the road from what was then the Monaco. Could this be them?
Comment by: Pw on 13th April 2020 at 07:44
Keystone paints was up Platt Lane in Hindley and backed on to Borsdane brook.Many times when we were kids they just dumped paint into the brook turning it multi coloured and killing all the fish etc,mainly stone loach.The pollution went down for miles.My mother worked there in the sixties.
Comment by: Keith Beckett on 13th April 2020 at 08:12
An interesting history.


https://www.palatinepaints.co.uk/the-palatine-paints-company-history/
Comment by: Brendell on 13th April 2020 at 10:55
My father Stan Richards worked as a delivery driver for the paint factory in Hindley some time in the 60's. The names Leyland Paints and Berger Paints ring a bell.