Photos of Wigan
Photos of Wigan
Album Contents
Album Contents
Wigan Album
British Glues and Chemicals (BGC ), the Boneworks
5 Comments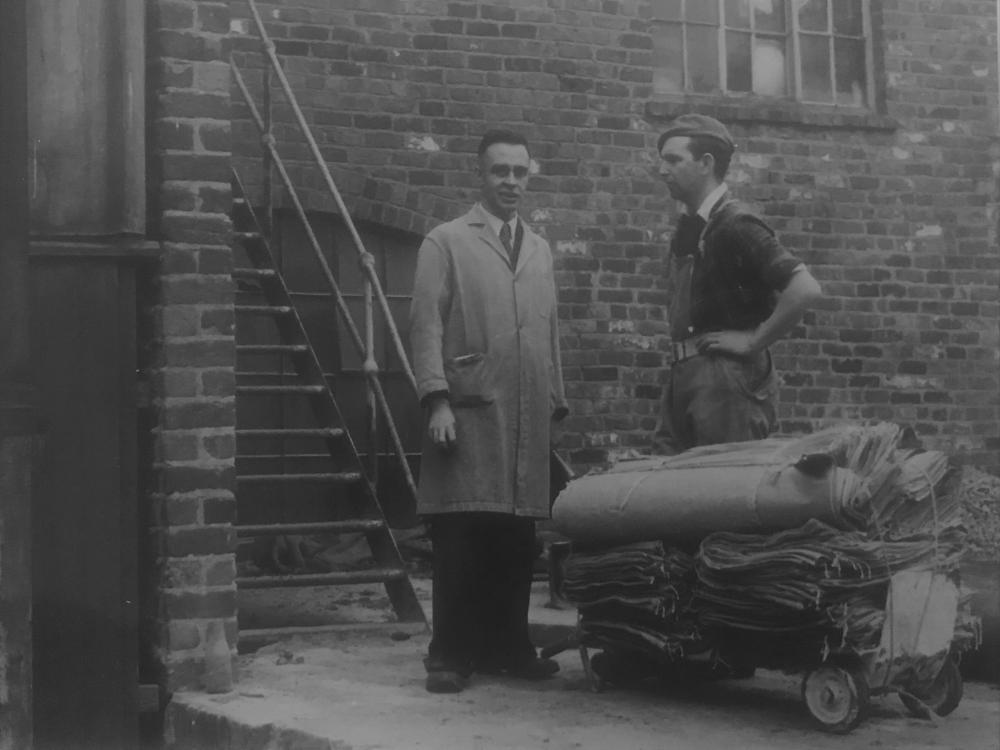 British Glues and Chemicals Ltd
Photo: john Staveley
Views: 1,783
Item #: 31962
Jack Staveley Works Engineer and I think foreman of Glue making process
Comment by: G.W. on 4th March 2020 at 16:37
These chaps look like they'd stick to the adage of adhering to a strong cooperative bond in the workplace.
G.W It is not widely known that Perfume was a by product of the Glue Works hereinafter G W. This may have thrown the fictional Mr Watson in you off the scent that it was actually the work ethic and not tolerating fools lightly that bonded these chaps together.
Comment by: Albert.S. on 6th March 2020 at 19:33
I Remember this works, in the fifties, and early sixties. It was situated across the field, towards the canal, from the junction of Miry Lane, and Prescott Street. When I reached that point, on my beat, I couldn't get away from the area fast enough. The smell was absolutely diabolical.
.
Albert S The photo above was taken at the British Glues and Chemicals (BGC) at Appley Bridge known locally as the bone hole.
The works and smell you remember was most probably from Gallaghers Hide Skin and Fat works which was situated in Miry Lane Wigan. The works closed in the late 60's and the foreman at Miry Lane Joe Brown bought the equipment and went into partnership with Albert Eckmann at the Hide works across from Water Heyes in Wigan. The smell and working conditions were diabolical as you say.
Enough of the smell and on a positive note i bet that you and many people in Wigan have enjoyed eating the skins on sausages and chips cooked in Wigan using fat chips that was most probably produced by Gallaghers in Miry Lane.

Anyone who is interested in the history good and bad of the BGC Glue Works at Appley Bridge and elsewhere google British Glues and Chemicals by John p birchall.
Comment by: Albert.S. on 8th March 2020 at 09:55
John. Never truer words. ' What the eye does not see, the heart does not grieve'.