Photos of Wigan
Photos of Wigan
Album Contents
Album Contents
Wigan Album
Wigan Gas Board
6 Comments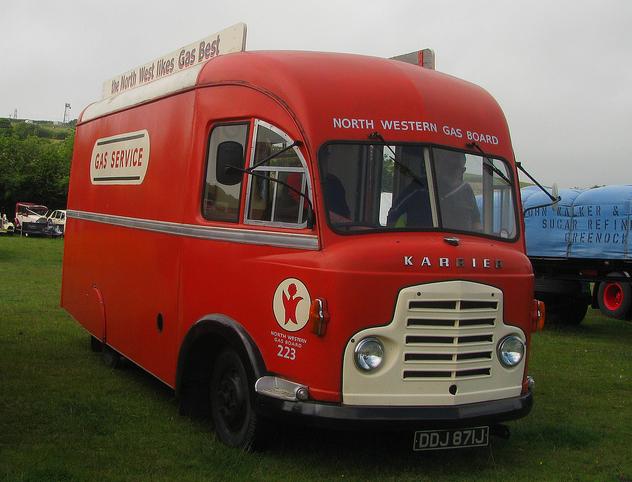 Mobile Gas Showroom
Photo: Ray Smyth
Views: 1,374
Item #: 30343
North Western Gas Board had several of these
Mobile showrooms throughout its entire area.
The sales staff would drive the vehicle to a
housing estate and park up for the day,usually
somewhere that was fairly central to the area,
for example, near Ince Bar junction,where lots
of potential customers could step on board and
view and select a gas cooker, an Ascot water heater, or a gas fridge. There were no doors on
the drivers cab, access was from folding doors
on the nearside, and a loading door at the rear.
This vehicle is one of the later showrooms from
1970/1971.
Comment by: AP on 28th March 2018 at 16:21
We had a gas fridge in 1960's. I found it fascinating that you heated summut in order to cool it! Remember getting the librarian in Ashton Library to find me a book explaining how they worked.
Comment by: DerekB on 29th March 2018 at 14:34
DDJ - a St.Helens registration.
Comment by: Ray on 29th March 2018 at 16:00
Hi DerekB, I understand that from the formation of North Western Gas Board in 1948, with just a few exceptions,their
vehicles were registered at the Manchester tax office. They
were N,NA,NB,NC,ND,NE,NF,VM,VR,VU,& XJ. From some time in the mid to late 1960s, new Gas Board vehicles were issued
from the Pocket Nook gas site in St Helens, and from then
they received St Helens DJ numbers. I recall just 1 lorry
in the Mersey Group fleet, a Leyland Comet artic coke tipper
with Reg No. KKF 5, a Liverpool number.
Comment by: AP on 29th March 2018 at 16:05
In mid 1960's, I knew one of their senior managers, and he was based in St Helens. Was St Helens where their HQ lived?
Comment by: DerekB on 30th March 2018 at 13:32
Thanks, Ray. AP, North Western Gas Board did operate largely from the Pocket Nook base in St Helens.
Comment by: Norman Jackson on 3rd June 2018 at 11:39
Pocket Nook was the HQ of South Lancashire Group, covered St Helens, Wigan, Warrington and Widnes. NWGB HQ was in Altrincham. I trained at Pocket Nook from 1961.