Photos of Wigan
Photos of Wigan
Album Contents
Album Contents
Wigan Album
Vulcan Foundry
3 Comments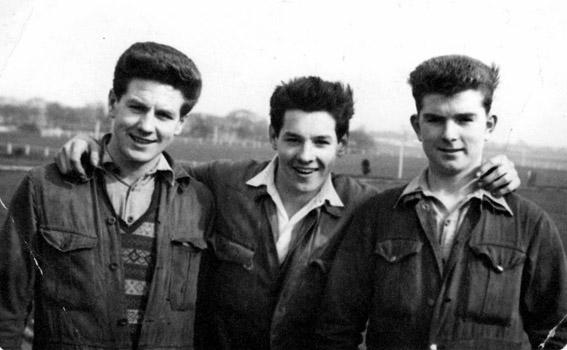 Wigan apprentices at the Vulcan 1961.
Photo: Keith Beckett
Views: 1,577
Item #: 30336
Two of the three were from Wigan.
Alan Winstanley on the right was from Lamberhead Green and in later years worked in the craft shop in the Wiend.The apprentice on the left was from Earlestown with me in the middle.
The haircuts were courtesy of the Vulcan barbers. There were two boards in the barber's shop, one for each barber, divided into 15 minute periods. Before starting work you could put your name on one of the slots and have your hair cut in company time.
The photo was taken on the Vulcan sports field.
Comment by: John Richard Galloway on 26th March 2018 at 10:46
hi keith, I was app electrician from 1957 to 1961 at the vulcan.a long time ago, dont remeber you three but very happy days during 5yrs app.l worked? In oil engine test dep, erecting shop, diesel shop, electrical dep and loco test dep.played cricket for vulcan, won solter cup in 1961.also football inter dep for fitters and elecks, some names you may remeber tommy doyle wink martindale walt corless ken vizard fred sargent, great days, keep well, john gall.
Comment by: Keith Beckett on 27th March 2018 at 13:22
John,

During my time as a technical engineering apprentice I spent two and a half years in the tool room and then three months in various shop floor and office departments. My spell in the oil engine dept. was spent in the production office.
I remember some of the names you mentioned and scores more besides.
Comment by: John Whittle on 28th March 2018 at 21:55
Hi Keith - I worked at the Vulcan Foundry from 1963 until 1986. 1963 was the year the Vulcan was taken over by the English Electric Co. Ltd.
I remember the barbers very well. When I first started, the company employed around 3,500 people manufacturing five product ranges namely - Main line locos, Shunters, Clayton steam generators, Golcalor Boilers and diesel engines. When I left they manufactured one product only, Diesel Engines and employed just under 500 people, how times change.