Photos of Wigan
Photos of Wigan
Album Contents
Album Contents
Wigan Album
park colliery(stones)
3 Comments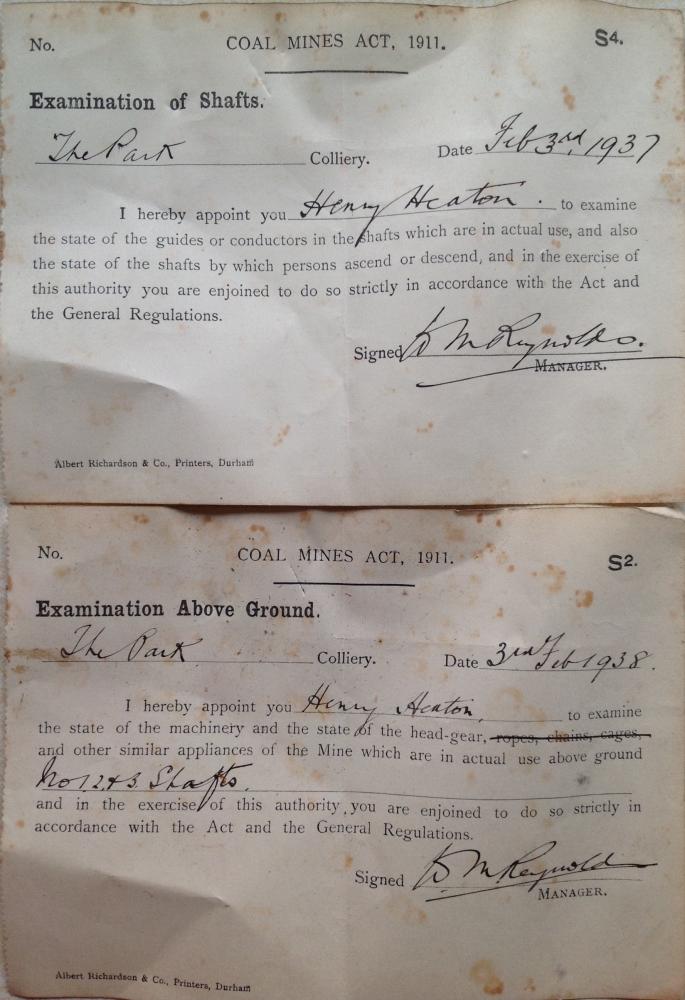 Work permit slips is the best description that I can come up with for these.
Photo: . Ozymandias .
Views: 1,329
Item #: 29820
Two documents pertaining to the examination of the shafts and headgear at Stones' colliery.
Riding down on top of the cage in order to evaluate the condition of the shafts formed part of my father's duties at Stones'. George Shaw worked there as a winder at that time I believe. Another chap by the name of Percy Roby also carried out these shaft inspections but suffered a badly broken leg when the cage became snagged, then suddenly released itself. I personally have no experience with deep mining activities, but the above statements are factual to the very best of my knowledge. My information having been gleaned from the late George Shaw himself. George went on to work as a winder at Parkside in the late 50's or early 60's.
Comment by: .,Ozymandias . on 26th October 2017 at 17:35
For Percy Roby in my description. Please read Wilf Roby, I was getting him confused with my dad's mate Percy Parkinson. Wilf Roby was the father of Brian Roby who may have been known by one or two on here as he drove for Robert Baillie, alongside Ray Smyth. Brian died at a relatively early age sadly. I believe his last job involved driving the low loader for Fisher's, the people who plane down the road surface prior to resurfacing. I also omitted to state previously that his father Wilf's leg injury resulted in amputation.
Comment by: Ged on 27th October 2017 at 18:06
I can confirm every that Ozymandias has said,
Wilf Roby lost his leg whilst examining the No3 shaft at Stones. At the time of the documents Reynolds was agent manager Billy Richards was manager and John Bradshaw(my uncle) was undermanager. As the others retired John became manager and remained there until the pit closed