Photos of Wigan
Photos of Wigan
Album Contents
Album Contents
Wigan Album
Worsley Mesnes Ironworks
13 Comments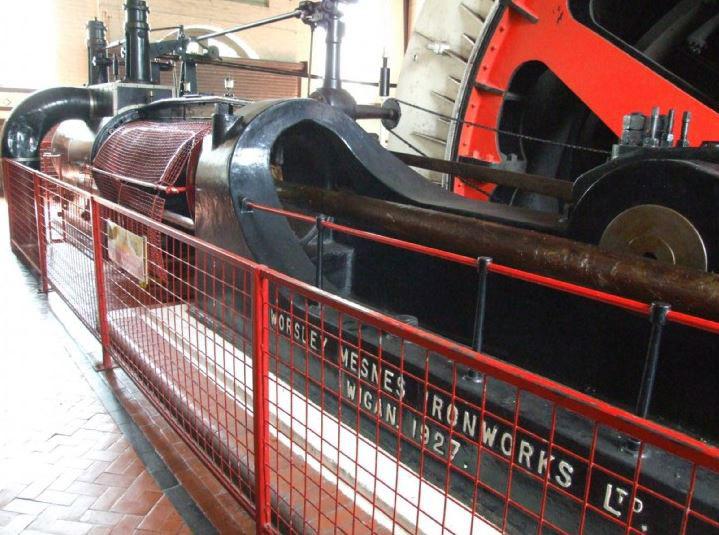 Winding Engine.
Photo: Keith Beckett
Views: 2,697
Item #: 29601
A good example of the quality of engineering work produced by Worsley Mesnes Ironworks.
Comment by: Albert. on 30th July 2017 at 13:59
Such powerful giants of engineering skill. Why did such engineering works go into decline. When did it close, forties/fifties?. I cannot remember it. Is the engine at Trechefield Mill still open to public display. Wonderful to see in operation.
Comment by: AB on 30th July 2017 at 16:47
I visited Worsley Mesnes Worka in the seventies they had moved on into fabrication Work then' I was very impressed by a VERY large lathe still there, which had been specially made to machine Pithead winding wheels
Comment by: Albert. on 30th July 2017 at 17:07
A.B. Where was this engineering works situated in Worsley Mesnes. What is the significance of MESNES, in relation to Wigan. e.g. Mesnes Park?.
Comment by: AB on 30th July 2017 at 19:27
Albert I vaguely recall going past Poolstock Church towards marus bridge and going under s railway bridge and the works being on the right adjacent or near to the bridge
Comment by: Philip Gormley. on 30th July 2017 at 19:55
AB: If you go into Old Gallery>Industry, you'll see a photo that includes three stacked winding wheels, and one in position (top-left) ready for machining. Hope this may be of further interest to you.
Comment by: John D on 31st July 2017 at 09:32
Albert, the word "Mesnes" is a shortened version of the word Desmesne and is of French origin. It refers to land retained by the lord of a manor, in this case, the manor of Worsley Hall, now a housing estate. Mesnes Park, Mesnes Road and Mesnes Street were named after land retained by the Rector of Wigan. Mesnes Park in Newton-le-Willows follows the same pattern.
Comment by: Chris Southworth on 31st July 2017 at 10:26
That isn't a photo taken at Worsley Mesnes Ironworks. It is a photo of the drum of a pit winding engine somewhere. The inscription is just stating where the drum was manufactured. The pit could have been anywhere in the country because Worsley Mesnes was well respected all over Britain for the quality of it's work.
Comment by: Alan H on 31st July 2017 at 11:32
Albert, it is derived from the French word, Demesne, land attached to a manor.
Comment by: Philip Gormley. on 31st July 2017 at 14:03
Albert: As far as searching old maps goes, I haven't been able to find the name of the street that led to the Ironwork's entrance, but after considering the top-end of Richmond Street, shown on a modern map, I surmise that this was the location of the Ironworks. After all, it's been fifty years since I strode its cobbles. Regards.
Comment by: Albert. on 31st July 2017 at 16:11
Thank you all for your detailed explanations, and thank you John. D. for explaining in detail the name Mesnes.
Comment by: Keith Beckett on 31st July 2017 at 19:17
Mellings was accessed from Richmond Street that was accessed from the service road to Worsley Mesnes pit. The pit road is now Worsley Mesnes Drive.
Back to back with Richmond Street was Carlton Avenue. Ernie Woodcock had a garage down there for his lorries.
Comment by: AH on 31st July 2017 at 21:11
worsley mesnes iron works [mellings foundry] was off poolstock lane opposite mottram drive I think a care home stands on or near the site today:worsley mesnes colliery was also in this area
as this photo is in colour it suggests it might be a preserved example. There is an 1873 WMI engine preserved at Bestwood Colliery which I believe is in Nottinghamshire. As a member of the Wigan based Red Rose Live Steam Group, we rescued a WMI engine from Cornwall only to have it tragically nicked. Those were the days when we couldn't find a permanent home. The RRLSG are now the Red Rose Steam Society based at the Astley Green Colliery Museum.