Photos of Wigan
Photos of Wigan
Album Contents
Album Contents
Wigan Album
Wigan Coal & Iron Co.
8 Comments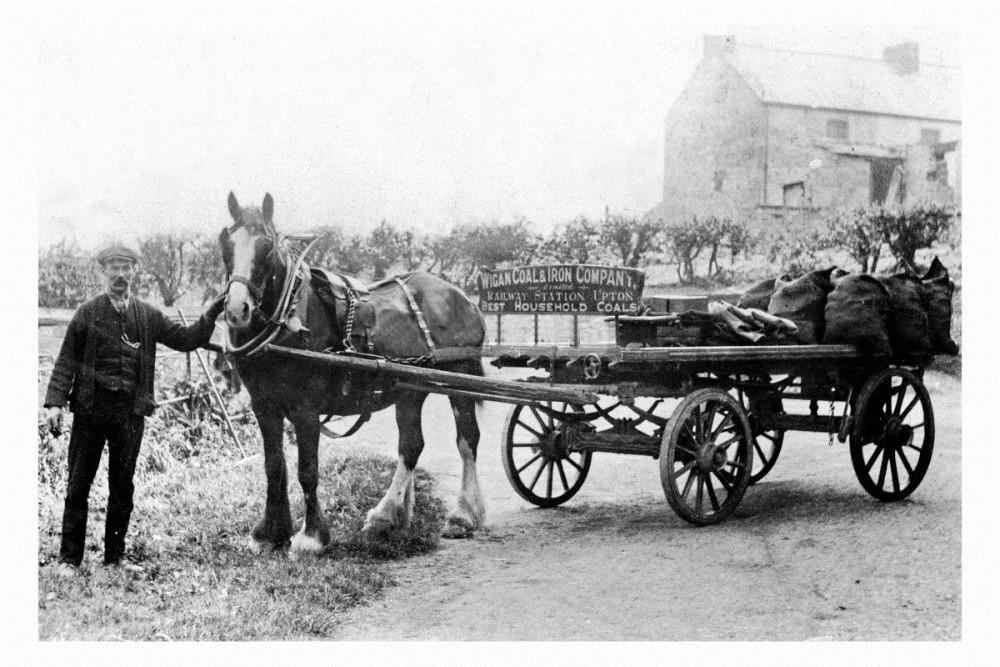 Delivery horse and cart
Photo: RON HUNT
Views: 1,872
Item #: 29305
Wigan Coal and Iron Delivery horse and cart, with the address Railway Station Upton
Comment by: Helen of Troy on 19th April 2017 at 19:55
Someone must have a story to tell about this photo.....
Comment by: Barrie on 20th April 2017 at 09:15
The question is -which Upton? by Chester or on the Wirral near Bidston?
Comment by: Ken on 20th April 2017 at 12:55
My 3 times greatgrandad Thomas Smith came from Upton Nothamptonshire to Aspull in 1842 but this is not the Upton on the cart
Wigan Coal and Iron had a mine in Notts. It was Manton Colliery and quite a lot of Wiganners went to work there
Comment by: Mick on 21st April 2017 at 09:47
Possibly Upton between Barnsley and Doncaster?
There was a colliery there.
As Fred says, Wigan Coal and Iron had mining and other business interests outside the Wigan area. Possibly they had some involvement.
Comment by: RON HUNT on 21st April 2017 at 11:29
Just found this bit of information on the Net.Relating to UPTON on the Wirral
'Adjacent to the station there was a coal and goods yard with a cattle pen. From 1 February 1965, the goods yard only handled coal, and closed on 28 April 1969.'
Comment by: Ken on 21st April 2017 at 12:32
I think Ron Hunt as hit the nail on the head
Comment by: Barrie on 24th April 2017 at 17:37
Researched in the Wirral library gives further details of the Wigan Coal & Iron company. They had coal yards at some of the Liverpool stations and also on the Wirral. According to the 1927 Kelly Directory for Business, Upton was not listed but the next station down the line was (Storeton). The 1912 OS map for Upton shows a siding where coal and cattle were either offloaded or loaded. I think this photograph was taken around 1900-1902 period not far from Upton Village as a similar photo is displayed on the "oldwirral.net" webpage of a carters wagon which is similar.Upton Railway Station was opened in 1896 and by 1905 was part of the Great Central Railway route.Which way would the coal trains have taken from the Wigan Collieries to serve the Wirral staions?