Photos of Wigan
Photos of Wigan
Album Contents
Album Contents
Wigan Album
Wigan Coal & Iron Co.
5 Comments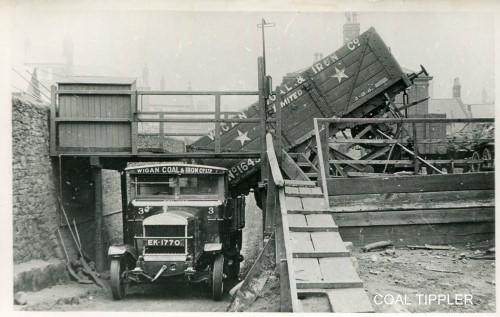 Coal Tippler
Photo: RON HUNT
Views: 2,294
Item #: 28761
Postcard showing a coal tippler Does anyone know where this was?
Comment by: GW. on 17th December 2016 at 10:59
Great photo. Where's Garry?
Comment by: Dominic on 18th December 2016 at 01:32
Garry is getting ready for is coal bagging round
Comment by: . Ozymandias . on 18th December 2016 at 10:44
No, it can't be Garry, as he had a thrupenny bit cabbed FG, and this is a Pagefield, way out of Garry's league, ( only joking mate, you know me ). The location remains a mystery however, but a logical guess would be up at Kirkless. I suspect the photo may be a promotional shot for either Wigan Coal and Iron, or the Pagefield motor company, but again, it's just a guess. All the best Garry.
Comment by: watchalot on 19th December 2016 at 14:52
there is the remains of a very similar bridge on the road nr kirkless hall
Comment by: Garry on 20th December 2016 at 18:14
Now now lads. A little bit before my time.The only thing I know is the lorry is Wigan reg EK. Merry Xmas.