Photos of Wigan
Photos of Wigan
Album Contents
Album Contents
Wigan Album
Empress Mill
12 Comments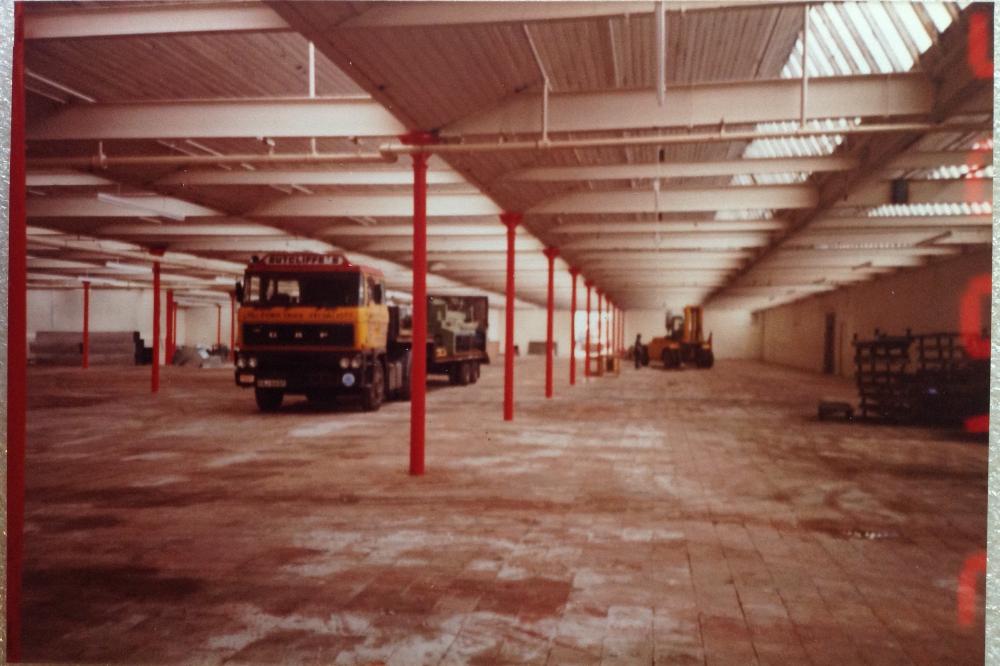 Empress mill.
Photo: Eddie.
Views: 1,667
Item #: 27145
Taken in March 1983, an interior view of the mill after most of the machinery had been removed.
Comment by: irene roberts on 2nd December 2015 at 13:20
Quite a number of my relatives and friends worked here. There were "gratings" along the wall in Anderton Street and you could see the workers inside. I only went in once when my friend took a message to her Mam and it was deafening! There was always cotton floating in the air outside and on a warm day it had a particular smell; it used to stick to the hair and clothes of the factory-workers. My Aunty used to look like a snowman sometimes, and she used to bring home "banding", which was a sort of tubular string, and we made our whips for playing "top-and-whip" with it.
Comment by: Vb on 2nd December 2015 at 15:58
My mother worked here in the fifties. she came home covered in fluff and we would make fun of her poor thing saying baaaaaah. I think she was a doffer whatever that was.
Comment by: Eddie. on 2nd December 2015 at 16:31
Are you sure she was a ' doffer ' Vb, and not a ' spriser '?
Comment by: Vb on 2nd December 2015 at 17:16
She "sprised"me once with a dishcloth across the face for being cheeky and I deserved it!
Comment by: AB on 3rd December 2015 at 11:51
I was on this site a couple of months ago . The buildings gone but the floor is more or less the same. I was surprised to realise the floor is about 15 ft below the canal water line
Comment by: Albert. on 3rd December 2015 at 19:58
I suppose in a way, this was the period of change, and decline of the industrial revolution, to the advancement of the technological age, and computerization.
Comment by: vb on 4th December 2015 at 12:34
that comment is very profound Albert. Could those latter day mill hands have ever envisaged what was to come? I always remember the older generation blaming India for sending their cotton over here.
Comment by: Albert. on 4th December 2015 at 13:40
What still puzzles me vb. Where were all those thousands, upon thousands, of work people, absorbed into, in relation to the workplace?. Cotton mill workers', steel workers', Foundry workers', miners', you could go on, and on.
Comment by: Vb on 4th December 2015 at 15:54
It must have happened over time until we have the situation we have now.the mills and work place are replaced by call centres and the like.Young people don't have the camaraderie we had in the workplaces.. It was also part of our social life in a way Albert. It's vey sad. anyway young people are always on the phones and iPads-turning into robots. Conversation seems to be at a premium. I willl probably get struck with a shell now!
Comment by: Eddie. on 4th December 2015 at 17:56
Sad to say, Vb, owing to a couple of early Christmas bookings, the Anderson's now full to capacity. You'd best get under t' slopstone with the lading can on your head.
Comment by: Vb on 4th December 2015 at 19:08
Oh I am disappointed I had plans to decorate that shelter and have some nice plant pots around it. Not heard that description "slopstone"since I lived in Scholes! We used to put milk bottles underneath and a bit of curtain across!
Comment by: Gerry on 8th December 2015 at 08:37
I used to walk home from school in the sixties up Anderton st just to watch the machinery in the empress mill, on a summers day all the doors were flung open and we could watch the ladies inside working on the spinning machines