Photos of Wigan
Photos of Wigan
Album Contents
Album Contents
Wigan Album
central wagon & thompsons scrap yard
4 Comments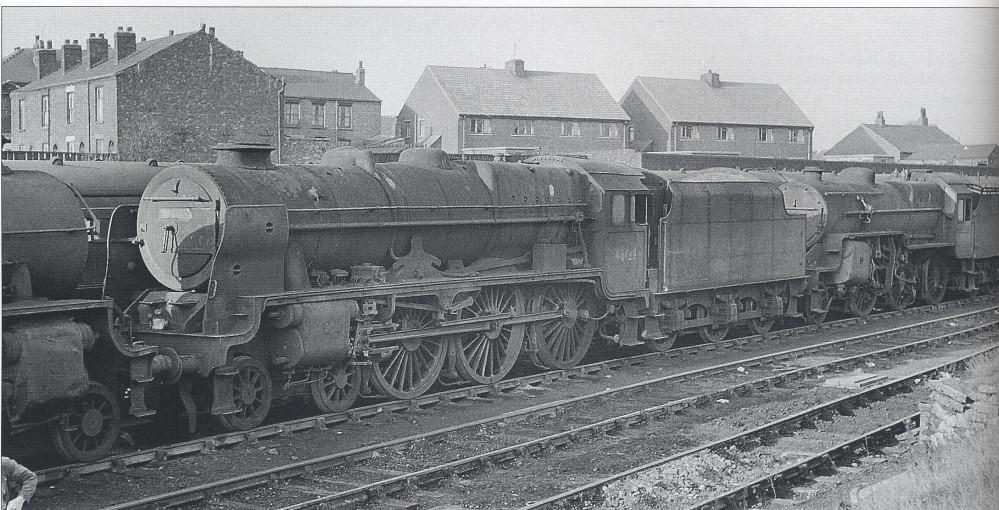 THE SCOTTISH HORSE
Photo: RON HUNT
Views: 2,388
Item #: 26962
Royal Scot No. 46129 "THE SCOTTISH HORSE" awaits it's final journey to the 'BIG ENGINE SHED' in the sky 13th December 1964.
Comment by: Jarvo on 11th November 2015 at 11:42
I remember this loco well. When we heard it had arrived at the Branch and was on the scrap line, we hurried to Spring View to pay our last respects and 'cop' it. The engine would remain registered in the Ian Allan ABC until the next new edition was due, usually in summer. The 4-6-0 Royal Scot class were being withdrawn weekly at this time, and this fine engine, with nameplate missing, found its way to the Wagon Works. If my memory serves me right, it would remain until after Christmas on the scrap line until eventually being towed under the bridge of no return and to its execution by cutter's torch...Sad.
Comment by: rolview on 12th November 2015 at 00:29
I love seeing photos of the steam trains from my time on the railways but not when they were going up to the scrap yard often wished I had taken parts off them has they went to meet their end
Though so very sad to see this so very glad I have.
Rememberthe horsr flat out down fast platform five.so fast and smoking I had to ask older lads what it was.I really like tiny black and whitish pics of that time.was born 54 summer so was minus ten...anybody wants to argue bout memory come on...I love it.things dont concern me then
Telstar radio caroline j.f.k headline.
Slow lines through bryn.crow pit playground...what a fine loco to chop up..still going on..sell or lease under used stock whilst buying new with no work expected..think its coz it attracts import duty like diesel for government which cant be hidden
Though so very sad to see this so very glad I have.
Rememberthe horsr flat out down fast platform five.so fast and smoking I had to ask older lads what it was.I really like tiny black and whitish pics of that time.was born 54 summer so was minus ten...anybody wants to argue bout memory come on...I love it.things dont concern me then
Telstar radio caroline j.f.k headline.
Slow lines through bryn.crow pit playground...what a fine loco to chop up..still going on..sell or lease under used stock whilst buying new with no work expected..think its coz it attracts import duty like diesel for government which cant be hidden