Photos of Wigan
Photos of Wigan
Album Contents
Album Contents
Wigan Album
central wagon & thompsons scrap yard
6 Comments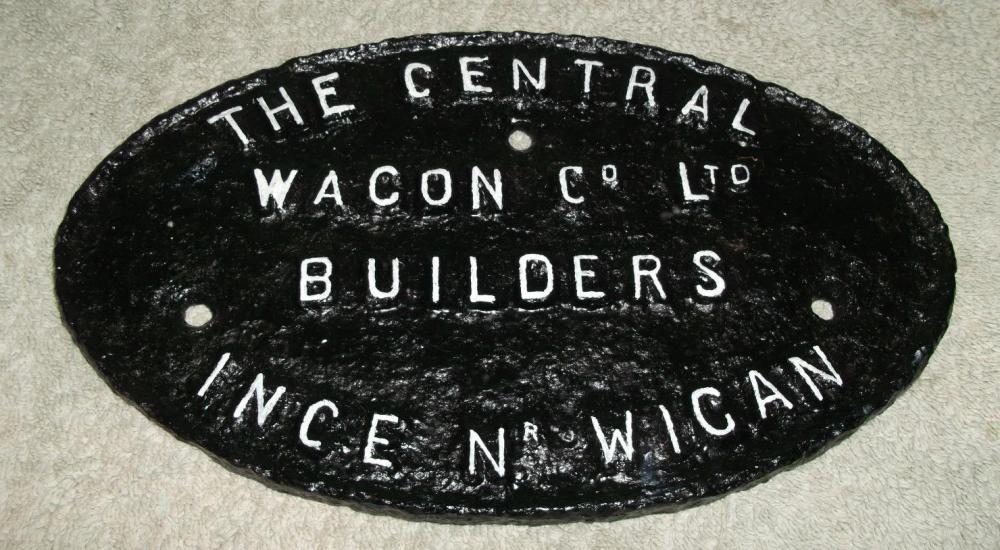 Central Wagon Works Plate
Photo: RON HUNT
Views: 1,782
Item #: 25518
Name plate from a wagon built at the Central Wagon Works Ince.
Comment by: Garry on 9th September 2014 at 12:43
Yes a proud name to many, and sadly in the end, dismantlers to many steam engines and rolling stock.
Comment by: aitch on 10th September 2014 at 16:46
Although the wagon works was in so called Higher Ince, no plates ever had the name Higher on them, I also was a dresser cleaning the plates when they came out of the moulds, and I cant ever remember the name being on any kind of plates, makes you think dont it
Comment by: Garry on 11th September 2014 at 13:26
You would have thought the year aswell.
Comment by: Albert. on 14th September 2014 at 13:50
Gary/aitch. Did the Central Wagon Co, own the Wagon Works, in Spring View, or was that owned by a different company?
Comment by: Albert. on 15th September 2014 at 10:32
Aitch. Did you work for this company, in April/May, 1958? I worked there until the 10th, May. I was waiting to go to the police training centre at Bruche. I had lost all my demob money at the Manchester races, and I had to get a temporary job. Never went to any more race courses. I worked with a couple of older men, smashing chaps, moving furnace debris, from a site near to the offices, to an embankment, about 300 yards away. We had a tractor, that pulled a truck, which we loaded with the cinders. At that time they only broke up wagons.The weather was glorious. After five years in R.A.F. the work nearly killed me.
Comment by: david powell on 1st October 2014 at 20:54
I worked in the pattern shop with Bill Gussow we made these plates out of wood with lead lettering from there they went into the foundry for moulding