Photos of Wigan
Photos of Wigan
Album Contents
Album Contents
Wigan Album
British Rail at Wigan
14 Comments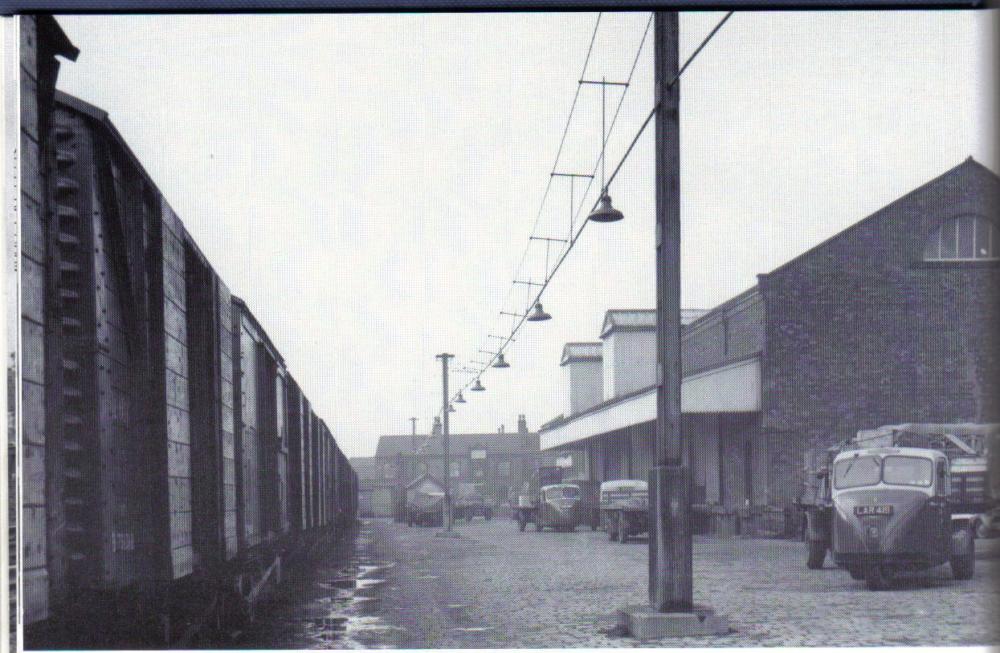 wigan goods yard with scammels
Photo: aitch
Views: 3,698
Item #: 22960
Here's a photo I took from a book I have with the scammells being loaded at the Wigan goods yard
Comment by: Ken on 19th March 2013 at 19:09
The scammells I remember them well when I worked at Howich Loco Works from 1959 to 1968
Comment by: AP on 19th March 2013 at 19:10
As Rev Long implies, in his comment on the station photo,these have become highly sought after collectors items.

A look on Google 'Images' reveals some wonderful restorations of both Scarabs, and Mechanical Horses.
Comment by: David on 19th March 2013 at 20:04
I presume this is where the "Range" shop is now located ?
Comment by: Dave c on 19th March 2013 at 22:58
Used to unload wagons here when I worked at Conroy Bros, fruiterers in the late 1960's in the summer holidays. We used to offload the chilled banana hanks which arrived from Cardiff Docks by train, having been brought to this country from the West Indies etc., by boat. We then had to hang them in the warming rooms in the cellars in warehouse in Hope Street near the old bus station, to ripen. There were all sorts of creepy crawlies lurking in the dark corners of the wagon having woken from their chilled slumbers, nobody ever wanted to have to take the last hank of bananas out !!!!
Comment by: A.W. on 20th March 2013 at 12:05
Is it the goods yard where MFI was built afterwards?
Comment by: Cyril on 20th March 2013 at 13:00
Would this be the goods yard off Chapel Lane where The Range is now, I remember going there at one time to pick some crates of crockery up whilst working at the Co-op.
Comment by: Loz on 20th March 2013 at 19:44
Correct - this is where Range now stands.
Comment by: Ken R on 20th March 2013 at 22:56
Ken....I worked at Horwich Loco from 1948 to 1953 I remember the three wheeled run abouts were they called Lister's??
Comment by: AP on 21st March 2013 at 13:24
Some photos of the predecessor of the Scarabs here:

http://www.lner.info/forums/viewtopic.php?f=9&t=7705
Comment by: AP on 21st March 2013 at 13:57
Was this one of the Leyland-built Scammells?

http://www.youtube.com/watch?v=LLp9kXJp_M4&list=PL1B110B40019443F8&NR=1&feature=endscreen
Comment by: Colin Harlow on 22nd March 2013 at 12:07
Not Leyland built AP, The Scammell Scarabs were built in Watford. Leyland Motors was the parent company from 1955, BL built the Scammell HGVs ie, Routeman, Andyman and crusader range to name afew. These Scarabs were designed in the late 1940s to work in small areas ie, railway and post office yards. The front wheel had a turning circle of 360 degrees which made them ideal for the job above.
Comment by: AP on 22nd March 2013 at 12:36
Sorry Colin, the reference was not to the Scarabs, it was a cheeky opportunity to post a link to the Military Scammell, which appeared in the film 'Brazi'!

Yes, I have mentioned the Scarab's maneuverability,in the Scammell comments on the 'NW Station Photograph'
Comment by: Peter Worthington on 27th April 2014 at 15:16
These vehicles had their own " Scammell Automatic Coupling "
(operated from within the cab) which I think was patented.
I used to drive one of these Scammells at this very yard from 1959 to 1965 The registration was AJP100.
I delivered goods around one half of the town
Starting at Lennons Super market which was the old Hippodrome and ending at the Coop
in Standishgate.
I could drive into the Weind and spin round and drive out, no need to reverse.
On warm days used to buy a bottle of lemonade and call at Moorfields brewrey in Millgate where there was always
a barrel on tap you could make yourself a shandy.
The advent of road transport killed the railways. thats why I left after ten years
what a waste.
Still its all in a life happy days so they say.